Democracy is in retreat around the globe. Just over 45% of the world's population lives in some form of democracy, according to The Economist magazine's latest Democracy Index of more than 160 countries. It's democracy's lowest showing since the index began 16 years ago. More than a third of the world's population now lives under an authoritarian regime.
Such figures only added urgency to the university's second annual Democracy Day, held Saturday. After remarks by university and civic leaders, undergraduate students participated in 21 pop-up seminars led by faculty from across Johns Hopkins that were designed to foster critical thinking about the challenges of democratic governance. The talks particularly focused on helping first-year students explore the rights and responsibilities of democratic engagement during their time at Johns Hopkins.
Professor Hahrie Han, inaugural director of the Stavros Niarchos Foundation Agora Institute at Johns Hopkins, which helped organize the event, opened the day and introduced JHU President Ron Daniels. In his remarks, he discussed the importance of liberal democracy, which refers to a type of government where the majority rules, but has limits on what it can do. The majority, for example, cannot infringe on the fundamental rights of an individual, and cannot undermine core institutions like the rule of law.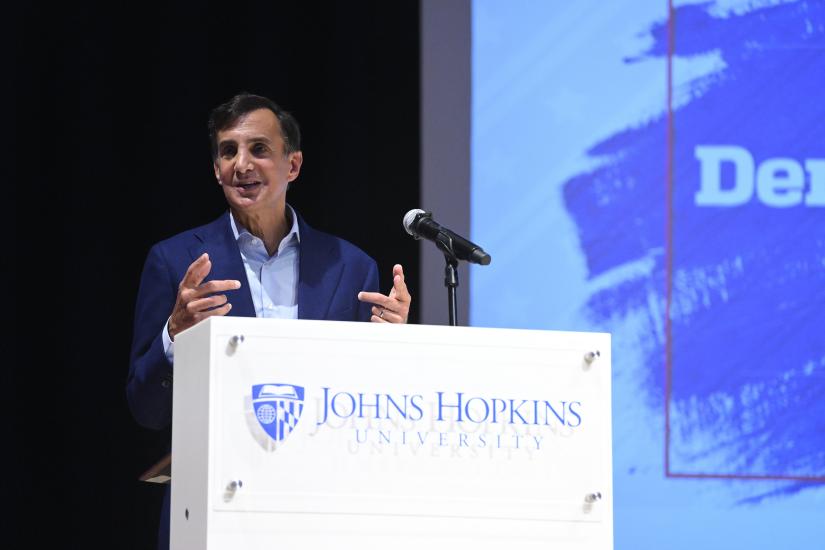 "To my mind, liberal democracy at its best, is responsive to the will of the majority, takes seriously the idea of free and unfettered elections where people vote en masse, and where the majority rules," Daniels said. "But still, [liberal democracy] is profoundly, deeply committed to protecting freedom of thought, minority rights, holding elected officials to account, and limiting the exercise of coercive or corruptive power."
He shared his family's own history with the erosion of democratic norms. His paternal grandfather emigrated from Warsaw, Poland, to Canada in March, 1939, just six months before Hitler invaded Poland and World War II began. Although Daniels attributed the successes—and survival—of his family to the benefits of liberal democracy, he also discussed the antisemitism espoused by some members of the Canadian government at the time.
"My family's story thus exemplifies both sides of the democratic coin," Daniels said. "It's imperative, I think, that we hold both of these truths in mind: recognizing the immense blessings and virtues of democratic society, but also understanding the ways in which it can, and too often does, fall tragically short of its aspirations."
Special guest Brandon Scott, Baltimore's youngest mayor in more than a century when elected in 2020 at age 36, discussed the power of young people to make a difference in their communities, both in spite of and because of their age. Reflecting on his own experiences, he implored the audience to know their personal power and use it to effect change.
"Our young people are not just our future, but our right now," he said. "You all are living in an amazing, yet scary, time to be alive. American democracy, fairness, and decency are under constant assault every day. In my humble opinion, it must be our young people who save it. Every major movement in the history of this country has been powered by young people, and the movement to save American democracy should be the same. You each have experiences, insights, and solutions that our city needs–not after you leave Hopkins, but right now."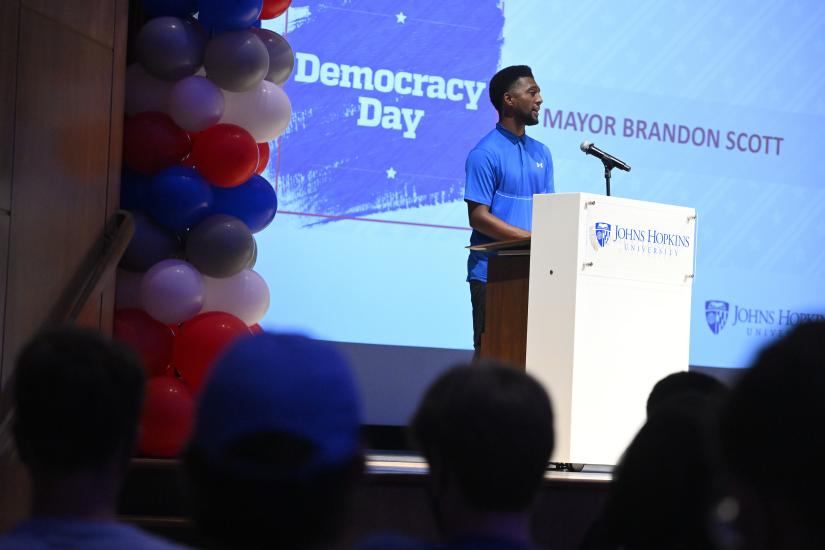 Speakers also included Professor of Sociology Andrew Perrin and SNF Agora Institute Visiting Fellow Farida Nabourema, a human rights activist, writer, and dissident who's been fighting to bring democracy to her native Togo—currently ruled by Africa's oldest single-family autocracy—since she was 13.
Opening remarks were followed by the pop-up seminars where leading scholars from around the university addressed the common theme of "What is a leading challenge to democracy?" Seminar leaders included Krieger School of Arts and Sciences Dean Chris Celenza; Beth Blauer, associate vice provost for public sector innovation; Odis Johnson, Bloomberg Distinguished Professor of social policy and STEM equity; and Lilliana Mason, an associate professor of political science. Students attended up to three seminars on topics such as election security, gerrymandering, the negative impact of two-party politics on women, K-12 gaps in preparing students for good citizenship, and more.
The day ended with a Democratic and Civic Engagement Fair, where local neighborhood associations and organizations, such as the Charles Village Civic Association and Black Girls Vote, shared engagement opportunities to students. Johns Hopkins Center for Social Concern student organizations and civic engagement programs, including Hop Help Tutoring, the Tutorial Project, and the Charm City Science League, which work with Baltimore City school students, were also on hand to share their opportunities for engagement with student attendees.