Name

Johns Hopkins Media Relations

Email

Office phone

443-997-9009
In laboratories and classrooms across the Whiting School of Engineering, students are putting finishing touches on projects they have poured countless hours into developing, testing, and perfecting. These designs, to be presented in posters, prototypes, and demonstrations May 3 at the annual event known as Engineering Design Day, represent the culmination of students' experiences at the school.
This year, more than 400 students from across all nine of the Engineering school's academic departments, as well as its Center for Leadership Education, will participate in a tradition whose roots began 38 years ago, when the Department of Mechanical Engineering launched a capstone design experience. After two years in a virtual format necessitated by the COVID-19 pandemic, this year's event is being held in person on campus.
"Design Day is an exciting landmark in our students' journeys from studying engineering in the classroom and laboratory to becoming practicing engineers heading out to make a lasting and positive impact on our world," says Ed Schlesinger, dean of the Whiting School.
One of the hallmarks of Design Day is the opportunity it gives students to work closely with faculty members and clinical researchers from across Johns Hopkins institutions, as well as with industry and other sponsors from throughout the Mid-Atlantic region.
A peek at some of this year's projects:
Don't be a drip
It's one of life's most delicious anticipatory moments, but also among the messiest: The burrito (or taco, or gyro, or wrap) is almost in your mouth when the beans and rice and guacamole and salsa fall from the tortilla onto the table—or worse, your lap.
Inspired by their own experiences with messy lunches, a team of chemical and biomolecular engineering students has created Tastee Tape, an edible adhesive comprising a food-grade fibrous scaffold and an organic adhesive that ensures the ingredients in your favorite wrap are kept tucked tightly inside during cooking and consumption.
"First, we learned about the science around tape and different adhesives, and then we worked to find edible counterparts," said Tyler Guarino, who teamed up with fellow engineering seniors Marie Eric, Rachel Nie, and Erin Walsh on the project.
The team tested a "multitude" of ingredients and combinations before settling on a final recipe, which is edible, safe, and has the tensile strength you can trust to hold together a fat burrito.
Because they are applying for a patent, team members declined to disclose their secret formula.
"What I can say is that all its ingredients are safe to consume, are food grade, and are common food and dietary additives," Guarino said.
Months spent prototyping resulted in rectangular strips measuring half an inch by two inches. These come affixed to sheets of waxed paper. To use, simply remove a strip from the sheet, wet thoroughly to activate, and apply to your lunch, dinner, or favorite snack. The team members put their invention to the test on "too many burritos to count," but are confident in the quality of their product.
"Tastee Tape allows you to put full faith in your tortilla, and enjoy your meal, mess-free," Guarino said.
Scent-sational elephants
Did you know that elephants have more scent receptors than dogs do, and that some scientists believe that pachyderms' sense of smell is superior to that of any other animal? That means keeping elephants healthy includes stimulating their olfactory systems. Animal specialists at the Maryland Zoo asked a team of students in the Multidisciplinary Engineering Design course in the Center for Leadership Education to devise a new way to provide the animals with that sensory enrichment.
The team offered a simple yet elegant solution: a small box equipped with changeable essential-oil-saturated pads whose scents are wafted into the air by an internal fan, activated remotely. The zoo's elephant experts can hide the device in various locations throughout the animals' habitat, sparking their interest and providing the desired enrichment. Along with the device, the students are providing the zoo with "recipes" for dilutions of various scents that are either easier (less diluted) or harder (more diluted) for the animals to detect, based on their testing with the elephants.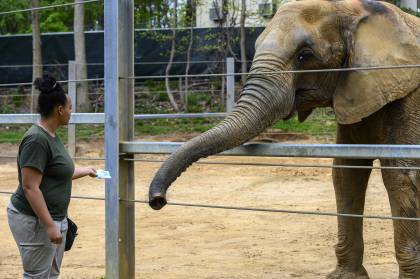 "The project is a really interesting engineering problem because we are essentially designing for two different end-users: the product is for the elephants but will be used by the zookeepers. We had to strike a balance between what both the elephants and the keepers needed from the device," said senior Zachary Ellis, who worked on the project with seniors Sabrina Wang and Ayomide Fadipe, junior Kyle Velez, and sophomore Caitlyn Bernhard.
The zoo's oldest female elephant, Anna, loved when the team loaded the device with oil of peppermint.
"They let Anna smell peppermint as a treat the same way you'd give a dog a piece of chicken or something," he said.
The buzz on disease prevention
More than 1 million people around the globe die each year from mosquito-borne diseases such as malaria, yellow fever, and Zika. Insecticides work but can be toxic to humans and other animals, and the insects have become wholly or partly resistant to some of them. Enter traps: small devices that attract, capture, and kill mosquitos.
Working with advisers at the Bloomberg School of Public Health, a team of electrical and computer engineering students has designed and prototyped a solar-powered mosquito trap for areas in the world where electricity is not available. Using an onboard solar panel and battery system, the trap captures sunlight and generates the electricity needed to power its components, producing mosquito-attracting heat. Once inside, chemicals kill the critters.
"This has been a very rewarding learning experience," said team member and senior Madeline Chabab. "I've learned completely new skills, and further developed ones I already had. It's been fulfilling to apply ECE principles to a public health issue, and Dr. Conor McMeniman and Dr. Stephanie Rankin-Turner from the Bloomberg School of Public Health have been instrumental in developing our knowledge of the mosquitos and environments with which our device will be interacting."
Chabab worked on the trap with fellow seniors Amanda Fernandes and Carl Urbanik and sophomore Joy Yeh.
Subway slog
The New York City subway system is a marvel, transporting more than 3 million people each day to a network of 472 stations along its almost 300-mile route. For his Design Day project, Kuleen Sasse decided to figure out how a person could navigate the entire system in the shortest amount of time possible.
"It is an interesting problem because there have been many people who have attempted and achieved world records just by creating routes by hand. However, there has been little to no serious work done solving this computationally until now."
Kuleen Sasse
"It is an interesting problem because there have been many people who have attempted and achieved world records just by creating routes by hand. However, there has been little to no serious work done solving this computationally until now. I wanted to see if I can best their times using different computational methods," said Sasse, a first-year double major in applied mathematics and statistics and computer science.
He decided to approach the problem using metaheuristics, a class of computer code that can solve large, complex problems and can be tailored to tackle specific challenges. After much work, he came up with a plan that would enable him to traverse the whole system in 22 hours and 10 minutes. This puts him in striking range of the latest Guinness World Records time (established in 2016 by New York lawyer Matthew Ahn, when the system comprised only 469 stations) of 21 hours, 28 minutes, and 14 seconds.
Sasse is considering venturing to NYC this summer to see how well his system works in practice.
"I may want to try it out in real life," Sasse said.
Happy trails
A team of seniors from the Department of Environmental Health and Engineering was asked by the Friends of Stony Run, the Roland Park Community Foundation, and Firesoul to find a solution to flooding along the popular Stony Run Trail in North Baltimore. Sections of the walking path become waterlogged after heavy rain, resulting in erosion and widening of the path as walkers veer around muddy spots.
After careful testing, the team discovered that drainage was impaired by a too-high area water table and soil that is less than permeable. The problem was exacerbated by runoff from a nearby community. The students' proposed solution: a detention basin and underdrain that would divert water to the nearby stream.
"[The design process and project were] cool, because we got to work with the community. It felt more real because we were working with real people and solving a real problem," said Zachary Ellis, who worked with Chloe Frantz, Marissela Gomez, Amanda Hinton, and Alexander Holt on the project.
Danielle Underferth contributed to this article.