In laboratories, design spaces, living rooms, bedrooms, and basements, students at Johns Hopkins have been working around the clock to tweak and refine their engineering creations. These projects include a new material that would make solar cells more efficient, a device that would enable earlier detection of recurrent brain tumors, and a freeze-dried bacterial powder that accelerates the process of aging cheeses.
These projects, more than 100 in all, will be presented virtually to faculty mentors, industry sponsors, fellow students, alumni, and other guests tomorrow at the Whiting School of Engineering's Design Day—an annual rite of passage that showcases students' ability to apply knowledge accumulated in classrooms and labs to real-world challenges.
"Design Day is the Whiting School's celebration of our undergraduate students' innovation, energy, and creativity. The whole day is dedicated to showing what is possible when the brightest young minds put their intelligence, knowledge, and optimism to work," said Ed Schlesinger, dean of the Whiting School.
During the day-long virtual event, student teams from all nine engineering school departments, as well as the Center for Leadership Education, will present talks, posters, and demonstrations live via Zoom or in prerecorded videos. The Design Day webpage provides a schedule for the day, as well as a catalogue of projects.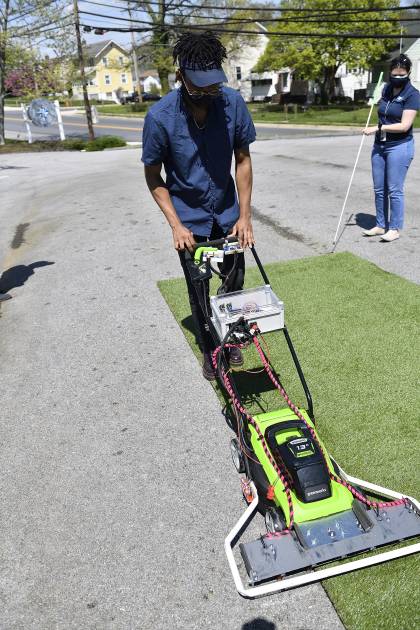 One student project being presented this year is a lawn mower adapted to allow people living with vision impairments to tackle that quintessentially American summertime chore: cutting the grass. Sponsored by Blind Industries and Services of Maryland, a team of mechanical engineering students outfitted a standard lawnmower with a system that detects the height of grass and cues the user through the movement of a set of handlebar-mounted keys. It alerts the user to any obstacles with audio "beeps" transmitted through headphones.
"Our goal was to come up with a solution that was easy to use, made the task safer, and put a smile on our client's faces," said Reginald Orbih, who teamed up with fellow students Jungin Eugene Kim, Itic Tinman Munne, and Marcos Schwartz on the design.
Another project aimed at making life better for people with sight impairments is an artificially intelligent screen reader that uses computer vision to look at a webpage and read it out loud. Unlike most current screen readers, "A Set of Eyes" doesn't work mechanically to read aloud text that is hardcoded onto a webpage.
"Our approach involves using computer vision and machine learning to detach the screen reader from the underlying code and also provide users with a flexible user interface—meaning [the user] can practically talk with our screen reader to get information on the page. In line with our product's name, our screen reader will be like a set of eyes looking at the computer screen for the user," said David Calvo, who worked on the project with Jada Campbell, Jonathan Edwards, Hannah Lynn, and Kavya Tumkur, who are all students in the Department of Computer Science.
A team out of the Department of Mechanical Engineering is also offering a new approach to improve existing technology. The students have designed and built a miniature dual-rotor, counter-rotating wind turbine capable of harvesting more energy from wind in a smaller space. Their design, which they tested this semester in Maryland Hall's wind tunnel, will compete in the U.S. Department of Energy's Collegiate Wind Competition and be presented at the American Wind Energy Association's CLEANPOWER virtual conference in June. Mentors from GE Renewable Energy provided the team with invaluable feedback, according to member Willa Grinsfelder, who also created and leads the Hopkins Student Wind Energy Team.
"The project has really turned into a trial run of current industry standards, and in that way it's really opened [our] eyes up to options in renewable energy, and, for me personally, how I can use the skills that I love like mathematical analysis and mechanical design to really make an impact in the current renewable energy industry," said Grinsfelder, who worked on the turbine with Owen Friesen and Annika Torp, as well as 11 other undergraduates in mechanical engineering.
Sustainability and protecting the environment are also the objectives of work done for Design Day by Abby Weyer and Benjamin Balfanz. The materials science and engineering majors are working with The New Norm, a startup created by WSE alum Lauren Choi '20, which developed a process to turn Solo cups into filaments that can then be woven into vibrant fabrics. For their project, the two students tackled the creation of new methods to harvest raw polystyrene from the red plastic cups using a natural solvent derived from citrus rinds. They also are experimenting with ways to blend the resulting polystyrene with other polymers to improve the strands.
"This project is meaningful to us because we don't think there is anything like it at Hopkins," Weyer said. "In our major, we work with materials every day but rarely think about what happens to them at the end of their life cycle. This project has the potential to inspire future innovation in plastics recycling and eliminate common waste and pollutants in standard fabric manufacturing. The impact could be enormous."