Even down a goal early, grandma can't wipe the smile from her face, and Buddy the beagle hasn't sat this still in, well, ever.
These 2D static onlookers are part of the crowd at Blue Jays lacrosse home games this season, as Johns Hopkins has joined the legion of professional and college teams putting cardboard cutouts of fans—even four-legged ones—in the stands to fill stadiums and be there in spirit on game days.
The COVID-19 pandemic has prevented many from being able to attend live sporting events due to physical distancing practices and safety protocols. With people not permitted in the stands, teams looked for creative solutions to recoup revenue and create fan engagement. The photo cutout trend, which originated in European soccer leagues, made its way to the States last year, first at Major League Baseball games and then in the NBA and NFL.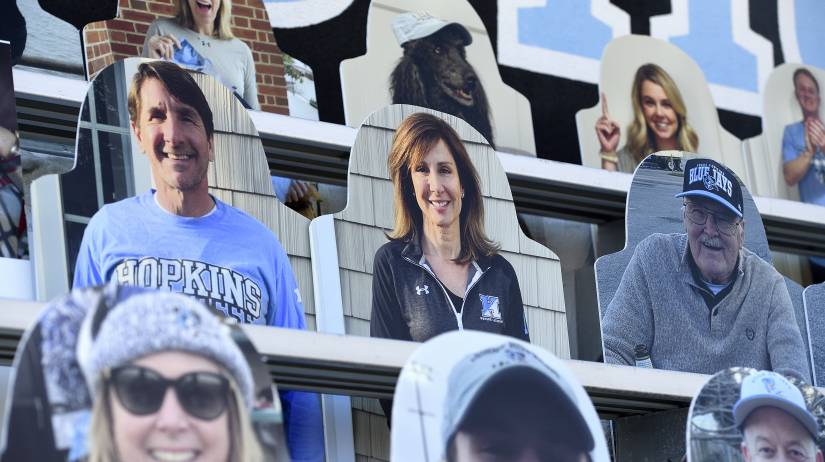 "Our fans are a huge part of our lacrosse program and the success that we have, and we saw early on in pre-season that it was unlikely that fans were going to be in the stadium," says Jake Lee, director of marketing and sponsorship for Johns Hopkins Athletics. "So we made this pivot to fan cutouts, which has been a popular phenomenon in the sports industry. This gives our fanbase—students, alumni, parents, family, and friends—who are not able to watch and support the players in person a way to root them on and show their support."
For $50, fans can submit a photo and purchase a cutout for all the remaining men's and women's lacrosse games at Homewood Field this season. The purchase includes a $25 tax-deductible donation. To date, a few hundred have been sold and are displayed on the home-side of the stadium, fanning out from the middle of the field and within eyeshot of the home bench.
During the televised games, cameras have panned to the cutouts after a goal and timeouts. Before games, players frequently walk into the stands to pose for selfies with their cutout loved ones or give 2D mom and dad a high five. "They love it," says Lee, who personally puts up the cutouts before each game. "Many of our players send the pics back to their family, or post them on social media."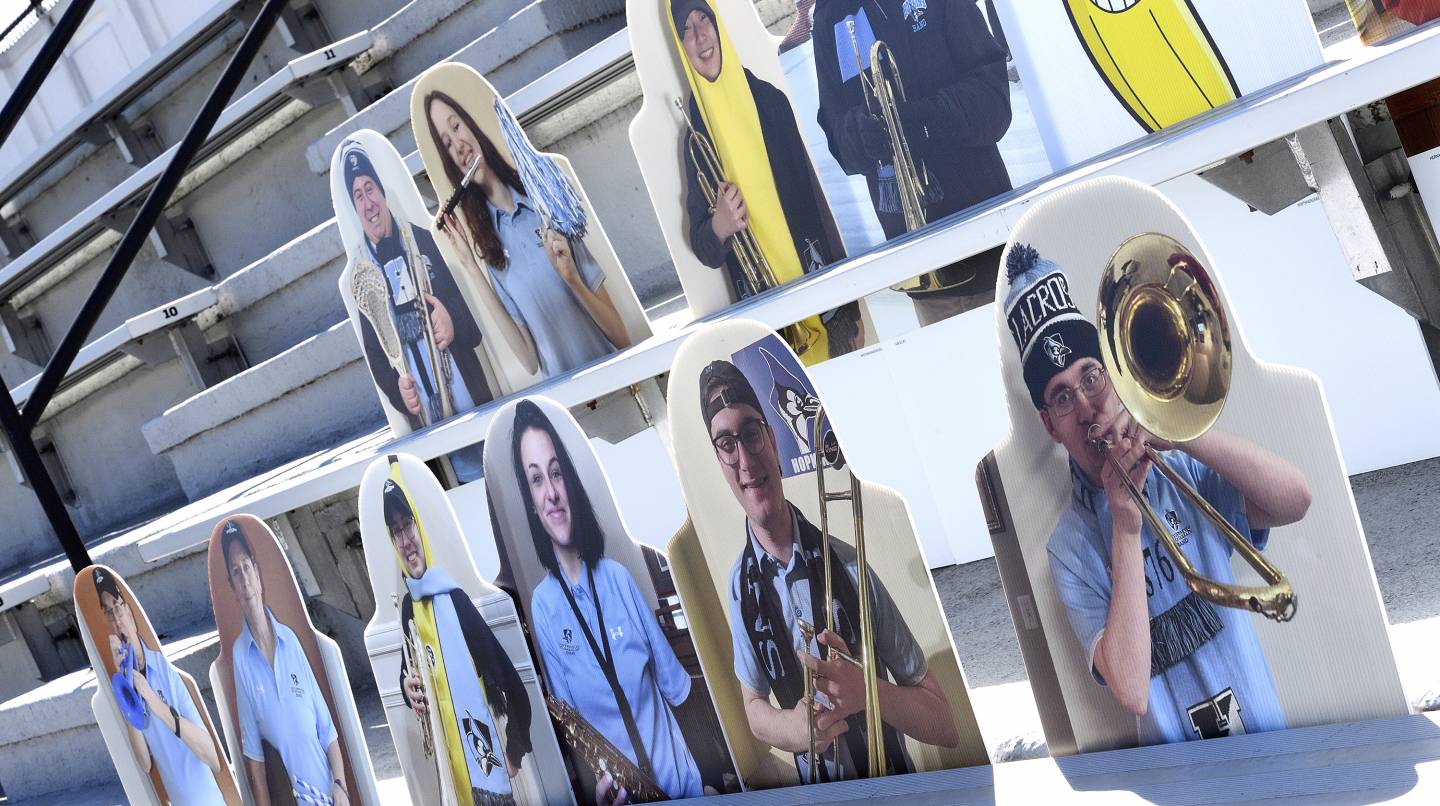 The money raised from the cutout sales goes directly to Johns Hopkins Athletics to support all varsity sport programs. With men's lacrosse the only ticketed sport, the loss of revenue because of limited fan attendance is significant, says Grant Kelly, senior director of development for Homewood programs.
"You can't compare our ticket revenues to those of big-time Division 1 programs like Alabama and LSU football, but our men's lacrosse program revenue gives us the springboard funds to help support the more than 650 student athletes at Johns Hopkins," Kelly says. "The money helps cover the costs of upgrade and upkeep for things like the turf and scoreboard, and in general helps make the athletic experience the best it can be."
The cutouts debuted on Feb. 20 for the men's games and Feb. 21 for women's lacrosse. In addition to family, the photos have depicted the Blue Jays mascot, Hopkins Pep Band members, and nearly 30 cutouts of dogs.
Since the start of the season, the Big Ten Conference has permitted a limited number of family members to attend games on the away side of the stadium, far from team benches. Each player is limited to four guests per game. "We're hoping for students, alumni, and friends of the programs to be allowed into the stadium down the road. Fingers crossed we get there," Kelly says. "I was at some of the early season games with no fans at all, and it felt like a scrimmage atmosphere. But it's been night and day with parents and family members now in attendance, generating some crowd noise and helping make up for lost ticket sales.
Full details on how to purchase a cutout and submit a photo are available online, but in general the ideal images are vertical of one person, or pet, taken from 6 feet away and centered on the individual. Johns Hopkins requests no commercial or third-party advertisements (including logos, slogans, and websites), social media handles, or statements or endorsements of political candidates.
Orders must be placed by Monday of each week in order to be placed in time for the upcoming weekend's games. After the conclusion of the season, a member of the JHU lacrosse program will write a personalized "Thank You" on each fan cutout and make them available for pickup.