Johns Hopkins University is recruiting and organizing nonclinical volunteers to support the vaccination clinic at M&T Bank Stadium in an effort to increase the number of Marylanders who are protected against COVID-19.
Volunteers are recruited through the Hopkins Engage social platform to serve in nonclinical roles at the newly opened mass vaccination site in downtown Baltimore. Positions include serving as greeters, guides, runners, or observers.
"Since the early stages of COVID-19, Johns Hopkins has marshaled its expertise and resources to support our community as we face the pandemic together," said JHU President Ronald J. Daniels. "JHU students' determination to be a part of mass vaccination efforts alongside clinical staff exemplifies our shared dedication to Baltimore and Maryland, and we are pleased and inspired to see them take on such important and impactful service."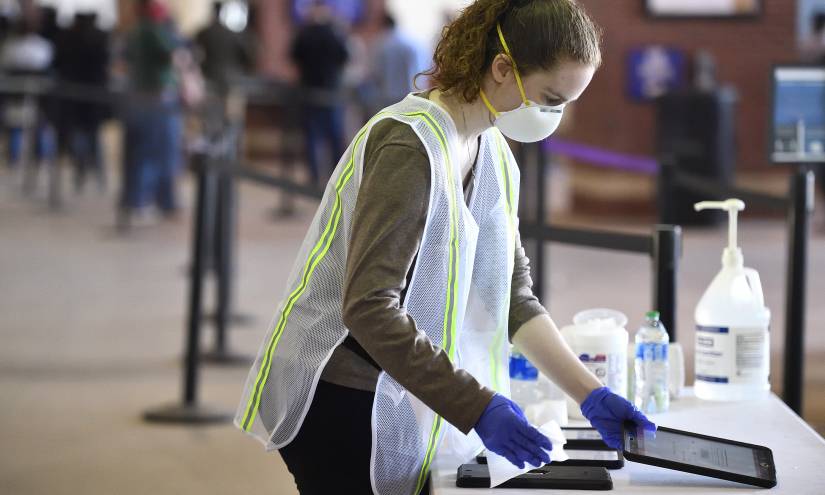 All Johns Hopkins students are invited to volunteer. Morning and afternoon shifts are currently available on Tuesdays, Thursdays, Saturdays, and Sundays. Additional shifts may be added in the future, and all interested volunteers are encouraged to sign up even if the available shifts do not currently fit their schedules. Transportation options are available for students who require it.
First-year student Eyad Ali sees volunteering as a moral imperative. The public health studies and psychological and brain sciences major has been volunteering with the effort for the past week, and he says the sense of enthusiasm for vaccination in the stadium is evident among those being vaccinated and the clinical and nonclinical volunteers alike.
"I'm originally from Sudan, where vaccines may not be widely available for at least another year, so I believe it is my moral obligation to make sure each community is tended to so that we can protect each other," Ali said. "That period of normalcy that we all long for begins one community at a time."
"I believe it is my moral obligation to make sure each community is tended to so that we can protect each other. That period of normalcy that we all long for begins one community at a time."
Eyad Ali
Johns Hopkins volunteer at M&T Bank Stadium vaccination site
Adds sophomore volunteer Sadie Abboud: "This experience has been nothing but humbling. Thousands of people every day rush into the stadium with the utmost excitement for their vaccine. No matter how long the lines are, everyone is so appreciative of all the work the staff members and volunteers are doing, and, to me, that gratitude is rewarding enough in itself."
All volunteers are required to wear masks at all times, maintain physical distancing requirements, regularly sanitize hands, and alert staff or shift leaders if any health or safety concerns arise. All volunteers are encouraged to double mask as they arrive to the stadium; surgical masks are being provided by the site. Johns Hopkins student volunteers must take part in the university's testing protocol and have received a negative COVID-19 test 24-48 hours before their shift. Compliance with testing protocols will be monitored through the Prodensity app.
"Our student volunteers have the opportunity to have a direct impact on the COVID-19 crisis through this volunteer role. As more people in our community become eligible to be vaccinated, our students are playing a key role in nonclinical operations and assisting with the efficiency of this mass vaccination site," says Misti McKeehen, executive director of civic engagement at the Johns Hopkins Center for Social Concern.
The M&T Bank Stadium Mass Vaccination Site is a partnership between the University of Maryland Medical System, Maryland Department of Health, Maryland Stadium Authority, and the Maryland National Guard. Register online to volunteer at the vaccination site. Email questions or concerns to COVIDvolunteers@jhu.edu.