Early in the pandemic, health care workers were inundated with an outpouring of praise for their life-saving work—from nightly applause to free pizza.
Yet now, when the pandemic is at its worst phase yet in the United States, this collective appreciation has gone mostly quiet.
Health care workers "don't feel like heroes anymore," says Albert Wu, a professor at the Bloomberg School of Public Health and the co-director of RISE—Resilience in Stressful Events.
"This is a completely predictable phase of the population's response to ​a major crisis. After the initial impact phase ​and subsequent heroic phase—we descend into a disillusionment phase. And that's [where] we are now," he says.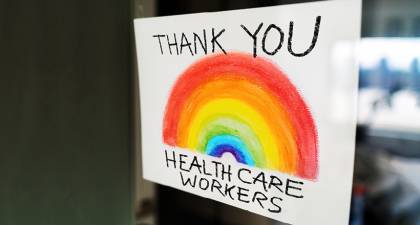 But this is also the season of giving, and lending a hand to others is one of the best ways to beat the pandemic blues. As former surgeon general Vivek Murthy put it on a recent episode of the Public Health On Call podcast, this is "a time where we can lean into service, recognizing that service is a powerful antidote to loneliness. And, when we reach out and help others, we not only remind ourselves that we have value to bring to the world, but we establish a wonderful connection with them in the context of a positive interaction."
For those who aren't sure where to start, here are some ways to support hospitals and health care workers—and those they care for—right now.
First things first: Continue social distancing and masking
This note eclipses all the others: The best thing you can do for health care workers is to avoid adding to their workloads. Keep yourself safe and healthy, and encourage others to do the same. Wear a mask, and avoid gatherings and unnecessary outings and travel.
Make donations, but do so wisely
Contact your local hospital or care facility, which, under CDC guidance, should have a dedicated COVID-19 incident command center and specific guidelines on how to donate or volunteer, and see what is needed most. Many donation systems have become more streamlined since the early days of the pandemic.
Consider donating tech: Tablets, laptops, and smart phones can be used to facilitate communications between hospitalized patients or isolated care home residents and their families. They can also be passed on to family members at home who may not have these items.
However, think twice before donating medical supplies to hospitals, as there are strict regulations for which supplies hospitals can use. Hand sanitizers, masks, and gloves can still be put to great use if donated elsewhere. Check with local nonprofits, schools, and churches to connect with groups in need of PPE. If a hospital is the only place you can get them to, these items will likely be re-donated to another facility.
Arrange a meal, coffee, or snack delivery
Check to see if the drop-off site at your local hospital or health care facility has any specific rules, such as no homemade items or restrictions on keeping food hot or cold. Make sure to coordinate a delivery time with the facility, and make sure portions are individually wrapped. It's especially helpful to know the number of staff of the unit you are donating to ahead of time.
Can't cover a full meal? Consider a coffee delivery or gift cards, or pool funds with others, or consider providing disposable cutlery and plates.
Volunteer your time
Most facilities, especially long-term care facilities, have a volunteer office or coordinator. Offer to be a penpal, to make phone calls to lonely patients, or send cards. With visitation radically restricted, this helps relieve the burden on health workers who can't spend as much time as they'd like with patients. "You can call people on the phone and just say, 'Hey, you know, I know this is difficult. Tell me about yourself. Let me tell you about myself,'" Wu says.
Some options:
Write a set of generic greeting cards and deliver them to a facility to be distributed to those who would benefit most. If you're interested in a pen pal, give recipients the option to write you back!
Band together with neighbors or social media groups to pool funds or organize an appreciation campaign.
Get kids involved. Winter break from school may feel long this year—letter writing and art-making campaigns may be a feel-good way to pass the time.
Check in on your neighbors, and offer to run errands or have a (socially distanced) chat. Helping vulnerable neighbors stay healthy at home can help them avoid ending up in the hospital. Check social media for existing groups coordinating these services.
Share positive experiences
Hospitals are required to collect patient experience data, so if you or a loved one received exceptional care at a facility, find out who's in charge of patient experience and write a letter or an email. Single out staff for praise by name. These plaudits don't just boost morale, they can also boost employee evaluations. Many facilities have survey cards on hand, providing an easy and efficient way to give feedback.
A version of this article originally appeared on the Expert Insights website of the Bloomberg School of Public Health.