Johns Hopkins will host a WFMT radio broadcast of the celebrated opera Scalia/Ginsburg this weekend, which explores the unlikely friendship between U.S. Supreme Court justices Antonin Scalia and Ruth Bader Ginsburg. Despite their opposing legal ideologies, the two justices built a strong and lasting friendship through their mutual respect and love of opera.
The radio broadcast will begin with Gilbert and Sullivan's Trial by Jury at 1 p.m. on Saturday, Nov. 7, and Scalia/Ginsburg will follow at approximately 1:35 p.m. The performance was produced by OperaDelaware (with Peabody alumni Brendan Cooke as general director and Fenlon Lamb as stage director). The broadcast will be accessible live at Hopkins at Home. Following the operas, Scalia/Ginsburg composer and librettist, Peabody Institute lecturer Derrick Wang, will speak with Peabody Dean Fred Bronstein. The event is sponsored by the Stavros Niarchos Foundation Agora Institute at Johns Hopkins, Hopkins at Home, and the Peabody Institute. Register to attend.
"I'm delighted to have been invited to participate in this discussion where the Hopkins community can come together and can process the times we live in through music and art," Wang says.
The Hub caught up with Wang for a brief look into the opera and the many ways it can help audiences make sense of contemporary politics.
What was your creative process while writing an opera based on two public figures?
I've come to realize that each piece I write has, at its heart, a burning question, one that fuels the creative process and can unify the entire work. My mission as composer and librettist is to discover and explore that question through music and words. For example, the burning question of Scalia/Ginsburg—who are we to judge and be judged?—gave me a premise (U.S. Supreme Court justices are judged by a higher power), a stylistic approach (like a Supreme Court opinion, a mosaic of allusions to influential statements of the past), and a central relationship (the unlikely friendship of two ideologically opposed judges).
And with these key ideas in place, I could then focus on the seemingly unromantic but nevertheless rewarding nuts and bolts of writing, moving back and forth between various tasks—shaping the story, crafting music in a wide variety of styles to serve the story, and devising verses based on actual statements of the justices that would simultaneously advance the story and illuminate the wealth of musical and legal allusions in the score.
In reading reviews of Scalia/Ginsburg, I was delighted to learn the term 'rage aria' and see how you used it in the work and its history. If you were going to score the opera that is the current political climate, what musical or operatic forms would you employ?
That is a fascinating question. Well, I'd say it's a safe guess that no style I choose would be too complex for the task! I think it would be a style that involved lots of counterpoint—intricate lines of different melodies and statements all happening at the same time.
After all, with every minute and every hour, we're all learning and experiencing so many different things. I imagine this is the kind of question where we would have a really good answer in about 20 years.
As for the term 'rage aria': I'm always inspired by looking at ideas or fields or people that we might think wouldn't work together—and then finding what they have in common. In the case of Scalia/Ginsburg, I wanted to explore law and opera—two fields that are seemingly very different—and see what they have in common. And, I wanted to bring together people of different backgrounds and viewpoints through opera. To do that, I knew that what I wrote would need to explore contrasting ideas deeply, yet harmoniously and with a light touch, rather like a soufflé layer cake—albeit one that can serve hundreds of people at once.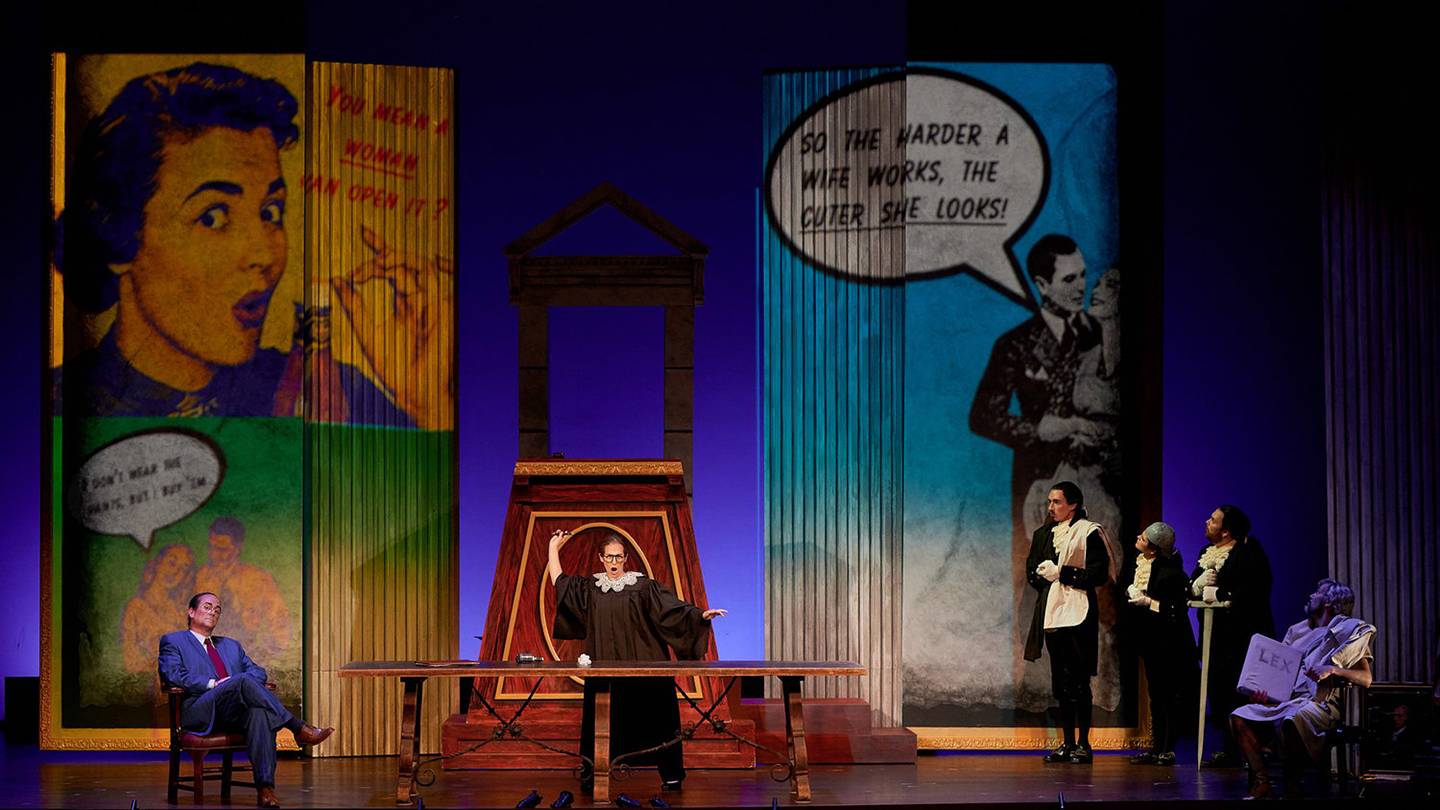 Ever since Scalia/Ginsburg was first introduced at the Supreme Court back in June 2013, I've been delighted to hear from audience members who came for one layer of the cake, as it were, and left with a greater appreciation for the other flavors. So, the fact that your awareness of the Supreme Court led you (through this opera) to learning about the history of opera is a really big thrill for me.
What lessons do you hope audiences come away with after listening to Scalia/Ginsburg this weekend?
I might guess that some useful lessons come from the fact that Justices Ginsburg and Scalia recognized three things: first, the distinction between judging and legislating; second, the fact that people are more than their ideologies; and finally, that a shared passion can bring people together.
We're seeing some really trying times with the pandemic, political strife, and a bit of social fracturing. What do you think music and the arts has the power to do to help during trying times?
In the short term, music and the arts can provide an escape and a kind of comfort. I'm thinking, for example, of Justice Ginsburg's statements about what she experienced when she attended opera performances. I'm paraphrasing here, but she said that, during that time, all of the legal briefs went up on the shelf, and she was able to recharge and bask in the glorious music and the operatic experience. And so, I think there's also that aspect of the arts and music refreshing us, giving us what we need to go on.
In the long term, as we grow in our relationship with music and the arts, we learn a lot about ourselves—why we like the things we do, why certain pieces of music stay with us, how we've remained constant, and how we've changed. And, along the way, we might discover that the same piece of music can be loved by any number of people for any number of reasons.
Of course, this is all very abstract. There's also a more practical approach I'm exploring in a new project of mine: a newsletter called Arsapio.
Arsapio's mission is to unlock the value of artistry in business. Right now, businesses need creative solutions, and creative artists need work. Arsapio aims to bring them together—by helping artists launch new and additional careers while helping businesses activate the added value that artists provide. To do this, we break down the myths around art and business, explore what these fields surprisingly have in common, and provide practical suggestions for putting this knowledge to work. We launch this month by exploring the unsung superpowers of classical musicians in the virtual workplace.
Based on this, I suppose my answer to your question is: music and the arts have the power to help us navigate the future—and I hope, perhaps, to be of some help with that.