With the fall semester set to resume next week, Johns Hopkins University will distribute wellness kits to undergraduates in the days ahead to help protect both students and the surrounding community.
Each kit features an Under Armour and JHU branded face mask, hand sanitizer from Mount Royal Soap Co., a digital thermometer, and cleansing wipes, packaged together in a sling bag.
Though the university announced earlier this month that all undergraduate and most graduate instruction will be conducted virtually this fall, a small number students will reside on or near the university's Homewood campus.
The wellness kits will initially be distributed to undergraduate students in the Charles Village and Homewood communities. Departments will be distributing masks and thermometers to graduate students who have resumed work on campus.
Kevin Shollenberger, vice provost of Student Health and Well-Being, said the university is working on plans for distribution prior to the broader resumption of on-campus activities. Facial coverings are required in all Johns Hopkins University indoor and outdoor spaces. Facial coverings with exhalation valves, neck 'gaiter' coverings, and bandanas will not be accepted as facial coverings.
"The wellness kits are a helpful reminder of the public health guidelines we want our students to follow in order to protect themselves and the community," Shollenberger said. "We wanted to make it as convenient as possible by providing them with the necessary items."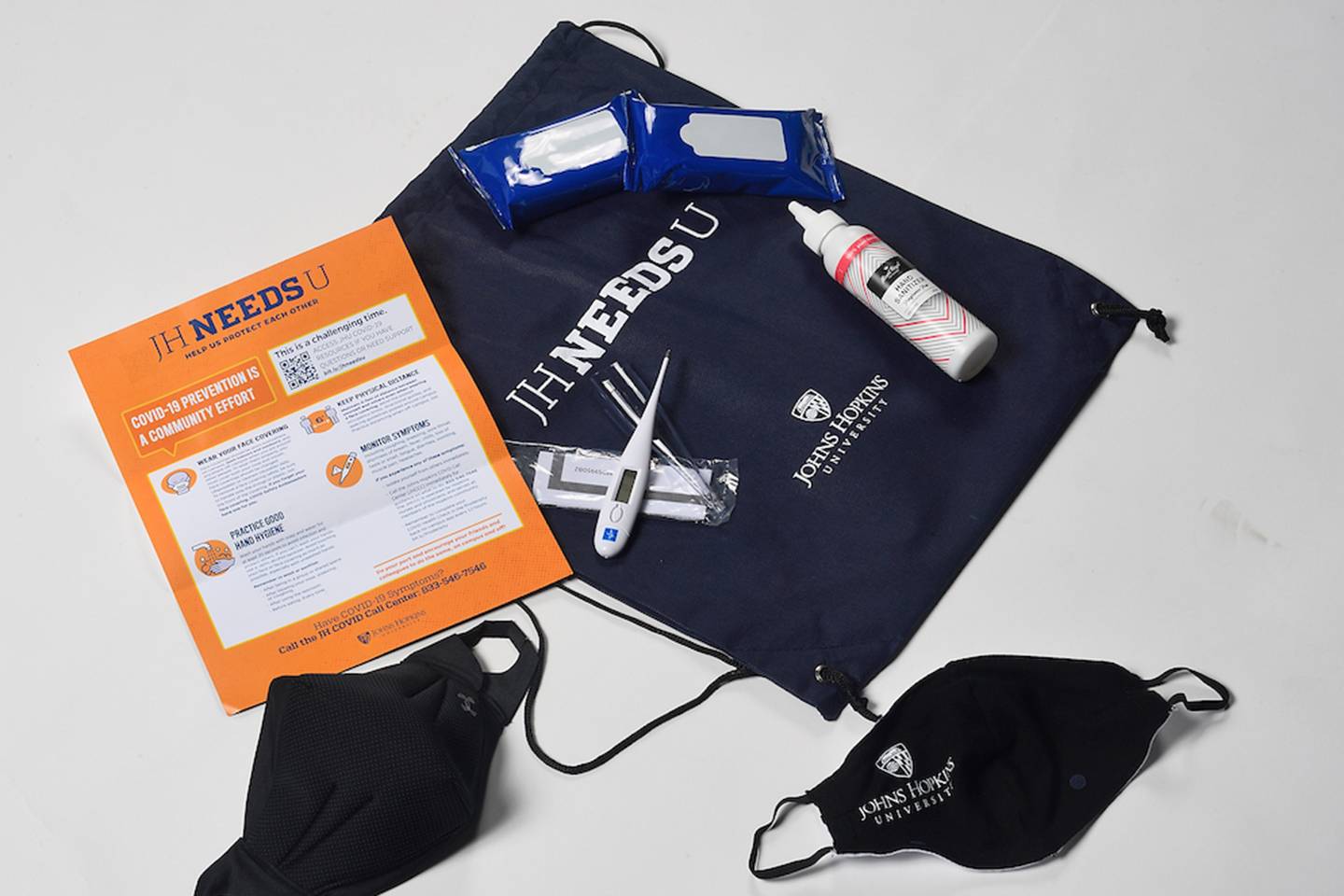 The wellness kits will be distributed to those in the Charles Village area at Barnes and Noble Johns Hopkins, located at 3330 St. Paul St. Those interested in picking up a kit can stop by the store between 11 a.m. and 5 p.m. Aug. 31 through Sept. 4. In order to collect the wellness kit, students will need to scan a QR code through the Campus Groups app. A proper face covering will be required to enter Barnes and Noble.
Kits will also be distributed this weekend during move-in to the fewer than 80 undergraduate students who have received special permission to live in campus residence halls this semester.
The kits were assembled by workers at CityWide Youth Development, a nonprofit that offers manufacturing and business development training for Baltimoreans. The organization also took the lead on designing and manufacturing the JHU-branded face mask and sling bags that contain the kit.
"It was important for us to find supplies that would meet CDC standards, but we also wanted, if possible, to source things locally from here in Baltimore," said Brian Smith, chief procurement officer for the university. "It all goes back to the HopkinsLocal Initiative and to giving back to our community."