STOCKHOLM—A small group of men clutching notebooks and folders gathered Thursday afternoon outside Stockholm's Grand Hotel, a 145-year-old luxe waterfront accommodation in the historic city's Old Town. They were autograph hunters, and many had been there for hours in the December cold waiting for the signatures of the hotel's guests of honor. Since 1901, the Grand Hotel has hosted Nobel laureates and their families, and Thursday was arrival day in Sweden's capital for most of this year's 14 award winners.
As the skies darkened and the biting Baltic Sea winds whipped across the Vartan Strait, the crowd of autograph hounds only grew. One such gentleman, a 70-year-old freelance photographer named Hans, has stood outside the hotel on arrival day every year since 1976, when he collected the signature of Saul Bellow, that year's winner of the Nobel Prize for literature. In a well-worn red notebook, he held signatures of dozens—perhaps hundreds—of laureates including author Alice Munro and British biochemist Gregory Winter. The next one he sought would go on a photo he kept in a folder. "I hope he will sign," Hans said, pointing to the name he'd written in black marker, Gregg L. Semenza.
Minutes later, the Johns Hopkins School of Medicine professor and winner of the 2019 Nobel Prize for physiology or medicine gladly obliged, signing a dozen autographs or more just moments after he was whisked out of a Volvo XC40 SUV, the official car of Nobel Week, and onto the red carpet accompanied by his wife, Laura Margaret Kasch-Semenza. Other bystanders whipped out their phones and cameras to capture the moment. Semenza had been in Stockholm less than an hour, and he was already getting the rock star treatment.
In this city, the home and birthplace of the Nobel Prize, laureates are treated as celebrities, and the associated ceremonies are as much a part of popular culture in Sweden as the Academy Awards are in the U.S. After laureates arrive in Stockholm, they face a gauntlet of a schedule that includes press conferences, champagne receptions, lectures, a concert, school visits, and a trip to the Swedish Riksdag (parliament), all leading up to the grand white-tie affair award ceremony held on Dec. 10 at the Stockholm Concert Hall. Laureates will also participate in Nobel Minds, a roundtable TV discussion that is celebrating its 60th anniversary this year.
Annika Pontikis, director of communications for the Nobel Foundation, said the week is a whirlwind for each award recipient, most of whom are certainly not used to this level of attention and pageantry.
"There is a lot of expectation in the air when they arrive in Stockholm," Pontikis said. "We do our best to prepare them before and after they arrive for what is about to happen. The people of Sweden have been looking forward to this."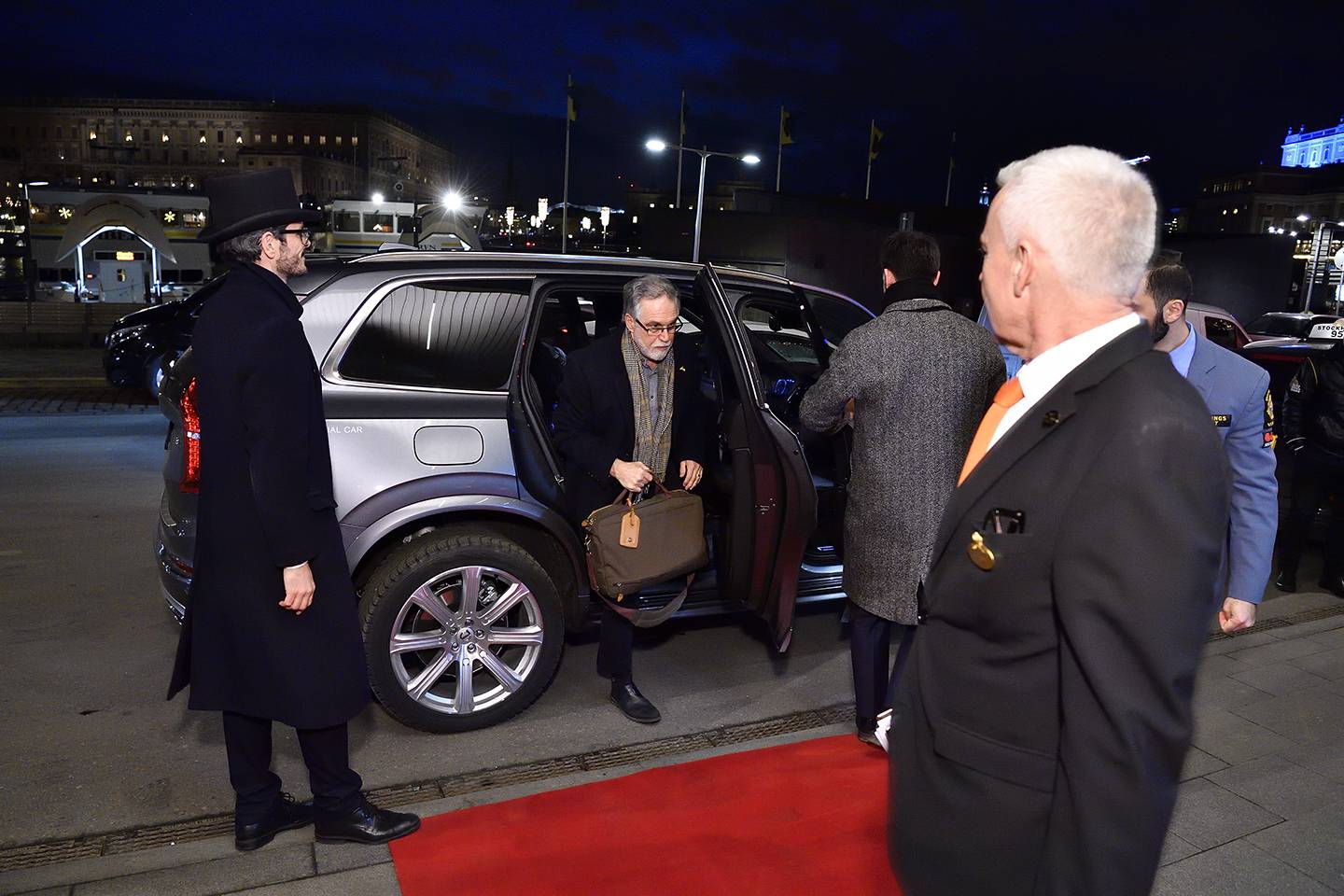 To keep them on schedule and handle all the small details, each laureate is assigned a personal attaché, a young diplomat from the Swedish foreign ministry who meets them the moment they step off the plane and stays with them for the entirety of their stay.
So began the Nobel Week journey for Semenza, 63, who earned the prize for the groundbreaking discovery of the gene that controls how cells respond to low oxygen levels. Semenza shares the award, and the $913,000 cash prize, with William G. Kaelin Jr. and Sir Peter J. Ratcliffe.
Considered among the most prestigious awards in the world, Nobel Prizes have been awarded for achievements in physics, chemistry, physiology or medicine, literature, and peace since 1901 by the Nobel Foundation in Stockholm. A total of 916 individuals and 24 organizations have received the prize named in memory of Sweden's own Alfred Nobel, a businessman, chemist, engineer, and inventor known for the discovery of dynamite.
Photos from Stockholm
The week officially kicked off Thursday with a morning press event held at the Nobel Prize Museum in the Old Town. On hand were representatives of the Nobel Foundation and some of the week's key participants, including Sebastian Gibrand, chef for the Nobel Banquet who won the silver medal earlier this year at the Bocuse d'Or, the world's most prestigious international culinary competition. For this year's banquet menu, Gibrand and a team of 40 chefs will focus on locally sourced ingredients from Swedish producers to feed the 1,300-plus guests, including the Swedish Royal Family.
"We will use everything from root to top, and nose to tail, to make sure we use all of the product and nothing goes to waste," said Gibrand, adding what a great honor it was to be hosting the prestigious dinner he views as a symbol of peace.
On Friday morning, the Nobel laureates visited the Nobel Prize Museum, where they each autographed a chair in the museum's restaurant and donated a specially selected artifact to the museum's collection. Semenza donated a 27-year-old autoradiogram, an image on an X-ray film produced by the pattern of decay emissions from a distribution of radioactive phosphorus. This particular image, he said, was a critical step in the discovery of hypoxia-inducible factor 1, or HIF-1, which has far-reaching implications in understanding the impact of decreased oxygen levels in blood disorders, cancer, diabetes, coronary artery disease, and other conditions.
Erika Lanner, CEO and director of the Nobel Prize Museum, said the artifacts give the museum's visitors an opportunity to learn more about the discoveries and works that the laureates are rewarded for.
"We are mainly a museum of stories and ideas," Lanner said. "These objects that we humbly ask the Nobel laureates to donate to us bring life, meaning, and body to these stories, which we hope will serve as inspiration for a young audience. They also help us understand and get closer to the person, which is important in itself."
The Nobel Prize is so unique and special, Lanner said, because it underscores the impact one individual can have.
"The Nobel Prize is about the possibilities for ideas to change the world," she said.
Weeks before he left for Stockholm, Semenza said that he was looking forward to the gamut of events leading up to the award celebration. In many ways, life had already changed for the modest researcher, who has gotten used to posing for pictures and selfies everywhere he goes.
"In a way, it will be more hectic than it's already been for me, but I feel we've had so much preparation for that week and a half. It will be good just to be on autopilot and have an attaché to tell me what to do every step of the way. And I'm very good at taking orders," Semenza said with a laugh.
He said he was most excited about taking in the once-in-a-lifetime experience with family, friends, and mentors who helped make his discovery possible, and who he hoped would enjoy the memorable experience as much as he would. Johns Hopkins will be well represented among Semenza's guests in Stockholm, who include JHU President Ronald J. Daniels; Paul B. Rothman, dean of the medical faculty and CEO of Johns Hopkins Medicine; Charles Wiener, professor of medicine and president of Johns Hopkins Medicine International; Haig Kazazian, professor of genetic medicine; Landon King, professor of medicine and executive vice dean for the School of Medicine; Ted Dawson, professor of neurology and director of the Institute for Cell Engineering; and David Valle, professor of genetic medicine and director of the Institute of Genetic Medicine.
Shortly after his Thursday arrival, Semenza was driven to Hans Allde tailor shop in the city's business district to be fitted for the tuxedo that he will wear on the day of the award ceremony and banquet. He was fitted personally by owner Lars Allde, the son of the store's founder, who has worked with the majority of Nobel laureates since 1982.
Semenza looked relaxed and beaming as he entered the store, greeted as a VIP and introduced to the official photographer of 2019 Nobel Prize winners, who told him: "Get used to me. I will be with you every step of the way."
The visit was a brief one—his only big decision was what type of bow tie he would wear. Semenza left the store eager to return to his hotel, get some sleep, and prepare for what lies ahead.
"Tomorrow we get going for sure," he said. "I'm really looking forward to it."