The gown designed and made by the House of Revlon looks like something transported from both the future and the past. Pages from books are layered onto a tiered hoop skirt, cinched at the waist by a bodice of yellow pencils. More book pages form a ruffled V-neckline and cascade down into billowing pagoda sleeves. When strutted up and down a catwalk, it elegantly shimmies and cuts the kind of stunning silhouette that Jean Paul Gaultier would covet.
The House of Revlon was one of many families from the ballroom community—a nearly century-old countercultural provocation of fashion, dance, performance, and politics created by LGBTQ people of color in New York City—that participated in a ball held at the George Peabody Library in April. Performers from up and down the East Coast came to Baltimore to compete in categories designed specifically for the event. Icon Jack Mizrahi, a New York-based producer and ballroom historian, and Baltimore's Trebra Blahnik served as the fast-talking, shade-throwing masters of ceremonies. DJ Vjuan Allure St. Laurent filled the night with body moving sounds. The result was an extravagantly engaging evening, and a 10-minute documentary featurette about the ball that debuted online in late September.
The ball and documentary are but two outcomes of the ongoing Peabody Ballroom Experience, a collaboration between the Peabody Library and Baltimore's ballroom community. Developed by Joseph Plaster, curator in public humanities for the Sheridan Libraries and an assistant research scholar at the Alexander Grass Humanities Institute, the Peabody Ballroom Experience has included vogue dance workshops for Peabody students, film screenings, and an oral history project with members of the local ballroom community. The project and Plaster's position are funded by a grant from the Andrew W. Mellon Foundation.
Plaster moved to Baltimore in 2018 specifically to conduct research using the collections housed in the university's museums and libraries and interpret them in ways that bring to light the histories of marginalized communities, he says.
"I decided to partner with artists in the ballroom community to interpret the Peabody Library collections. It seemed like an incongruous match at first," he says. "Most of the library books were acquired by Baltimore's white male elite in the late 1800s and reflect their interests and prejudices. But one of the most powerful things about ballroom culture is its ability to adopt elements of mainstream culture—even those elements that are built on unjust privilege—and reinterpret them as something beautiful and life-affirming for the queer people of color who make up the community."
View this post on Instagram
The Peabody Ballroom Experience is an innovative and intimate approach to creating a dialogue between an anchor institution such as Johns Hopkins and a local creative population that has existed mostly below mainstream culture's radar. As Plaster notes in his essay for the Radical History Review's blog, titled Black Queer Performance in Baltimore's "Cathedral of Books": the Peabody Ballroom Experience envisioned an "exchange of knowledge between Johns Hopkins and Baltimore's ballroom community, bringing together faculty, students, and ballroom leaders as partners in education." The approach, he adds, recognizes "performance as a repository for history and knowledge, expanding what 'public history' can look and feel like."
It's a process that involves patient, sometimes difficult conversations. Plaster started the project with a few members of the ballroom community, who invited others to join.
"When I came to my first meeting, there were no black trans women—and they typically are who's in the ballroom scene in Baltimore and who actually started ballroom," says Londyn Smith de Richelieu, a member of the advisory board that guides the project's collaborations and events. Smith de Richelieu is an activist who works for BeSure Baltimore, a program operated by the Johns Hopkins Bloomberg School of Public Health and the Baltimore Department of Health and Mental Hygiene to guide HIV prevention, counseling, and testing services in the city. And she wanted to make sure black trans voices were included in the project. "I found that problematic and I mentioned it," she says. "And I stayed, in part, because I realized that my voice as a part of that community would be imperative to the success of this project."
Smith De Richelieu also works to raise awareness about not only who gets to speak for ballroom culture, but who gains from its mainstream monetization. As ballroom has gradually slipped into the mainstream thanks in part to Jennie Livingston's cult 1990 film Paris is Burning, Madonna's 1990 song and video "Vogue," and, more recently, FX's gripping TV drama Pose, ballroom performers are transforming from subjects to muses, and more recently, to creative producers. As Mizrahi, an on-set Pose consultant, told Billboard magazine in 2018: "When I first heard about the show, I thought, 'Somebody has to call me.' Not to be cocky, but if you're having a conversation about ballroom, for the last 25 years I've been the most involved person pushing forward for the community."
"Ballroom is having a mainstream moment," Plaster says, noting other cultural touchstones such as the Viceland show My House, and the first vogue battle at the Metropolitan Museum of Art, which took place in June. "One of the dangers of mainstreaming is that outsiders can co-opt and appropriate the culture, often for their own financial gain. One of the first things I did when I launched the project was create an advisory group of ballroom leaders to organize an event that was by ballroom, for ballroom."
The Peabody Ballroom Experience advisory board includes people spanning the Johns Hopkins and ballroom communities, including Plaster; Smith de Richelieu; Iconic Sebastian Escada; Legendary Mother Marco Blahnik, of the House of Manolo Blahnik; Legendary Enrique St. Laurent; Father Keith Ebony Holt, of the House of Ebony; Gabrielle Dean, curator of rare books and manuscripts at Johns Hopkins; Paul Espinosa, curator of the George Peabody Library; MICA curator George Ciscle; and Madison Moore, an assistant professor at Virginia Commonwealth University. In consultation with the board, Plaster reached out to local vogue dancer Marquis Revlon to lead the vogue workshops with Peabody dance students and to photographer Gerard Gaskin, who shot the photo book Legendary: Inside the House Ballroom Scene, to document the ball itself. He then reached out to film students in the Johns Hopkins MA in Film and Media program to work on the documentary.
Also see
The board also consulted the archives of the George Peabody Library to brainstorm competition categories for the ball, impressively combining themes from great books with ballroom's bottomless well of creativity. One category, called "Don't Judge a Book by its Cover," was inspired by the combination of the artistry of fore-edge books and the popular ballroom category called Face. "Paul [Espinosa] showed me one of the fore-edge books and it looked like a regular book," performer Keith Ebony says. "And when he pressed the pages together it became a beautiful illustration. And I said, That's like Face—you become completely concealed. No one sees the beauty that you're hiding underneath. And then you take off the veil and it's a beautiful masterpiece, just like the book."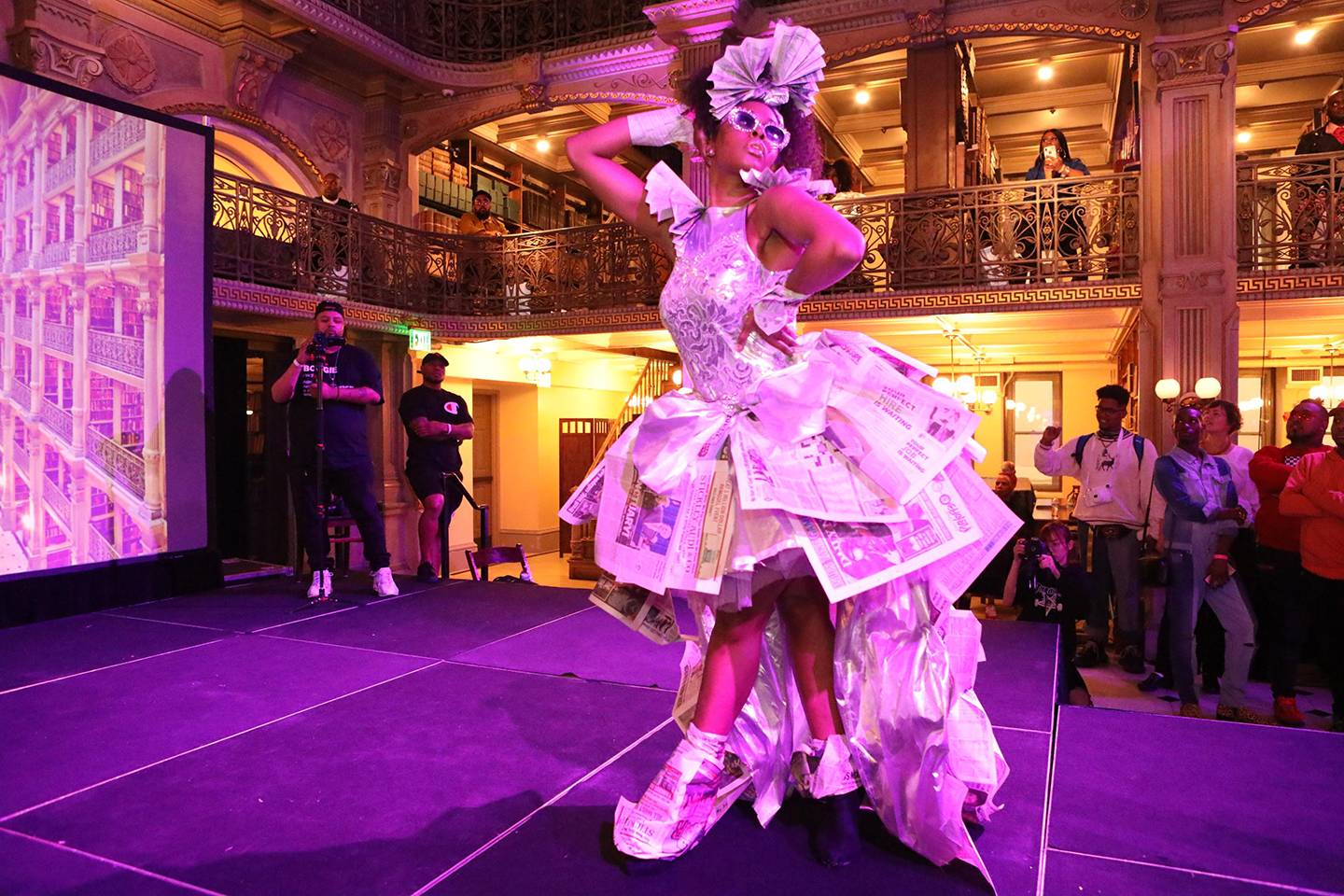 Ebony is a veteran in Baltimore's ballroom community, and has organized large ballroom events at the Smithsonian. He's also organized events that combine ballroom with public outreach because he believes the art form serves a social role.
"Honestly, I was so afraid of ballroom at first," Ebony says. "It scared me because I didn't want people to know I was gay. But I had a lot of friends who were involved, and then I met my parents, and the rest is history. Ballroom definitely helped me to accept myself and my sexuality, I will say that."
"It was monumental for us to be in that space—to have black and brown people in this space, and black and brown people teaching voguing to Peabody students and communities who didn't know about ballroom was historic."
Londyn Smith de Richelieu
The Peabody Ballroom Experience packed about 350 people into the Peabody library for a few hours of catwalking, vogueing, arm control, hand performance, and dips, where a performer controls a backward fall to the ground with a single bent leg. It's a visually spectacular, anatomy-defying move, and audience members cheered those who dared it by raising a hand into the air and bringing in down in time with the dip itself. Contestants in the 12 categories drew their wardrobe and movement inspirations from the library holdings, such as the opulent imagery in an illustrated 1828 copy of Portraits Of Illustrious Personages Of The Court Of Henry VIII or the motions captured by photographer Edweard Muybridge in his 1887 book Animal Locomotion. Map imagery was turned into bodysuits; books into towering headpieces. And an array of devilish costumes and acrobatic movements competed in the final category, "Battle of Heaven and Hell," inspired by John Milton's epic poem, Paradise Lost.
Plaster recently started planning for the second ball, scheduled for April 2020. The ballroom community is already looking forward to the next one.
"After the event, that night people were telling me, 'I can't wait for the next one,'" Ebony says with a laugh. "And I'm like, 'We just finished this one.'"
The event was more than just an opportunity for the Baltimore ballroom community to partner with America's first research university—it was a rare chance for a marginalized community to occupy a grand, historic site in the city. In recent years a number of clubs and venues that used to host local balls have closed or been displaced, and ball organizers have sought other venues further out from the city center. And place has been an important factor since the art form's beginnings.
"When people think about ballroom, New York City always overshadows everything," Ebony continues. "The beautiful thing about this experience is that you have another scene about three and a half hours from New York that is thriving, that has its history, its own legends, its own icons, its own venues. New York is of course the mecca of the ballroom scene, but it is good to know that other places around the country are doing it, too. Ballroom started out as an underground community, and the fact that we are in places like Peabody means our art form is not hidden anymore."
Adds Smith de Richelieu: "It was monumental for us to be in that space—to have black and brown people in this space, and black and brown people teaching voguing to Peabody students and communities who didn't know about ballroom was historic."