As partisan discord cripples Washington, state governors are finding themselves more united than ever, Maryland Gov. Larry Hogan said Monday night.
"We're now coming together in our disgust with Washington … and our frustrations about how things they're doing or not doing are impacting all of our states," he said.
Last night, Hogan and two other governors—Tom Wolf of Pennsylvania and Chris Sununu of New Hampshire—sat down for a PBS NewsHour roundtable to discuss state politics and bipartisan solutions. Both Hogan and Sununu are Republican; Wolf is a Democrat. All three govern states in which the opposing political party controls the legislature.
NewsHour anchor Judy Woodruff moderated the event, which was sponsored by the Stavros Niarchos Foundation Agora Institute at Johns Hopkins and took place at the SNF Parkway Theatre in Baltimore.
During his introductory remarks, Johns Hopkins University President Ronald J. Daniels said that at a time when "the rage of the party" dominates American politics, the roundtable event offered a chance to explore how governors have "navigated interparty dynamics and what lessons can be drawn from their experiences for the broader challenges we're facing."
The wide-ranging conversation explored a variety of topics, including:
The federal government shutdown
Hogan said the recent 35-day shutdown—the longest in American history—was "a perfect example of how the system in Washington is broken."
"It seems like a bunch of 2-year-olds fighting," he said. "Most people in the country, regardless of what party they are, they just want them to sit down and figure out solutions."
Sununu surmised the public reaction: "It was all of America saying, 'You should all be embarrassed for not putting people first.' And that crosses a political divide. That's a very purple concept, if you will."
Wolf, who himself faced a nine-month impasse in his state over passing the budget, said the difference there was the continual goal of compromise: "All of us, both sides, kept trying to reach agreement."
State-level partisan divides
Sununu, the first Republican in New Hampshire since the Civil War to work with an all-Democrat legislature, said his "toughest arguments" are actually among his own party.
He compared it to Thanksgiving dinner: Families may fight behind closed doors, "but when you walk out your front door, you're family first, and you have to stick together on … certain principles and ideals."
Added Hogan: "You have to pick and choose your battles."
As a Republican leader, he said, "there are certain things in a legislature that's two-thirds very liberal Democrat … I'm not going to push that."
Wolf offered similar sentiments.
"It's not all about fighting—it's persuasion," he said. "In a real functioning democracy, you actually have a good give and take. You can convince people, and people can convince you."
Gerrymandering
Both Wolf and Hogan spoke about the importance of removing partisan politics from the redistricting process in their states.
Following heated battles over the issue in Pennsylvania, Wolf last fall signed an executive order to establish a nonpartisan commission to improve the process.
"I'd love to move Pennsylvania to the point where we get politicians out of the way of drawing election maps," he said.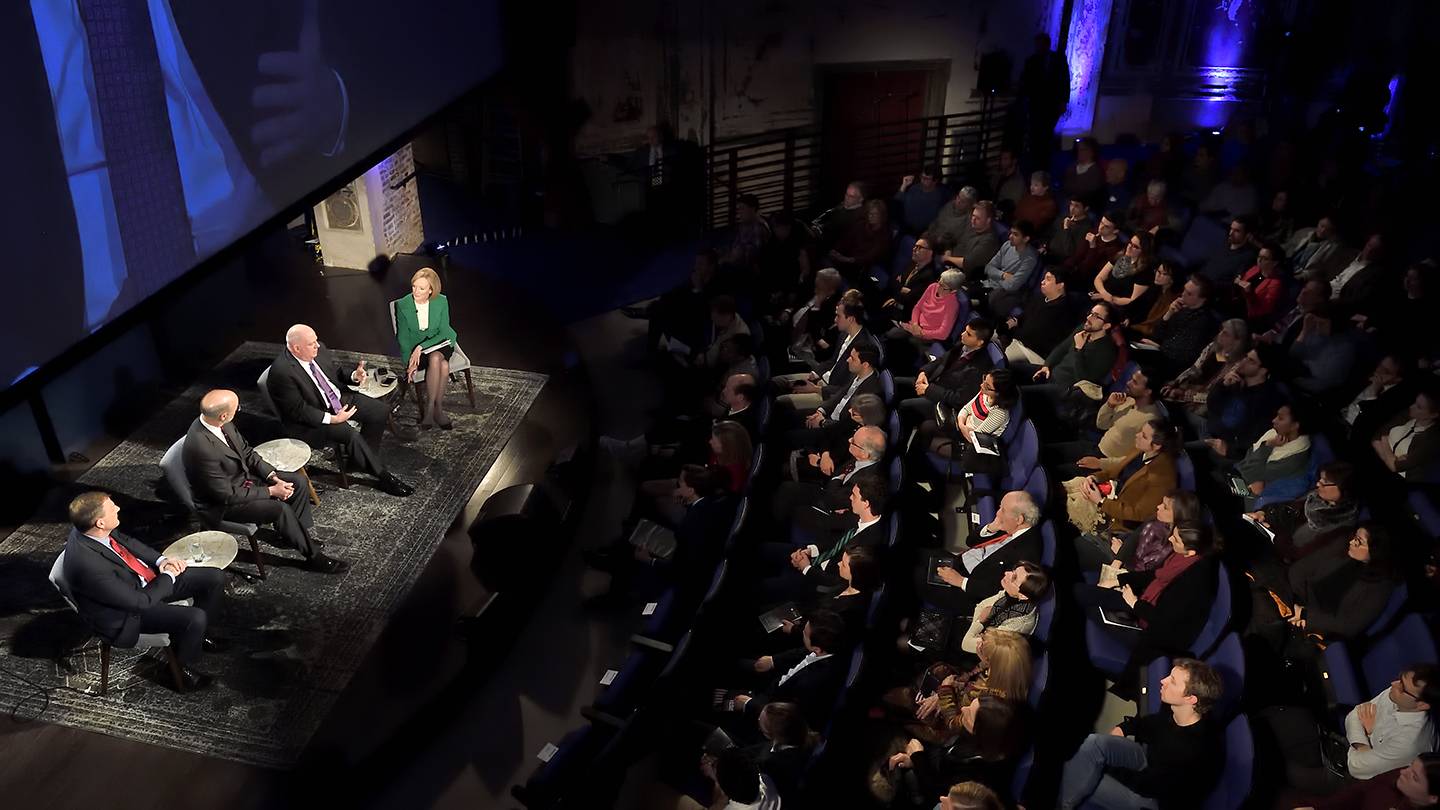 Maryland is one of three states whose maps have been declared illegal by judges due to partisan gerrymandering. The majority of the public supports creating an independent commission, Hogan said, but efforts to create one have been hampered by partisan politics.
"We can't even get it on the floor for a vote," he said.
Hogan's presidential prospects
Responding to rumors of a 2020 presidential run, Hogan said his focus remains on Maryland.
"I'm flattered that people are talking about that possibility, but that's not something I'm focused on," he said, though he later added: "Who knows what's going to happen two years from now?"
Signs of hope for Washington
"This is democracy, it's not a spectator sport," Wolf said, predicting that more citizens becoming re-engaged with politics will ultimately "re-center the political system."
Sununu, who has a background in engineering, added: "I believe in cycles. That's mathematically the way it goes."
He also emphasized the stability of America's core foundations. "The formula is there … the founding fathers were absolutely brilliant and got it right. Just because we're in a polarizing point right now doesn't mean we should give up on the system."
Hogan added that despite the political divisions that continue to bubble to the surface and drive much of the national conversation, he believes there is more that unites Americans than divides them.
"A majority of people would like us to get back to … that middle ground where we all stand together," he said.