The cosmetic technique of contouring sold by Kardashians and models to thousands of Instagram fans in recent years actually dates back to the Elizabethan era, when stage actors would exaggerate the planes and shadows of their faces with lead or ash to appear more masculine or feminine.
The dramatic smokey eye was iconic in ancient Egypt, when royalty would paint their faces with kohl, the oily black residue left behind from burned paraffin wax.
And in the Indian subcontinent, ancient civilizations knew they could change the color of powdered turmeric, a flavorful root in the ginger family, by mixing it with compounds of varying pH balances to achieve a yellow or red paste for cosmetics.
In fact, humans have been beautifying their faces and bodies for ceremonial or personal purposes for millennia, and in the process, whether knowingly or not, they've used principles of organic chemistry to manipulate their products and achieve—nay, slay—their looks.
In the Intersession course Cosmetology 101: The Chemistry of Beauty Products, Johns Hopkins University students spent three weeks exploring the principles of chemistry that underlie the cosmetics industry. The new course, taught for the first time by senior chemistry lecturer Sunita Thyagarajan, was an instant hit, meeting its 20-student capacity and racking up a waitlist of 30 people.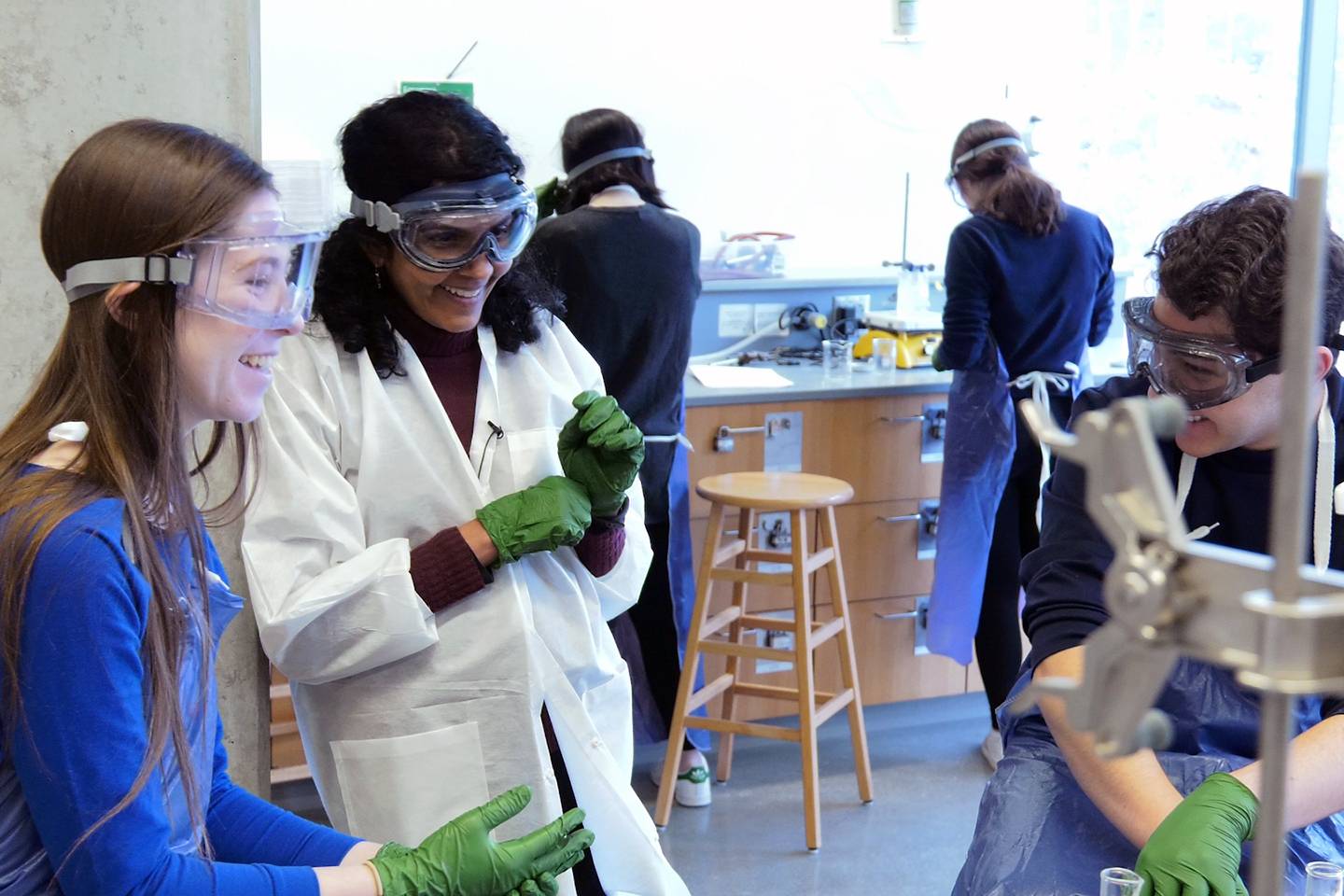 "I don't wear a lot of makeup but I am really into skin care," said Haina Saqibo, a first-year biomedical engineering student. "Unfortunately my skin type is really sensitive to products, so knowing about the composition of different cosmetics and what compounds go into them will help me understand my own skin care needs better."
Ying Zhang, a first-year applied math and statistics major, was encouraged to take an Intersession course in order to stay in Baltimore during the winter break, and she found the cosmetology course was a great fit for her future aspirations.
"I actually want to be a dermatologist, so this course was right down my alley," she said.
The class met twice a week for lectures on chemistry and twice during the minimester for lab experiments. In the first lab, students reacted fat with lye to create soap, and scented it with essential oils. Later, students were able to create a body scrub out of natural and organic ingredients like rock salt, sugar, and honey, and to formulate their own shea butter creams.
Thyagarajan says she's always wanted to teach an Intersession course and was looking for a way to show students the fun side of chemistry.
"The cosmetics industry is one of the larger industries in the world, and it's one of many practical applications of chemistry," she says. "I thought it would be fun, yes, but I had no idea it would be so popular."