John Arena already knew he wanted to play college football when he started visiting schools with his father during his high school spring break.
After arriving on Johns Hopkins University's campus, Arena and his dad immediately headed toward the athletic center to check out the facilities and, they hoped, meet some of the football staff.
Together they dropped into coach Jim Margraff's office unannounced. They introduced themselves and got to talking about the Hopkins football program. When they mentioned they were scheduled to take a campus tour later in the day, Margraff stood up and launched into a full, impromptu tour.
"He had no idea who I was. He had no idea if I could play football even a little bit," Arena said. "But he dropped everything he was doing and gave us a personal tour of the campus. That's when I knew he was special."
"Being great football players is something we strove for as a team, but he wanted to make sure his team was composed of great citizens, too."
John Arena
2014 Hopkins graduate, former football team co-captain
Over 29 years of coaching, Margraff's legacy has been cemented in the record books. But for the hundreds of players who have been a part of JHU's football program in the past three decades, he was more than a coach.
For them, his impact can't be measured in numbers. His is a legacy of a mentor, a father-figure, a co-worker, and a friend.
Johns Hopkins will honor Margraff—who died suddenly earlier this month at 58—at a memorial service at 5 p.m. on Saturday in the O'Connor Recreation Center on the university's Homewood campus. Members of the Margraff family will greet guests beginning at 3:30 p.m. The event will be livestreamed on the JHU Ustream channel.
Arena, who graduated in 2014, would go on to serve as Blue Jays' captain. He said one of the things he will always remember about Margraff was his penchant for breaking down complex ideas into easily repeatable maxims.
It seemed like for every situation, Arena said, Margraff had a saying that applied to both football and life.
"Don't spend your time. Invest your time."
By all accounts, Margraff was extraordinarily invested in the success of his players. He saw them not just as jerseys on the field, but as whole people with dreams and plans beyond their time at Hopkins.
After each practice, Arena recalled, Margraff would ask his captains about how the members of the team were doing. He'd want to know if anyone was feeling discouraged or homesick.
"He understood that success on the football field for these players was just one attribute for careerlong success," said Arena, now a medical student at the University of Pennsylvania studying traumatic brain injury. "Being great football players is something we strove for as a team, but he wanted to make sure his team was composed of great citizens, too."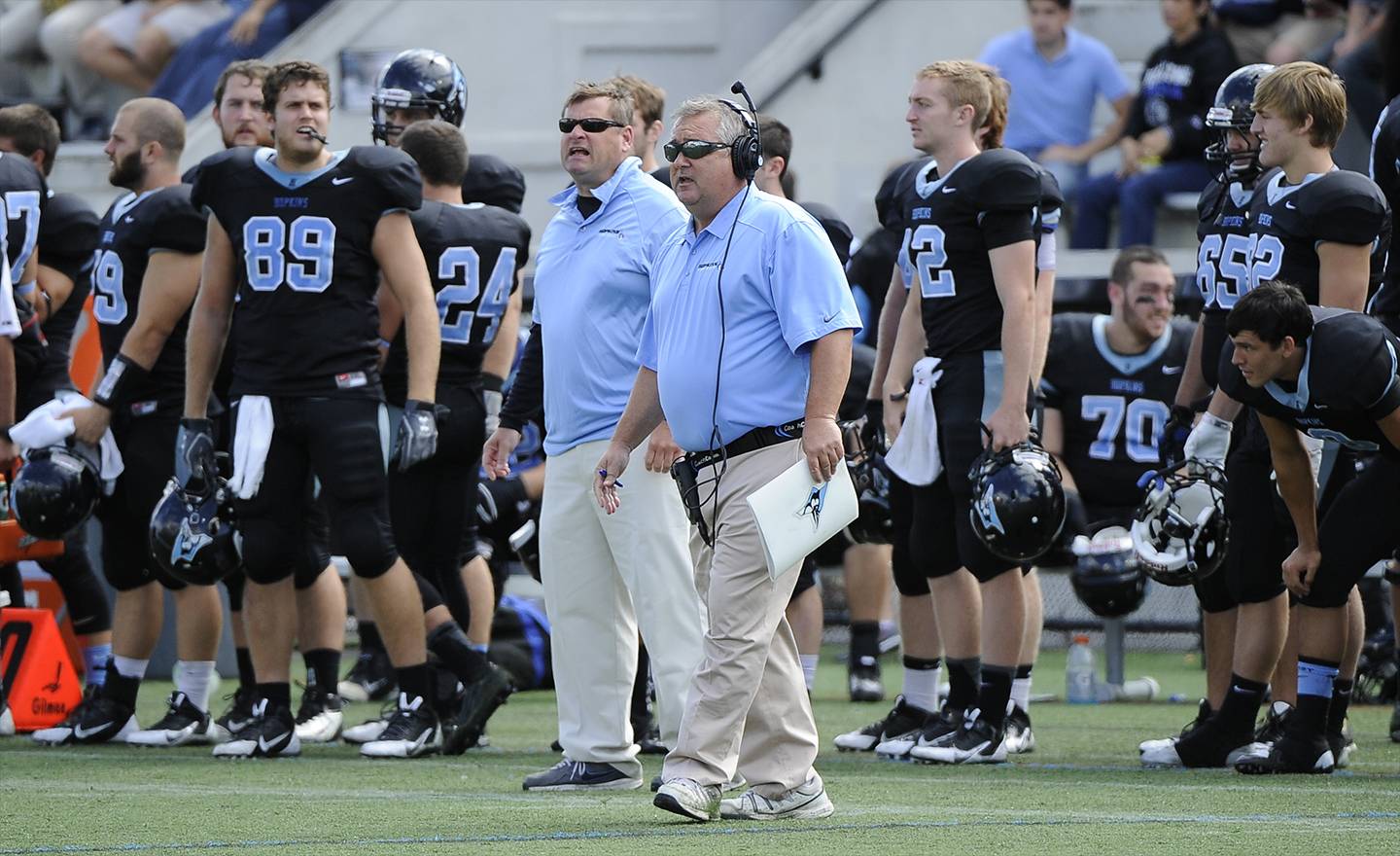 "Pressure is for surgeons and soldiers, not football players."
Once, after a particularly grueling practice, starting quarterback David Tammaro stuck around to put in some extra work. A first-year player sat on the sidelines, head in hands, distraught because of several errors he made throughout the day.
"Coach Margraff walked over and put his arm around him and started consoling him," said Tammaro, a junior and two-year starter. "It looked like a father and son moment. I don't know what was said, but you could tell he was genuinely involved."
When he met members of the team, Tammaro said, Margraff would want not only to learn the player's name but also his parents' names, his hometown, and anything else he could. He wanted to know his players as people, an approach that spread throughout the team. It's easier to put everything on the line, Tammaro said, when you knew it was in service of a man and a group of teammates who cared about you as a whole person.
Margraff led Hopkins to unprecedented success, but it was when the team faltered that his true character came out. Tammaro spent a year and a half with the team before the Blue Jays suffered their first regular-season loss. The team's confidence was shaken, but Margraff handled the moment with uncommon poise and perspective.
"When you think of a football coach, you think of this big macho guy who's yelling and will curse you out time and time again, but he had this sympathetic side to him," Tammaro said. "He was a calming presence. He never let his emotions get too high and never let them get too low, and that's what I respected of him."
"Carry yourself with pride and poise"
For all of Margraff's on-field success—he won 14 conference championships, and his 221 career victories are the most in school and state history—he was the first to insist that those accomplishments reflected the hard work of his players and staff.
"The guy's a legend," said offensive coordinator and interim coach Greg Chimera, who spent 14 years with Margraff, first as a player, then as a member of the coaching staff. "Thirty years of coaching, most wins in the state of Maryland for college coaches, one of the best coaches of all time. And if you asked him, it would never come up."
Margraff was quick to deflect praise but also to take blame, Chimera said. If the team lost, he wouldn't let that fall on the players—he took it on himself.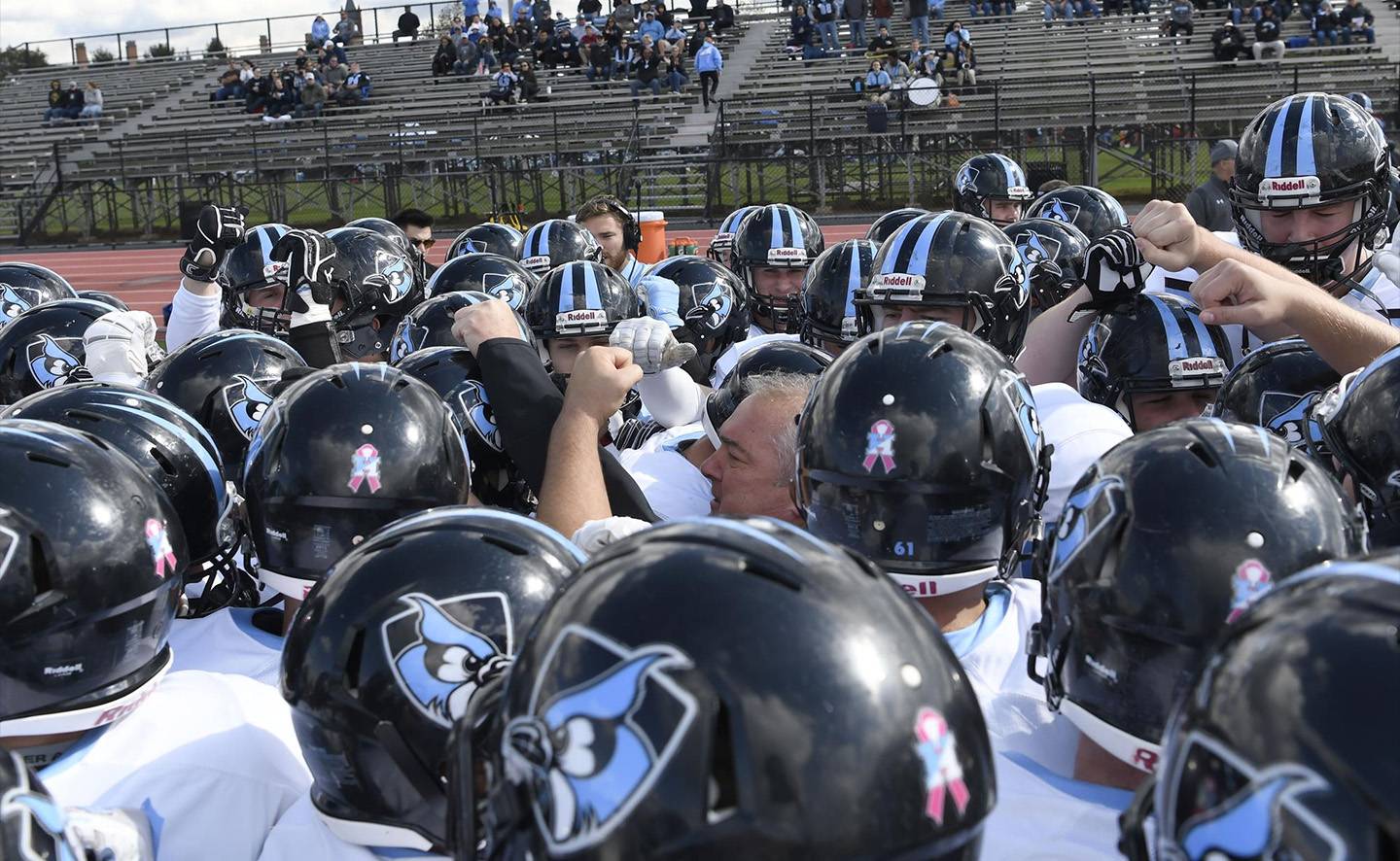 Chimera joined the team in 2005 and after four years began weighing his post-graduation options. Thoughts of joining Wall Street fell by the wayside when Margraff asked if he would be interested in staying on and coaching the defensive line.
As their relationship transitioned from player and coach to that of co-workers, Chimera said he gained a new appreciation for Margraff. He began to notice how he treated players not as students, but as adults. It was his trust in them that made them not want to let him down.
Margraff approached every situation as an opportunity to teach a life lesson, Chimera said. He found ways to connect with his players.
"At the end of practice, you're so tired, and on other teams the last thing you want to do is sit around and listen to some guy talk to you," Chimera said. "But our guys were just glued. Everyone was wide-eyed and listened to every word."
"Your reputation is like a redwood tree. It takes many years to grow, but it only takes 15 minutes to cut down."
Senior Jarrett Smith would joke with Margraff, saying he could imagine the coach announcing his retirement at the end of a season, avoiding the fanfare and celebrations that might otherwise accompany his final year on the sidelines.
"He would laugh and say 'that's probably what will happen,'" Smith said. "That's bittersweet now."
Also see
On Dec. 1, Hopkins faced Rensselaer Polytechnic Institute in a Division III quarterfinal matchup with a spot in the national semifinals on the line. Alumni came from across the country to support Hopkins on its home turf—it was one of the biggest games in the program's history. All week, Margraff had been receiving emails from former players and alumni wishing him luck, Smith said.
After the game, with Hopkins having secured a 37-14 win and its first-ever trip to the DIII semifinals, current and former players gathered around the tunnel with Margraff's family and others. As Margraff walked off Homewood Field, a chant began: "Jim-my Mar-graff! Jim-my Mar-graff!"
Smith said he saw the coach shed a couple of tears.
"I didn't realize what was happening at the time, but that was the last time he walked off Homewood Field as a coach," Smith said. "There was just so much respect from years and years of people he touched. All of that hard work for 29 years just came to a head in that moment. That gives me chills."