The box of sample eyeglass frames contained several options that appealed to Glori Mahammitt's sense of style: A pair in a bold leopard print, another in jewel-tone red, some that were fashion-forward clear, one in electric blue.
But one frame in particular called to her, said Mahammitt, a fifth-grader at The Commodore John Rodgers School in Baltimore's Butchers Hill neighborhood. For her first-ever pair of glasses, she chose frames that remind her of fashion icon Coco Chanel.
"I chose black because it's sophisticated and it goes with everything," she said.
Mahammitt received her new glasses Monday in a ceremony celebrating the citywide Vision for Baltimore program. Hers was the 5,000th pair distributed since the program launched in 2016.
Through strategic partnerships with Johns Hopkins, the nonprofit Vision To Learn, and eyewear retailer Warby Parker, Vision for Baltimore aims to conduct vision screenings for every student between pre-K and eighth grade in Baltimore City Public Schools—that's roughly 60,000 kids—and to provide free eyeglasses to students who need them.
"For Johns Hopkins, this partnership reflects our deep commitment to harnessing our research and resources to directly improve the lives of our neighbors here in Baltimore," said Ronald J. Daniels, president of Johns Hopkins University. "The Vision for Baltimore program embodies the kind of collaborative effort that is possible in this city to fix a seemingly intractable, systemic problem. Together with civic leaders, philanthropies, our researchers, and Hopkins alumni–founded Warby Parker, we are able to help students see and expand their educational opportunities. We are delighted to play a part in forging this Baltimore success story, one pair of glasses, one student at a time."
In the past three years, more than 43,000 vision screenings have been conducted by the Baltimore City Health Department. School-based eye exams are performed by Vision To Learn, and Warby Parker supplies the glasses. Johns Hopkins works side by side with these partners in schools across the city, providing program support and conducting research through a collaboration between the School of Education and the Wilmer Eye Institute at the School of Medicine. The research is supported by the Hackerman family and the Abell Foundation, as well as a grant from the Laura and John Arnold Foundation.
"It's programs like this that help us to provide for these young people what they need," Baltimore Mayor Catherine Pugh, who presented Mahammitt with her glasses during Monday's ceremony. "It's partnerships that make these kinds of programs work, and it's how we collaborate and work together that moves our city forward. It is about the future of our young people."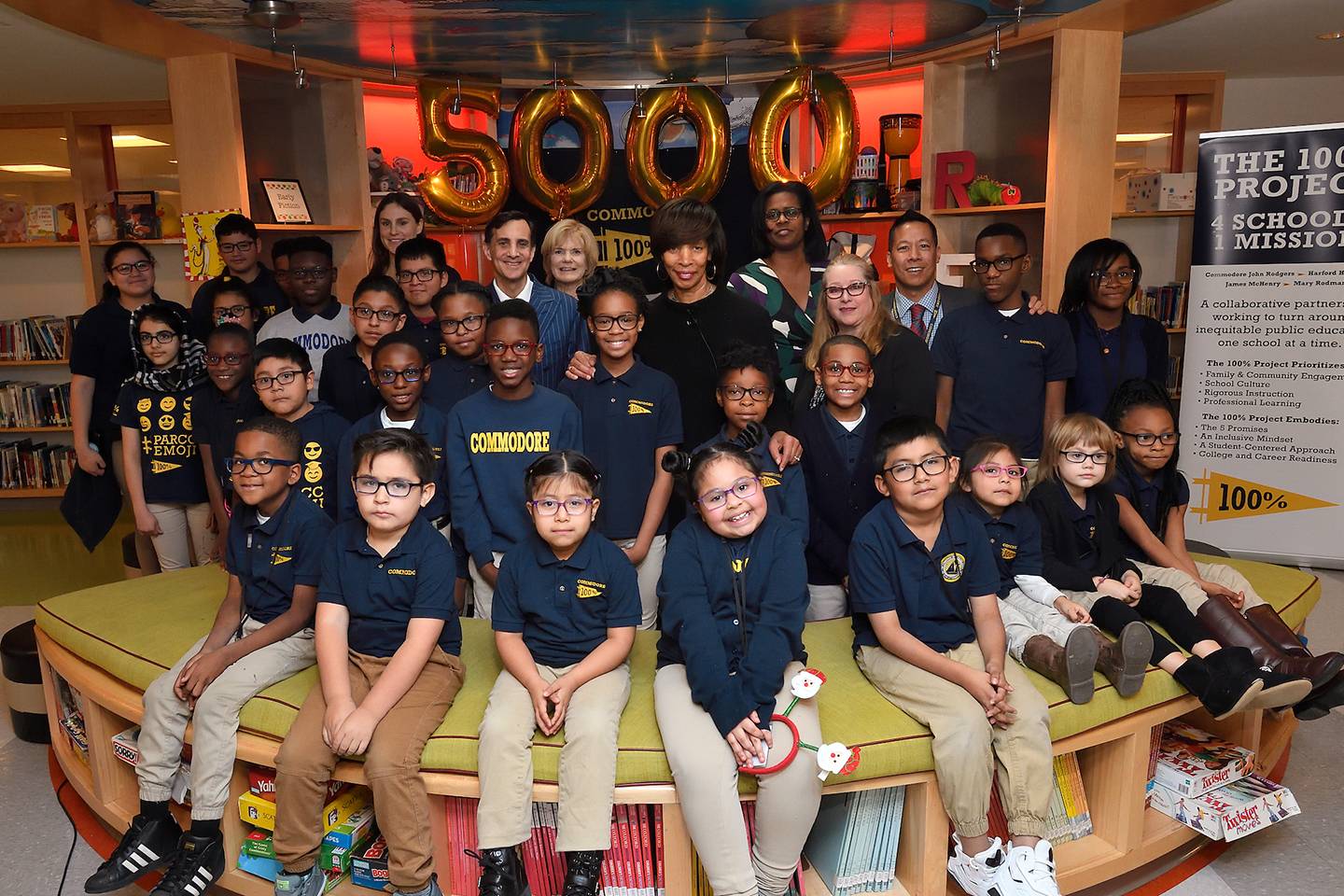 To gauge the effect of Vision for Baltimore on learning, Hopkins researchers will compare students' standardized test scores before and after receiving glasses to understand the impact of school-based eye care on academic performance. The team is also working to develop strategies to reduce the rate of lost or broken eyeglasses and is conducting a cost analysis of the economic impact of expanded programs for vision screening and school-based eye care.
The research at Johns Hopkins is led by Megan Collins, an assistant professor of ophthalmology in the Wilmer Eye Institute, and Robert Slavin, director of the Center for Research and Reform in Education at the Johns Hopkins School of Education.
"The Wilmer Eye Institute and School of Education are pleased to be part of this innovative partnership, building a sustainable system for addressing vision care needs in Baltimore City's youth and studying the program's impact on academic performance," Collins said.
The Vision for Baltimore team plans to complete screenings and eye exams at all 150 elementary and middle schools in the school district by this summer.
For Mahammitt, receiving her first pair of glasses was a personal milestone—one she was excited to share with her best friend of three years, Kameran Rogers.
"I'm excited for Glori, because she really couldn't see anything. We sit together in the back of the class and she's always scrunching her eyes and getting headaches," said Rogers, who also received a pair of glasses from Vision for Baltimore.
Rogers pointed out that for the ceremony, Mahammitt wore a black bow in her hair—likely so she'd match her new glasses, he said.
"That's such a Glori thing to do," he said. "I'm proud of her, because she was really nervous about today. I'm glad she gets to have her moment."
The pair said they plan to go to Rogers' grandmother's house this evening to watch the news and look for local coverage of the Vision for Baltimore celebration. This time, Rogers said, Mahammitt won't have to squint.