The members of the Johns Hopkins University Class of 2022 come from disparate places and backgrounds and bring with them diverse interests and experiences. But there is one thing, at least, that unites them as they start their college journey: this year's Common Read book selection, The Montgomery Bus Boycott and the Women Who Started It: The Memoir of Jo Ann Gibson Robinson.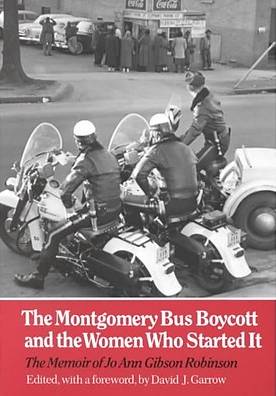 Written by Robinson herself, the 1987 book gives a firsthand account of the crucial female-led activism behind the scenes of Martin Luther King Jr.'s rise to prominence in the 1950s. As president of the Women's Political Council (WPC) in Montgomery, Alabama, Robinson helped orchestrate the famous Dec. 5, 1955, boycott of the city's segregated bus system that laid the groundwork for sustained civil rights protests in the city, and ultimately across the nation.
First-year students were encouraged to read Robinson's memoir over the summer, then take part this week in on-campus discussions facilitated by faculty, staff, and student guides. Below is a sampling of comments about the book from students and faculty facilitators.
Taylor Chan, Class of 2022
These past 12 years in high school and elementary school, I heard about the Montgomery Bus Boycott, but I never witnessed this side of it—the women, portraying their struggles, how they organized the movement. … I had no idea what the WPC was before I read it. We never talk about that part of history, I guess … but I hope that this book changes the perspectives on that.
Aaditya Rau, Class of 2022
I thought it was a very pertinent read for the days that we live in. Ever since the [2016] election, I think that we've seen an uptick in protests, and [considering] how to be a good activist is something I thought about a lot when reading this book. The book places such an emphasis on the need to get up and move and really mobilize against oppression. That's an important message for people in modern day when it's so easy to be an activist online and just "like" articles and say "This is bad."
Many elements of the memoir are strikingly contemporary, including the segregation proponents' use of "fake news" to try to break the boycott. Students in my discussion group were swift to draw connections to the 2015 Baltimore uprising in response to the murder of Freddie Gray and the Black Lives Matter movement, and were sobered by how many of the same obstacles to equality and justice remain, 50 years after the Civil Rights movement. This was my fourth year participating in the Common Read program, and I had the most engaged and illuminating discussion yet.
Miri Cazes, Class of 2022
I really like the sense of community that this book presented. … It wasn't only the churches' support but it was also the fact that the black communities were isolated in the city, [which] helped form that type of unity in the boycott. I think we should apply that to any society or community that we're in, that sense of unity.
Gabrielle Dean, curator and Writing Seminars librarian
I was ... taken with Robinson's approach to the genre of memoir: personal but full of facts. As an eyewitness account of a turning point in American history, it gives readers the chance to understand what that struggle felt like to someone who was an actual participant. But the book also provides concrete details about boycott operations, organizational techniques, and legal strategies—which help us see what it took to carry it out.
Ross Andersson, Class of 2022
In our [group] we talked about a lot more than just racism and sexism. We dove into more of the spirituality of it, and how the boycotts and a lot of the movements were started through the church. And explored how the church has affected protests and civil disobedience throughout all of history, [such as] the Crusades in Christianity that weren't so peaceful, as opposed to Martin Luther King Jr. trying to lead more peaceful protests through his preachings.
Brian Trigg, Class of 2022
Most of the histories we end up hearing about or reading about are all about what was said on the stage … what was going on where everyone could see it. But this book had … more along the lines of, well, who actually made that happen, what were the emotions, the undercurrents going on, that couldn't necessarily be seen by the historians, that couldn't necessarily been seen by anyone who was not part of that organization. And that was really cool.