Flaky croissants overflowing with creamy chicken salad. Herbed deviled eggs with a flourish of dill. Petals of prosciutto wrapped around crisp asparagus spears.
Each dish prepared by Gundalow Gourmet is created with precision—and an eye for Instagram-worthy aesthetics. But that's just part of what sets Gundalow Gourmet apart from other caterers.
The Baltimore-based company's 28-year-old founder, Dana Sicko, oversees a staff of six women. And the team prepares its delicious dishes in a former car dealership that has been transformed into an incubator for culinary start-ups.
"We love being small and flexible," Sicko says. "We look at ourselves as a boutique catering company. We can be more nimble. Our chefs can experiment with new ingredients and new recipes."
Over the past year, Sicko has catered more than a dozen meals for Johns Hopkins through the HopkinsLocal initiative. The events, which range from small gatherings to conferences with up to 150 guests, have been a big boost for the local catering business.
"When a large institution like Hopkins supports small businesses, it benefits so many different people," Sicko says. She notes that she often taps fellow businesses in B-More Kitchen, the culinary incubator where Gundalow Gourmet is based, to bake the croissants for her sandwiches or provide other key ingredients.
"When a large institution like Hopkins supports small businesses, it benefits so many different people."
Dana Sicko
Founder, Gundalow Gourmet
That's part of the concept behind the HopkinsLocal initiative—supporting Baltimore businesses that will, in turn, support other local partners. Launched in late 2015, HopkinsLocal aims to create jobs for Baltimore residents, bolster local businesses, and increase diversity in Hopkins' workforce and among business partners. Both the university and the health system have stepped up efforts to offer design and construction contracts to local minority- and women-owned businesses, work with more local vendors, and hire more city residents.
And it's working. In the fiscal year that ended in June 2016, Hopkins spent $94 million with local businesses, an increase of $5 million from the 2014 fiscal year. According to a new progress report, last year that figure jumped to $109.7 million—a $20.5 million increase over 2014—and it is projected to increase even more in the current fiscal year.
"We believe that local spending will lead to the creation of local jobs," says Kylie Patterson, the university's senior adviser for local economic inclusion. "We understand that unemployment is one of the greatest problems facing Baltimore City. We want to bring down unemployment and then work on closing the wealth gap."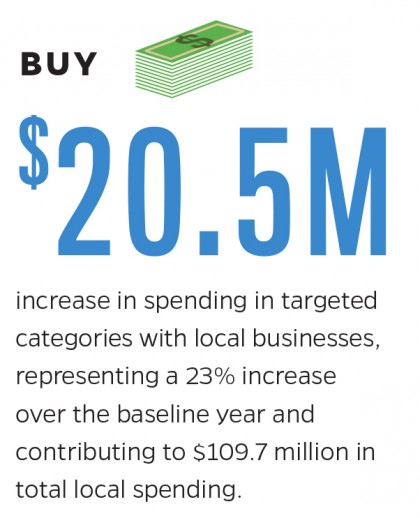 HopkinsLocal organizes periodic business fairs that enable local entrepreneurs to connect with university and health system officials. And when businesses contact HopkinsLocal, Patterson said, they are added to a database that makes it easier for Johns Hopkins employees to see what goods and services they offer.
For Sicko, regular work with Hopkins has helped her grow and stabilize her business. She began her career as a nutritionist and personal chef, then gradually built up catering clients and created a line of cold-pressed juices. The company's name is a nod to her college years in New Hampshire; the gundalow is a small, flat-bottomed cargo ship that ferries supplies to port towns.
In 2016, Sicko secured a spot in B-More Kitchen, the city's first incubator for food-based businesses. The bright industrial space in Govans, just a few miles from the university's Homewood campus, provides a home for nearly 50 businesses, enabling them to grow without securing the massive capital needed to purchase commercial catering equipment. On any given day, the Donut Alliance team might be glazing rosewater or birthday cake donuts, El Gringo's crew could be cooking up teriyaki Spam tacos, and Sicko's staff might be whipping up croque monsieur quiche.
Sicko tapped into additional support last year when she joined Goldman Sachs' 10,000 Small Businesses program, a sort of crash course in business management. Hopkins serves as a local partner for the program, which flies in entrepreneurs and scholars from across the country to instruct a cohort of 35 small business owners.
"I never thought I'd have so much in common with a contractor or a clothing store owner, but we all faced the same issues as small business owners," Sicko says. In addition to courses in finance and management, the program provided her with more catering opportunities, she says, including bringing juices to Goldman Sachs' headquarters in New York.
Hopkins' support, both through catering contracts and the 10,000 Small Businesses program, has been "life changing," says Sicko. She's been able to provide a workplace where her employees can grow and thrive, while charting a course of continued sustainable growth.
"Every time I've had luck come my way," she says, "I try to match up with hard work."