Isaiah Segar used to struggle to tackle even simple repairs, like snaking a drain or installing new blinds on the windows in his East Baltimore home.
Now the father of three is using skills he learned as a construction worker on projects at Johns Hopkins to design and frame a second bathroom for his home's first floor.
"When I complete these little projects, it feels really good—it feels like an accomplishment," he said.
In 2016, Segar quit his job at a fast food restaurant and enrolled in Project JumpStart, a 14-week training program that teaches construction skills to Baltimore City residents. For more than a decade, Project JumpStart has trained workers hired by local contractors, including those used by Johns Hopkins for the institution's many construction projects.
The relationship has grown in recent years under the umbrella of HopkinsLocal, an initiative launched in 2015 aimed at improving economic opportunities in Baltimore through construction, hiring, and purchasing activities.
"We drove past the building a couple times and my daughter said, 'Daddy you're building that building?' She was so happy—it definitely put a smile on my face."
Isaiah Segar
"Project JumpStart really is the gold standard in terms of programs that provide a service for the community," said Adam Smith, assistant director of the Johns Hopkins Health System's Facilities Design and Construction Procurement Office. "Our city, like our institution, needs healthy businesses and a skilled labor pool. By leveraging the economic power of Johns Hopkins to support impactful programs like Project JumpStart, we're closer to developing that vibrant, thriving economy we all believe Baltimore can become."
The HopkinsLocal initiative includes a pledge to contract with minority- and women-owned and disadvantaged businesses in Baltimore on construction and design projects. A new progress report shows that the initiative has met—and surpassed—the goals set two years ago.
According to the report, $61.3 million—or more than 20 percent of the university and health system's construction spending—was committed to minority-owned, women-owned, or disadvantaged businesses in fiscal year 2017.
HopkinsLocal has also helped establish a pipeline of job opportunities for city residents interested in the construction trade. Project JumpStart trains individuals, and the BLocal BUILD College—launched in 2016—provides business skills training to minority- and women-owned construction company owners in Baltimore. By equipping business owners with the skills necessary to sustain their companies, BUILD College helps the HopkinsLocal opportunity pipeline thrive.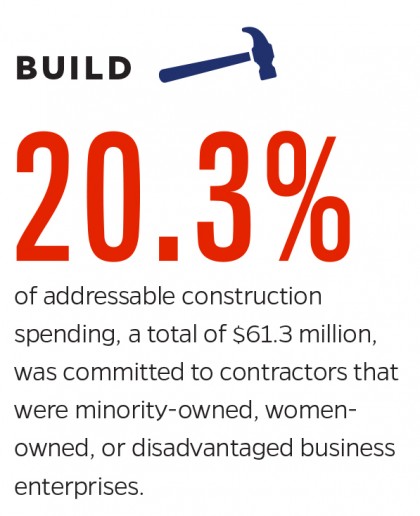 "The opportunities HopkinsLocal gives to our graduates really have long-term benefits," said Kate McShane, placement director for Project JumpStart. "When a graduate finds work at Hopkins, you have a family supported, you have communities that are strengthened, and you have individuals who are proud of themselves. It's hard to quantify, but it's hugely beneficial to Baltimore City. It strengthens everything."
Segar is now employed by Homewood General Contractors, which operates in and around Baltimore City. He's able to provide for his family and even plans to team up with his brother, who is also a Project JumpStart graduate specializing in electrical work, to complete his home construction plans.
"My father said every man should have some type of trade under his belt," Segar said. "Construction and carpentry were perfect for me."
For Segar, the opportunities he's had and the work he's done—especially while building a new pharmacy on the Johns Hopkins East Baltimore campus—are a source of pride, and not just for him.
"We drove past the building a couple times and my daughter said, 'Daddy you're building that building?' She was so happy—it definitely put a smile on my face," he said. "I'm on a better path now. We all are."