Never again will hundreds of fourth- and fifth-graders bake a loaf of bread without thinking about the science behind what they're doing
Baking bread, of course, is about carefully reading a recipe, and measuring and mixing ingredients just so. But it's also about understanding the role of yeast and how it interacts with other ingredients. It's about grasping that yeast is a single-cell organism that absorbs sugar through a cell wall. It's recognizing that bubbles in the water-sugar-flour-yeast mixture are a sign that the yeast is giving off carbon dioxide.
These lessons and more were highlighted to approximately 750 students at a recent event at the Johns Hopkins University Montgomery County Campus. In a demonstration conducted by Amy Driscoll of King Arthur Flour, students learned about condensation, the difference between mixtures and solutions, the importance of estimating, the concept of measuring by volume—and how to make tasty cinnamon rolls, pizza dough, pretzels, and bread.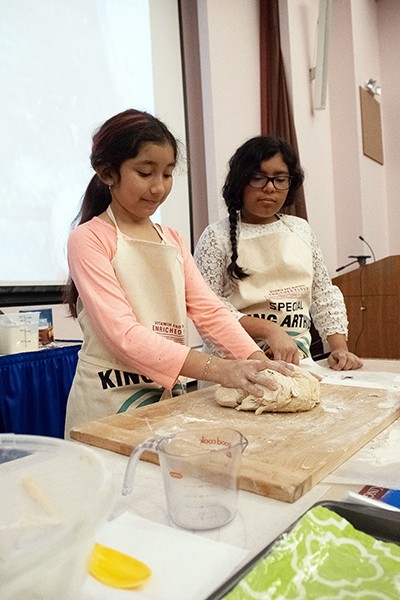 Students from Whetstone, Georgian Forest, and Stedwick Elementary Schools participated, as did students from the German International School and the Montgomery County Public Schools' Superintendent's Leadership Academy.
Through the King Arthur Flour Bake for Good Kids: Learn Bake Share program, Driscoll emphasized lessons that align with the fourth- and fifth-grade science curriculums on the changing states of matter, properties of matter, and the differences between mixtures and new substances. Learning science while baking shows students that science has real life, practical applications.
The experience "gave students an opportunity to apply the skills and knowledges they are learning in science while giving back to the community," said Kelly Jiron, MCPS instructional specialist for the elementary integrated curriculum team. "In fourth and fifth grade, students learn about interactions of matter by investigating the physical and chemical changes that occur when substances are combined."
King Arthur Flour donated enough ingredients and supplies for each student to bake two loaves of bread at home. One loaf was to be enjoyed by the child's family. Students are to bring their second loaves back to donate to Interfaith Works in Silver Spring. The Montgomery County Coalition for the Homeless also benefits from the bread donation.
"We know hunger is an issue in our society," Driscoll told the students. "The good news is we can do something about it."
Also see
Charlotte Garvey, communications director at Interfaith Works, will visit the elementary schools with Johns Hopkins University staff to collect the bread and talk to the students about homelessness in Montgomery County. The bread will go to those living in Interfaith Works homeless shelters, and to families who are struggling economically and shop for free clothing at the Interfaith Works Clothing Center.
"The bread baking by these students will provide more than just nourishment," Garvey said. "Bread by its nature is meant to be shared and, in sharing it, these young bakers will be letting vulnerable families and individuals know that someone cares about them."
After students learned the chemistry of bread baking, they continued their hands-on science learning at Johns Hopkins. Scientists, nurses, students, teachers and others from several local companies and educational institutions led the students through activities including how to how to prepare a plate of healthy food and the ins and outs of radiology and robotics, among other activities.
The JHU Center for Biotechnology Education led an activity where students each strung ultraviolet-sensitive color changing beads onto a pipe cleaner. When the white beads were exposed to ultraviolet light, they changed to a vibrant color. The exercise was a way to explain to children that ultraviolet light can be dangerous, can cause sunburn, and can even damage our cells.
Nurses from Suburban Hospital, a member of Johns Hopkins Medicine, showed students how to assemble a healthy plate of food.
Adventist Healthcare Shady Grove Medical Center; J. Craig Venter Institute; MD Bio Foundation; Montgomery College; NeuroDiagnostics; and Rockville Science Center also participated.
Johns Hopkins University Montgomery County Campus organizes this event to expose students to science at an early age and to spark an interest in careers in science, technology, engineering, and math.
"As much as the lessons in fractions and physical chemistry, we also hope the students remember the fun and excitement of discovering a new way to look at something and associate that with Johns Hopkins" said Leslie Weber, director of the JHU Montgomery County Campus.