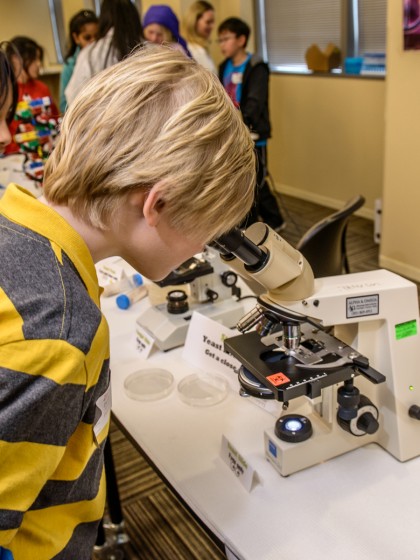 The Divas of the Dry Ingredients and the Lords of the Liquids got right to work. They measured, mixed, kneaded, tossed, and rolled—all in the name of science.
Approximately 350 fourth-graders from four Montgomery County elementary schools visited Johns Hopkins University Montgomery County Campus to learn the art and science of bread baking. The students, from Laytonsville, Fallsmead, Fox Chapel, and Lakewood elementary schools, participated in the King Arthur Flour Bake for Good Kids: Learn Bake Share program.
An instructor from King Arthur Flour taught her student helpers—the Divas of Dry Ingredients and the Lords of the Liquids—how to make bread dough for loaves, pretzels, pizza, and cinnamon rolls. As the students worked and watched, they explored the role of carbon dioxide in bread baking, talked about the importance of fractions in measuring, and learned about yeast's role as a fungus that thrives on sugar.
The lessons align with the fourth-grade science curriculum on the changing states of matter, properties of matter, and the differences between mixtures and new substances. Learning science while baking shows students that science has real life, practical applications.
King Arthur Flour donated enough ingredients and supplies for each student to bake two loaves of bread at home. One loaf will be enjoyed by the child's family. Students will bring their second loaves back to school next week for donation to Interfaith Works in Silver Spring.
After students learned the chemistry of bread baking, they continued their hands-on science learning. Scientists, nurses, students, teachers, and others from several local companies and educational institutions led the students through activities including how to extract DNA from strawberries, how to prepare a plate of healthy food, how to determine an acid from a base, how to tell if a substance is candy or medicine, and how dry ice changes from a solid to a gas.
Adventist Healthcare Shady Grove Medical Center, Blanchette Rockefeller Neurosciences Institute, J. Craig Venter Institute, Johns Hopkins Center for Biotechnology Education, Montgomery College, Rockville Science Center, and Suburban Hospital participated.
Johns Hopkins University Montgomery County Campus organizes this event to expose students to science at an early age and to spark an interest in careers in science, technology, engineering, and math.