When Molly Grace Young describes how she produces her videos for YouTube, the blue-eyed, ruby-lipped 30-year-old can't quite keep from cracking a grin.
She recounts a particularly absurd scene that occurred during the production of her Fourth of July video: while lip syncing to Katy Perry's pop anthem "Firework" playing through her headphones, a friend, off-screen, frantically blew air in her face to make a trio of pinwheels stuck to the top and sides of her face spin. There was some concern about the pinwheels falling off: she had adhered them to her bald head with medical tape, because plan A—using eyelash glue—had failed.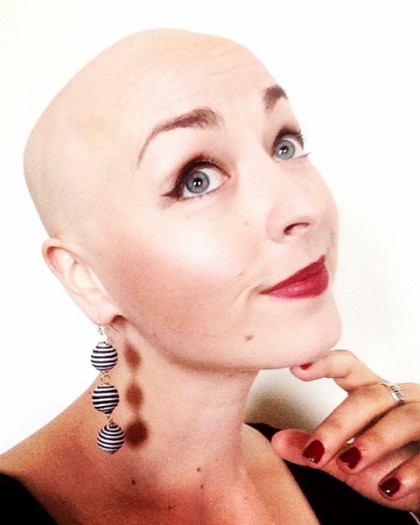 It's ironic that Young, a professional soprano singer and music teacher who received two master's degrees from the Peabody Institute in 2013, was actually completely silent while she filmed the video.
But of course, the greater irony is that the video was filmed in a chemotherapy room at Kaiser Permanente's Woodlawn Medical Center, where Young has undergone treatment for stage 2A breast cancer since last year.
In the U.S., breast cancer is the second most common cancer in women, but Young is among only .02 percent of people her age to receive such a diagnosis. To cope, Young launched a YouTube channel, The Unsinkable Molly Grace, where she posts campy videos of herself lip syncing to showtunes, television theme songs, ballads, and duets, all filmed during her treatments.
The project serves a personal mission to share with her viewers the extent and scope of a cancer patient's medical journey. And, she says wryly, it gives a middle finger to her situation.
"I don't have a history of breast cancer, and no one in my family has a predisposition for breast cancer—there's really no reason to think I would get this diagnosis," she says. "So I decided to respond to absurdity with absurdity."
Her YouTube channel has grown to become a gathering place for other cancer patients. One of her most ardent fans, she says, is the 9-year-old daughter of a cancer patient, who finds joy—and some much-needed distraction—in Young's antics. Young says she enjoys bringing irreverence to the chemotherapy room but notes her project is also about seeking empowerment through humor.
"You lose so much control when you're a patient," she says. "You lose control over your schedule, your body, your finances. … The things you can control become very important to you."
Also see
That desire to take back her power might explain why Young works so hard to control her own narrative about her health. She recently ended 30 weeks of chemotherapy and radiation—a major medical milestone by any measure—but her treatment is still far from over, and may in fact be never-ending. She says she wants to remind her family and other members of her community that cancer is a resilient disease, and that even if she were given a clean bill of health when she completes her treatment, she would still face a lifetime of screenings and permanent status as a high-risk patient.
It's enough to make anyone anxious or afraid at times, even a songbird and comedienne like The Unsinkable Molly Grace. But she jokes that she has emotional attention deficit disorder, and that feeling scared or worried for too long would be boring.
Instead, she organizes costumes, plans her props, and memorizes showtunes before trekking to her appointments ready to perform—each video she produces more spirited than the last.