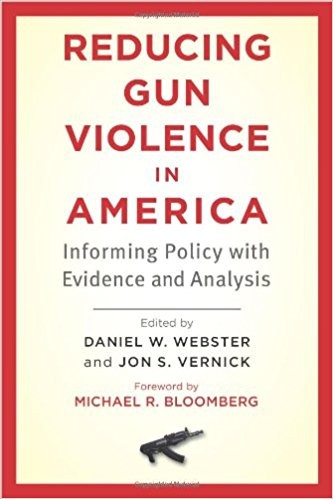 In the wake of a mass shooting that left 59 people dead and more than 500 injured in Las Vegas, Johns Hopkins University Press is offering free copies of Reducing Gun Violence in America: Informing Policy with Evidence and Analysis.
The full 280-page report, authored by experts from the Johns Hopkins Bloomberg School of Public Health, can be downloaded online.
Recommendations include:
Background checks: Establish a universal background check system for all persons purchasing a firearm

High-risk individuals: Expand the set of conditions that disqualify an individual from legally purchasing a firearm to include high-risk groups such as violent misdemeanants, alcoholics, individuals who violate domestic violence restraining orders, and persons under age 21

Mental health: Focus federal restrictions on gun purchases by persons with serious mental illness on the dangerousness of the individual

Trafficking and dealer licensing: Increase penalties for illegal gun trafficking, appoint a permanent director to ATF, and provide the agency with the authority to develop a range of sanctions for gun dealers who violate gun sales or other laws

Assault weapons and high-capacity magazines: Ban the future sale of assault weapons and the future sale and possession of large-capacity ammunition magazines

Research funds: Provide adequate federal funds to the Centers for Disease Control and Prevention, the National Institutes of Health, and the National Institute of Justice for research into the causes and solutions of gun violence
Reducing Gun Violence in America also includes an analysis of the constitutionality of many recommended policies and data from a 2013 national public opinion survey that reflect support among the majority of Americans—including gun owners—for stronger gun policies.