Johns Hopkins University students can donate unwanted goods while packing up for the summer from now until May 19 on the Homewood campus.
The offering—dubbed the Spring Cleaning with a Meaning: Hopkins Eco-Smart Move-Out program—is a collaboration among Homewood Recycling, the Office of Sustainability, and Community Living.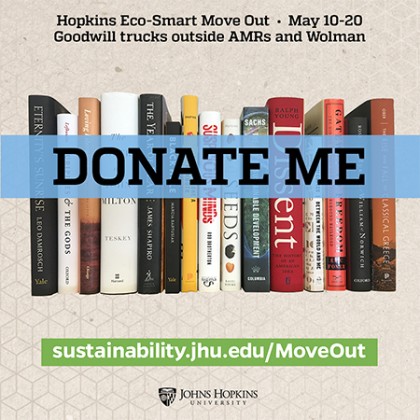 "This program showcases how sustainability can improve process, cultivate a personal sense of stewardship, and give back to our city all at once," said Ashley Pennington, program manager for the Johns Hopkins Office of Sustainability.
Since the program was launched in 2013, participation and donations collected have increased each year, Pennington said, to a high of nearly 500 donors a year ago. When students make contributions, there is less waste and residence halls are left cleaner at the end of the year.
Two Goodwill trucks—one between Wolman and McCoy halls and one between the AMRs—are available for students to donate gently-used and miscellaneous apparel, books, housewares, and small appliances—or anything that is not a TV or upholstered furniture. An attendant will be available at each truck from 9 a.m. to 5 p.m. on business days.
There are also collection bins in the lobbies of the previously mentioned residence halls and Charles Commons for unopened or opened toiletries and nonperishable food. Johns Hopkins will donate these items to Project PLASE, a local nonprofit that provides transitional housing and support.
"This initiative provides a solution to an operations challenge," said Leana Houser, solid waste and recycling manager for Johns Hopkins Facilities and Real Estate.
Move-out days at JHU produce a significant amount of waste in a short time span. Spring Cleaning with a Meaning reduces the amount of waste that would otherwise be thrown away, and instead encourages reuse by donating it.
Students can send questions about the program to incoming@jhu.edu or call 410-516-8282.