Johns Hopkins leaders sent a message to the JHU and Hopkins Medicine communities today about an upcoming HBO film, The Immortal Life of Henrietta Lacks. The film is based on the best-selling book about the life of a woman who was treated for cervical cancer at The Johns Hopkins Hospital in the 1950s.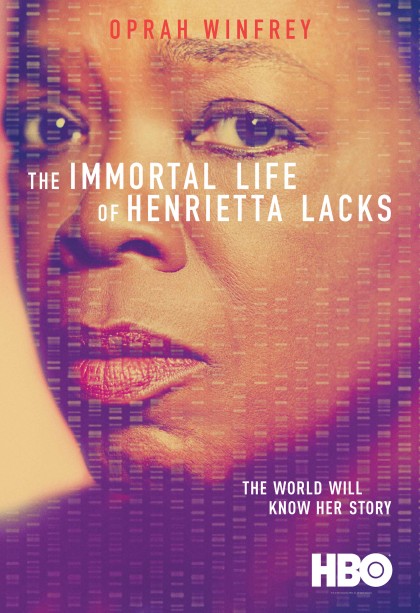 "The book and film focus on Mrs. Lacks' life and her family's search for information about her and her renowned cells," wrote JHU President Ronald J. Daniels; School of Medicine Dean Paul B. Rothman; and Ronald R. Peterson, president of the Johns Hopkins Health System. "Johns Hopkins' part in Mrs. Lacks story is complex and in several respects regrettable—and yet it has helped us to deepen our understanding of informed consent, to appreciate the ways our patients make medical advances possible, and to reinforce the responsibility we hold for building trust with our patients, their families, and our community."
They note that Johns Hopkins has scheduled several screenings of the film and related discussions in the next week, and they urged faculty, staff, and students to attend.
The full text of the message is below:
Dear Johns Hopkins Community:

On April 22, HBO will begin airing a new film, The Immortal Life of Henrietta Lacks, starring and co-produced by Oprah Winfrey and based on the 2010 best-selling book by Rebecca Skloot. Those of you who are familiar with Henrietta Lacks' life story will know that Johns Hopkins plays a prominent role in the book and film and that we have worked closely with members of the Lacks family in recent years to honor Mrs. Lacks' legacy.

This week and next, we will host several screenings of the film on our campuses because we want to share this important history broadly with our community. You will find information online about the East Baltimore screenings on April 21 and about the Homewood screening on April 24.

Henrietta Lacks was a 31-year-old mother of five when she sought treatment for an aggressive cervical cancer at Johns Hopkins Hospital in 1951. Researchers working here with Dr. George Gey took additional tissue samples during a biopsy—a common practice with all cervical cancer patients at the time—and Dr. Gey soon found in those samples the first "immortal" human cell line. Known since then as HeLa (for Henrietta Lacks), this extraordinary cell line was shared with scientists around the world and has contributed to countless medical advances. Yet, for decades, even as Johns Hopkins and other major research institutions relied on HeLa cells for innumerable studies and discoveries, the identity of the woman behind the cells was largely unknown, including to her own family.

The book and film focus on Mrs. Lacks' life and her family's search for information about her and her renowned cells. Johns Hopkins' part in Mrs. Lacks story is complex and in several respects regrettable—and yet it has helped us to deepen our understanding of informed consent, to appreciate the ways our patients make medical advances possible, and to reinforce the responsibility we hold for building trust with our patients, their families, and our community.

Over the past seven years, we have worked to recognize the contributions of Mrs. Lacks, whose unwitting participation in scientific research changed modern medicine and continues to teach us essential lessons about bioethics and informed consent. We have collaborated with members of the Lacks family and many others across Baltimore to launch initiatives that recognize and pay tribute to her legacy, including the annual Henrietta Lacks Memorial Lecture (attended by more than 1,000 people in fall 2016), four-year college scholarships for Dunbar High School students, and community grants in Henrietta Lacks' name.

Today, 66 years after Mrs. Lacks sought treatment in a segregated ward at our hospital, we hold ourselves to far higher standards. We continue to focus on the issues raised by Mrs. Lacks' story not only because our research gave rise to the HeLa cell line but also because of the deep connection to our mission. We acknowledge and fully own our institutional history—triumphs and failings—while celebrating a woman whose cells continue to advance medical discoveries and save lives around the world.

We hope you will attend one of the screenings and discussion sessions or take a few moments to learn more about Henrietta Lacks, HeLa cells, and Johns Hopkins at Hopkinsmedicine.org/henriettalacks/.

Sincerely,

Ronald J. Daniels
President
Johns Hopkins University

Paul B. Rothman, M.D.
Dean of the Medical Faculty
CEO, Johns Hopkins Medicine

Ronald R. Peterson
President, Johns Hopkins Health System
EVP, Johns Hopkins Medicine