Design thinking has emerged as a tool for the progressive businessperson. It is a new, better way to solve complex problems of all kinds, says Sharon Kim, an associate professor who teaches design thinking at the Johns Hopkins Carey Business School.
"Design thinking teaches you how to think differently when solving a problem; to take a more creative approach," she says.
"I was always looking for a way to combine design and business. When I found this program, I was elated."
Kristin Holifield, MBA student
The fundamental philosophy of design thinking is to conceive innovative solutions by zeroing in on a problem's root causes. It accomplishes this through an iterative, methodical process that positions participants to think and act like a designer.
It starts with understanding the problem through a variety of techniques, including creating a stakeholder map, which aims to identify the various constituencies affected by the issue. The next step is to observe the problem objectively, aiming to remove existing biases held either by the design thinker or the stakeholders.
Next, design thinkers are challenged to examine the various viewpoints held by each stakeholder.
"Being aware what the thoughts and emotions are for the person that is using the product you are designing, that's one of the most important elements," says Kristin Holifield, an MBA student at Carey who completed the design thinking course.
Seul Rhee, a Carey student who also took the course, agrees.
"It helped me to see their point of view, and what the pain points are," she says.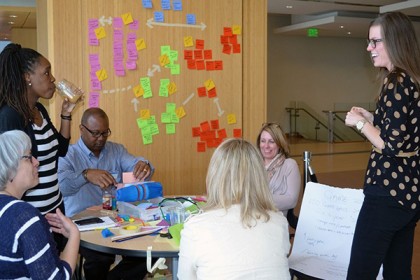 Next comes the ideation phase, where design thinkers are encouraged to "think outside the box"—way outside.
"I've had students say to me, 'I've brainstormed before, but I've been doing it wrong,'" Kim says. "People tend to shut ideas down rather than let brainstorms happen organically. Design thinking provides for that experience."
Following ideation is the prototyping phase, which is then followed by testing. Design thinkers employ a process called rapid prototyping, which Holifield says allows for key adjustments to be made on the fly.
"Being willing to iterate and iterate and iterate, to keep trying over and over," Holifield says. "As you are prototyping, you create a new context, which then elicits different perspectives and behaviors."
Design thinking is an integral part of the joint MBA/MA Design Leadership program at Carey, which allows students to simultaneously earn a Master of Business Administration degree from Carey and a Master of Arts from the Maryland Institute College of Art.
"When I was looking for graduate school programs, I stumbled upon this concept of design thinking and creative intelligence, and I wanted to figure out which school offered a degree to learn more about this," Rhee says. "Carey is one of the very few schools that offered a design thinking related degree."
Holifield agrees: "I was always looking for a way to combine design and business," she says. "When I found this program, I was elated."
Kim says Carey hopes to offer more courses in design thinking, including an advanced class for students who have already taken the first offering. Carey also offers a three-day Executive Education course in design thinking for working professionals.
"Interest in design thinking has been growing steadily in the business world, and we are excited to see what creative contributions Carey students will add to this ongoing conversation," she says.