Five married couples will get in their finest combination of polo shirts, khaki pants, oxford loafers, and cardigans to have their portraits taken this weekend. These portraits aren't like the one's hanging in dining rooms across Manhattan's Upper West Side—these portraits sing show tunes as part of the Johns Hopkins University Barnstormers production of Company, which kicks off a six-performance run Friday at 8 p.m.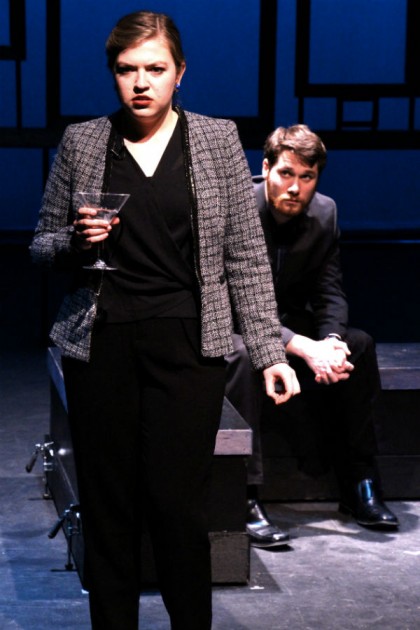 The musical's main character, Robert, played by senior Ryan Blake, struggles to maintain his bachelor lifestyle as his married friends pressure him to commit to one of his many girlfriends. Robert argues that he doesn't need a wife, but rather the company of his friends.
A series of flash-back vignettes illustrate the problems Robert sees in his friends' marriages. The couples had to make adjustments in order to accommodate their partners and their children. Sarah and Harry—played by freshman Molly Young and freshman Mehdi El Hebil, respectively—quarrel over moderating their eating and drinking habits, which leads to a karate/wrestling match in their living room. Despite the (fist) fighting, the couples agree that marriage is a worthwhile enterprise. With the help of (and sometimes in spite of) his company of married friends, Robert decides to pursue his idea of an "ideal" love life.
Company, based on a book by George Furth with music and lyrics by Stephen Sondheim, debuted on Broadway in 1970 and received a strong reception, earning 14 Tony Award nominations and winning six. In the 2012 PBS documentary series Broadway: The American Musical, Sondheim said that he wanted to create a work that challenged the problems of Broadway's upper-middle class audience. "These people really want to escape that world when they go to the theatre," he said, "and then here we are with Company talking about how we're going to bring it right back in their faces."
The show examines the difficulty of adjusting to married life while maintaining one's identity. The characters give up aspects of their old lifestyles, but also find new aspects of themselves in their married lives. Though recently divorced, Susan and Peter continue to do everything together, including a trip to Mexico that starts as a procedure of the divorce and turns into a vacation. When Robert asks why Peter hasn't found a new apartment, Peter replies "well, because this is home," proving that married life offers him a safe haven in a chaotic world, despite all of its challenges. Company ultimately proposes that marriage and romantic relationships require giving up a part of oneself in order to share the challenges of life with a partner.
This is the first production the Barnstormers have put on this semester, and itwas predominately created by the students.
"I have the utmost respect for these students, because they're students with many other commitments," says Robert Mintz, the show's director. "They do everything outside of the direction and the musical direction. They're all very passionate about theater, and it's inspiring as a professional."
Blake, who plays Robert, has been in three musicals with the Barnstormers.
"This production is special, because it is the most talented cast I have worked with," he says. "There are 14 named roles in this musical, all of them have big parts, and all of them shine. It's fun to get to work in depth with each of the performers throughout the show."
Company opens Friday, April 3, and runs through Sunday, April 11 in the Swirnow Theater in the Mattin Center on Johns Hopkins University's Homewood campus. Tickets can be reserved prior to the show—$10 for general admission, $5 for Johns Hopkins students—at http://www.thejhubarnstormers.org/reserve-tickets.html.