Representatives from Johns Hopkins University, Armada Hoffler Properties, and Beatty Development Group will break ground today on the vacant lot at 3200 St. Paul Street, a mixed-use development located at the southwest intersection of St. Paul and 33rd streets in Charles Village, just east of the university's Homewood campus.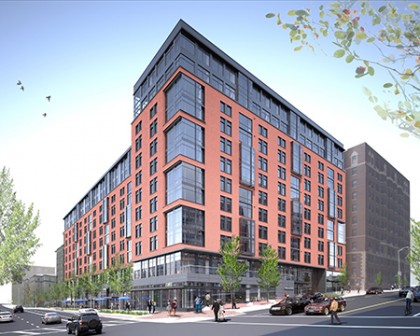 The ceremonial groundbreaking will mark the official start of a construction project expected to be completed in August 2016.
At the ceremony, representatives from Armada Hoffler and Beatty Development are expected to announce that CVS Pharmacy will be the building's anchor tenant. A 10,500-square-foot pharmacy is set to open in 2016 on the southeast corner of the building, adjacent to the neighboring Jefferson Apartments.
3200 St. Paul, which will be officially named in the coming months, will feature more than 31,000 square feet of commercial space that will include restaurants, retailers, and services. The 327,484-square-foot project will also include 157 market-rate student apartments managed by Capstone On-Campus Management, which runs student housing at campuses nationwide, including the University of Maryland, UMBC, and Towson University. The building will wrap around a 162-space paid parking structure for residential tenants and for retail customers and other visitors to the neighborhood.
"We are excited to see work beginning on a project that will do so much both for our students and for the wider community in which they live," said Kevin G. Shollenberger, vice provost for student affairs at the university. "3200 St. Paul will provide new [housing] options for our upperclass students, further enhancing the undergraduate experience at Johns Hopkins."
Also see: CVS Pharmacy will anchor Charles Village project (The Baltimore Sun)
Students are expected to be able to begin moving into the building before the start of the 2016-17 academic year.
"Great student-oriented housing combined with new shopping and dining alternatives and added off-street parking: This building truly has something for everyone on our campus and in our neighborhood," said Alan Fish, the university's vice president for facilities and real estate.
Johns Hopkins bought the 3200 St. Paul site in 2009 from an earlier development group whose plans had been stalled by the national financial crisis. The property is located at the same intersection as Charles Commons, a mixed-use residence hall project that includes a Barnes & Noble. Johns Hopkins opened that property in 2006.
The development team of Armada Hoffler and Beatty Development was chosen by Johns Hopkins University to develop the 1.13-acre site and has been working since 2012 on programming the building, specifying what elements it should contain to meet the university's goals of providing housing alternatives for students and promoting the continued renaissance of Charles Village.
"For the past year, Armada Hoffler has been working in partnership with Beatty Development Group to create a transformational project that adds to the already vibrant Charles Village and Johns Hopkins communities," said Tony Nero, president of development for Armada Hoffler Properties. "We listened to what the residents had to say and what Johns Hopkins was looking for and are pleased to bring a national retailer, CVS Pharmacy, to the neighborhood."
Added Michael Beatty, president of Beatty Development Group."With Johns Hopkins' Homewood campus located one block away, Charles Village has always served as a pillar community for Baltimore. This project represents Charles Village's ongoing renaissance and strengthens the university's connection to the neighborhood."