With a hunk of wood between their legs and a nationally acclaimed banjoist leading the way, a small group of eager students strummed the chords and sang the familiar folk lyrics on a recent January evening.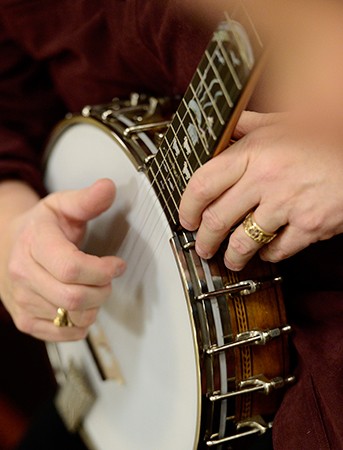 Roll my breeches ter my knees
En wade ol' Cripple Creek when I please
Now just the good ol' boys!
The soulful sound seemed to transform Johns Hopkins' Levering Hall into a barn. You couldn't help but tap your toe.
This was only the third session of the Old-time Clawhammer Banjo class, one of many unconventional class offerings during JHU's annual winter Intersession period, and the class was already playing a song, a testament to their brazen leader. Brad Kolodner is one of the nation's foremost clawhammer banjo players and also a bluegrass DJ on WAMU-FM 88.5.
Intersession and its assortment of personal enrichment courses—from Cuban salsa dancing to Appalachian fiddle, Shiatsu sitting to beer history and appreciation—has been offered at JHU for about 40 years. Jane Rhyner, coordinator of Intersession's Personal Enrichment program for the past 29 years, says the intent of the non-credit courses is "to give students the opportunity to do something fun in January while they are either taking an academic class or working, or just relaxing before Spring Semester begins."
About 150 students participated in 20 Personal Enrichment courses this year during Intersession (which concluded last week), Rhyner says. The classes were taught by members of the JHU community (including two courses taught by undergraduate students) and subject experts who are unaffiliated with the university, like Kolodner.
Clawhammer describes a style of rhythmic banjo playing—as opposed to the familiar picking style of bluegrass—in which the head of the instrument is placed between the legs and strummed in a distinct pattern with the hand in the shape of a claw. The hand beats against the head instead of plucking each string, providing a heartbeat behind the tune. Essentially, it's a drum and a banjo rolled up into one style.
Clawhammer banjo originated in Africa and was made popular in Virginia by black players in the 18th century. These days, comedian Steve Martin—yes, that wild and crazy guy!—is amongst its best-known practitioners. But the style and sound connects to a long tradition of southern songs that create a sense of escape and wonderment. There is a lot of history here.
"It's a grain of salt on the beach that is old-time music," Kolodner said of his Intersession course. "It's meant to be a class that will kickstart someone's interest in the music."
Kolodner kept the class moving at a quick pace, and the participants smiled while rubbing their sore hands in between practicing phrases. You knew the banjo would be fun, but you didn't know that it would require physical labor and mental discipline.
Kolodner said it takes hundreds of times playing a song before it comes naturally to a player's hands. He demonstrated what "Cripple Creek" played at speed would sound like, a real treat from a polished player who has likely rolled up his breeches and waded Cripple Creek no less than a thousand times.
With new-found inspiration, the beginners returned to the basic techniques they had recently acquired. The bum-ditty strumming pattern and the hammer-on and pull-off motions were repeated. And repeated. Soon the aching fingers produced the slow but unmistakable sound that accompanies the tune's final lines:
I got drunk and fell against the wall
Old corn likker was the cause of it all
Now curtsy or bow, and go practice.