A baby pig has the power to turn to despair into hope among poor women who have had prolonged exposure to traumatic events in the Democratic Republic of Congo, according to a study by a researcher at the Johns Hopkins School of Nursing and her team.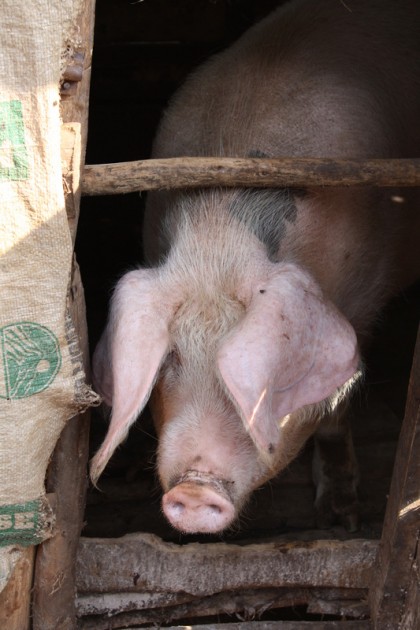 Since 2009, Nancy E. Glass, a professor at the Johns Hopkins School of Nursing, has helped families in the war-torn Democratic Republic of Congo improve their income and health through her "Pigs for Peace" program, which gives residents pigs to breed, sell, and eat. Through Pigs for Peace, household incomes have increased, and women have been able to meet the nutritional, educational, and economic needs of their families.
But Glass says that a recent, further study published by the online journal PLOS ONE revealed other significant results: As the numbers of pigs and other animal assets increase and their owners become more successful, symptoms of post traumatic stress disorder and depression have simultaneously faded. The study, which was conducted in 10 villages in eastern DRC, included 705 women.
It's not just the idea of more wealth that causes the decrease in symptoms, Glass said. It's the "strengthening of self-perception of status" and the "larger community's perception of the woman's productivity and status" that can influence mental health.
"Using pigs is culturally acceptable and a gender-neutral intervention for the DRC, which allows men and women to work together to improve their outcomes," Glass said. "It provides psychosocial support to address mental health needs, and it supplements the family's economic security. It's really a win-win for all."
As is the case in many low-resource countries, the DRC has few government-funded programs and health centers that can help with psychotherapeutic treatment or mental health issues, and doctors and nurses don't receive timely training for diagnosing and treating mental disorders. Fortunately, the Pigs for Peace program provides support for the residents to develop and implement their own program to improve mental health, which is crucial to ending a dependence on international aid and the well-meaning but essentially "one and done" help offered by non-residents.
Glass stressed that it is internal resources and support that will make a difference for the community.
"Pigs for Peace give these families opportunities," Glass said. "They can maintain food for themselves, and create a savings account for when needed. We know that livestock and microfinance will not solve all the problems faced by the DRC residents, but they are powerful steps in the right direction of sustainable development."
The study's findings will contribute to the science base for large-scale implementation of sustainable, community-led animal/livestock economic programs that not only increase household wealth and status but improve health in areas where women and other household members have extremely limited access to high quality health and social services.
Along with Glass, the research team included Nancy A. Perrin, Center for Health Research, Portland, Ore.; Anjalee Kohli, Johns Hopkins School of Nursing; and Mitima Mpanano Remy, Programme d'Appui aux Initiatives Economiques (PAIDEK), Bukavu, Democratic Republic of Congo.