The Johns Hopkins University Sheridan Libraries recently announced the completion of the processing of the Roland Park Company records, which will provide scholars and local residents a "window on the suburbs" and offer an insider's view of the development of north Baltimore.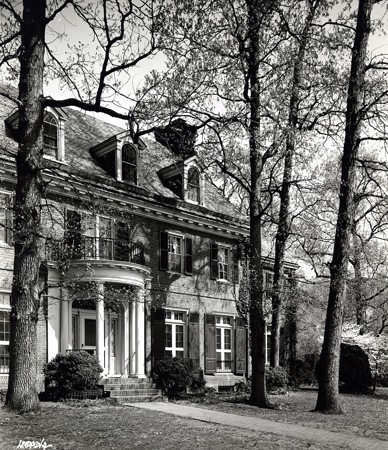 The records, which document the development of local neighborhoods Roland Park, Guilford, Homeland, and Northwood, as well as other communities in the United States, were returned to Johns Hopkins from Cornell University in the spring of 2010.
"This collection is a true Baltimore treasure," said Winston Tabb, Sheridan Dean of University Libraries and Museums. "We are excited for scholars and the general public to explore the materials, and we are extremely grateful to the Council on Library and Information Resources, which provided essential support for the processing of the collection."
An early suburban development, Roland Park was established in 1891 with the goal of providing affordable housing that sat—both physically and financially—between the rowhouses of Baltimore City and the estates of Baltimore County. Under the leadership of Edward Bouton, the company's first and longest-serving president, the Roland Park Company charted new territory in the planning, building, and maintaining of suburban developments in northern Baltimore.
Bouton referred to his company as "a manufacturing plant in that it takes the raw material of country estates and converts it into the finished product of residential building sites." Every detail of this process—from acquiring land, challenging zoning, and laying out streets to selecting drain pipes, marketing properties, and maintaining the finished neighborhoods—is thoroughly documented in the more than 350 cubic feet of letters, ledgers, reports, scrapbooks, and photographs. From celebrated innovations in landscape and street design to the notorious establishment of restrictive covenants designed to exclude homeownership on the basis of race, religion, and social status, the leaders of the Roland Park Company helped to invent the concept of the suburb. This collection tells that story.
Selected images from the collection can be viewed online. Access to the materials is by appointment.
"The announcement that the Roland Park Company records are now available to researchers will entice urban historians, students of architecture and planning, and everyone interested in the growth and welfare of American cities," said Mary Ryan, John Martin Vincent Professor of History at Johns Hopkins University. "These voluminous and varied records open up a wide window on how cities and suburbs were shaped and reshaped over the course of the 20th century."
Individuals interested in viewing the collection can see the finding aid at http://bit.ly/RolandParkCo and can contact the Department of Special Collections at archives@lists.johnshopkins.edu.