James Foley was a premed undergraduate at the University of Southern California when he realized he wanted to be a filmmaker. Recounting his first experience behind the camera for students in the Johns Hopkins Program in Film and Media Studies who gathered in Gilman Hall on the evening of Sept. 23, Foley recalled filming a young child he saw in Washington Square Park during a six-week film production course in New York in 1979. Foley hadn't orchestrated the shot toward any specific narrative—her father came over and picked her up and took her away—but he used it in his student film. And when he screened his short, when the father's hands came into the shot and took the child away, Foley recalls the reaction from the audience of his peers. "That was the first time that something I had done got a reaction out of a lot of people," he said, "and from that moment on I decided I wanted to do that again."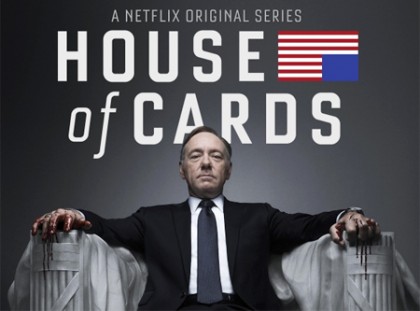 He's been doing it ever since. Foley is currently in Baltimore working on the second season of House of Cards, the critically feted Netflix series that follows the behind-the-scenes political maneuvers of fictional House of Representatives Majority Whip Frank Underwood (Kevin Spacey) and his wife, Claire (Robin Wright). Foley made his feature debut with 1984's Reckless, a drama about a romance between Johnny (Aiden Quinn) and Tracey (Darryl Hannah), two Rust Belt teens from opposite sides of the track. That's the cliché storyline for way too many 1980s teen flicks, but Foley's approach invests the characters and the entire movie with a psychological realism that runs through his entire oeuvre, from his 1986 true-crime drama At Close Range starring Sean Penn and Christopher Walken through his celebrated 1992 adaptation of David Mamet's play of salesmanship and masculinity, Glengarry Glen Ross. It's a characteristic that's evident in his more recent television work, which includes three House of Cards episodes and a haunting episode for NBC's 2013 reboot of author Thomas Harris' most diabolically sophisticated creation, Hannibal.
In between, Foley also directed a few iconic 1980s image-makeover music videos for Madonna—"Live to Tell," "True Blue," and "Papa Don't Preach"—and wrote and directed the criminally overlooked After Dark, My Sweet, one of the few American adaptations of a Jim Thompson novel that knows how to handle the pulp writer's subtle psychological complexities.
With Film and Media Studies undergraduate Joshua Goodstein interviewing him about breaking into the film industry, working with actors, and making movies versus television, Foley candidly talked about what it takes to make directing a career. He advised students to have the "ability to talk [about] a visual idea that you have in a verbal way" when talking to other people in the industry, from producers to actors to screenwriters. "You've got to be able to wow them with a verbal presentation of your vision," he said, "to be able to verbalize your idea and your passion."
Foley related a story about learning to work with Walken for At Close Range in the mid-1980s, by which time the actor had already established a reputation for being a bit different. Foley ended up spending a day into evening at Walken's place in upstate New York prior to the production, which led to a better on-set relationship. "A movie star is only a movie star with an audience to reflect that [fame] back to them," Foley said, adding that "[a] lot of directing is being able to engender emotional truths out of actors. The director is trying to get moments that are psychologically realistic."
Foley also stressed the importance for students of getting to know themselves and their strengths. "Figure out what you do better than anyone else" and pursue it, he said. "The biggest mistake you could make is to try to do something outside your experience that you think other people want to see."
The Film and Media Studies guest lectures provide students with an opportunity to ask filmmakers questions about film career paths in a casual environment. Previous speakers have included audio engineer Mark Willsher, who worked on The Lord of the Rings trilogy and lectured on film scoring; and director/producer Jodi Wille, whose 2012 documentary The Source Family chronicles the wonderfully American story of a World War II veteran turned 1970s health food restaurateur/alternative commune leader/rock 'n' roll singularity named Father Yod.
The next opportunity for students to hear from an industry professional is Oct. 21, when playwright and House of Cards creator/writer Beau Willimon comes to Homewood. All students are welcome; those planning to attend are asked to RSVP to film@jhu.edu to reserve a seat.