As a playwright and director, Smith College professor of theater Ellen Kaplan is drawn to conflict. Her 2004 play Pulling Apart explores how the second Intifada affected Israeli and Palestinian women living in a contested territory. Last year she directed Moment, in which family a family refuses to deal with an unforgettable act of violence, by Irish playwright Deirdre Kirnahan. And in January her new Sarajevo Phoenix premiered, a play inspired by her interviews with Bosnian women who survived the Siege of Sarajevo, when the capital of Bosnia and Herzegovina was surrounded by the Bosnian Serb Army from April 1992 through February 1996.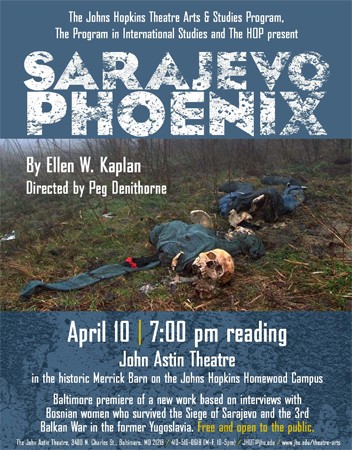 The premiere, staged at Smith, was directed by Peg Denithorne, an instructor in the Johns Hopkins Undergraduate Program in Theatre Arts & Studies. Tonight, the JHU Theatre Arts & Studies program, Program in International Studies, and the HOP present Denithorne offering a staged reading of Sarajevo Phoenix that is free and open to the public.
Denithorne accompanied Kaplan on her 2011 trip to Bosnia to interview women who lived through the war, including "women in Srebenica still searching for the missing bones of their relatives; survivors of rape camps; refugees rebuilding their lives; and Serb women who opposed the slaughter." The women they spoke to come from a Sarajevo women's group of textile workers that gives the play its title. Much of the play's dialog, as Chris Rohman reported in the Valley Advocate of Western Massachusetts, is verbatim testimony from the women interviewed: "My husband died. Why? He went to the corner to buy me cigarettes. He's killed by a sniper. At our doorstep."
Tonight's reading will take place in the Merrick Barn's John Astin Theatre and will be followed by a discussion led by Michael Eleftherios, the academic director of American University's International Peace and Conflict Resolution program.