For Love or Money: Art, Commerce & Stephen Crane, an exhibition of rare books, letters, historical magazines, and other documents exploring the career and posthumous legacy of writer Stephen Crane, opened this week at the George Peabody Library in Baltimore. The exhibition is drawn from JHU's own Wertheim-Frary Collection of Stephen Crane.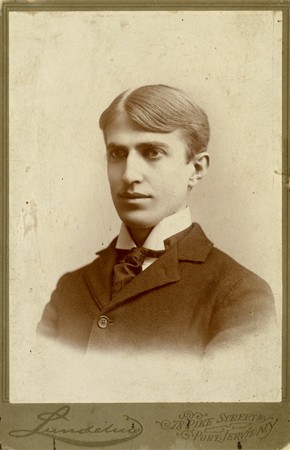 Crane is perhaps best known for his novel The Red Badge of Courage, and yet his brief career—Crane died of tuberculosis at 28—spanned the literary landscape. He was a journalist who specialized in impressionistic on-the-scene reporting, a writer of stories and sketches, and an avant-garde poet.
"Stephen Crane's writing life was marked by a desire to take risks and create art," says Gabrielle Dean, curator of literary rare books and manuscripts at the Sheridan Libraries at Johns Hopkins. "But this desire was often tempered or diverted by the exigencies of making ends meet. This exhibition explores Crane's struggle to realize his artistic ambitions within the confines of the literary marketplace."
Crane was born in 1871 in Newark, N.J., the 14th and youngest child of a clergyman father and a mother active in the temperance movement. His career began when he was still a teenager, writing up "resort news" from the Jersey shore. After a brief stint at two different colleges (he never graduated), he moved to New York City in order to see and write about the tremendous social upheavals of the late 19th century, like immigration, industrialization, and urbanization. But his sketches and stories about the urban poor were too brutally honest for most readers. Looking for a way to write something more popular, he came up with The Red Badge of Courage, a story that conveys a young soldier's experience on the ground in the Civil War. The novel made Crane an instant celebrity and branded him as a war writer. Notoriety opened up new opportunities for Crane—he was hired by two different newspapers to cover the Spanish-American War and was able to sell his short stories to the English and American magazines. Still, as a professional writer he was always one story away from defaulting on his debts. The pace of work he was required to keep up took a toll on his health, and Crane died broke.
The Wertheim-Frary Collection contains more than 250 rare books, periodicals, letters, photographs, and pieces of ephemera by and about Stephen Crane. The materials' breadth and attention to detail allows scholars and exhibition attendees access to Crane's work as contemporary readers would have experienced it. The collection is a gift from Johns Hopkins University alumnus and trustee Richard S. Frary and his wife, Irene, and was built on noted Crane scholar Stanley Wertheim's collection.
"We are extremely grateful to Richard and Irene for their generous gift of this extraordinary collection," said Winston Tabb, Sheridan Dean of University Libraries and Museums. "This exhibition and the larger Wertheim-Frary Collection will certainly be of interest to those who wish to know more about Stephen Crane or who are interested in late 19th-century American literature. Beyond that, it offers a window into a world that, while distinct from our own, remains eminently recognizable, complete with the tensions between writers and publishers, the shifting definitions of art, and the rise of new technologies."
An opening reception will be held Sunday at 4:30 pm, featuring remarks by Professor Michael Fried, J.R. Herbert Boone Chair in the Humanities, Krieger School of Arts & Sciences.
For Love or Money is open to the public through June 14 at the George Peabody Library in Baltimore. The George Peabody Gallery is open Monday through Friday 9-5, Saturdays 9-3, and Sundays noon-5. Admission is free.