When Jessamy Taylor graduated from Johns Hopkins, her father, Brad, picked her up in Baltimore for a cross-country road trip back home to Oregon. They had an agreement, albeit unstated, that went like this: Jessamy, Engr '18, would accommodate stops to let Brad indulge his passion for trains, and Brad would accommodate stops to let Jessamy indulge her passion for bouldering and rock climbing.
Brad stayed off interstates as much as possible and also made occasional stops to dip his toes into bodies of water, a hobby he has pursued across a lifetime of travel. In covering more than 3,700 miles in a rented silver Toyota Camry, father and daughter listened to podcasts and audiobooks and belted out the Grateful Dead song "Ripple" as they approached Twin Lakes Reservoir in Colorado.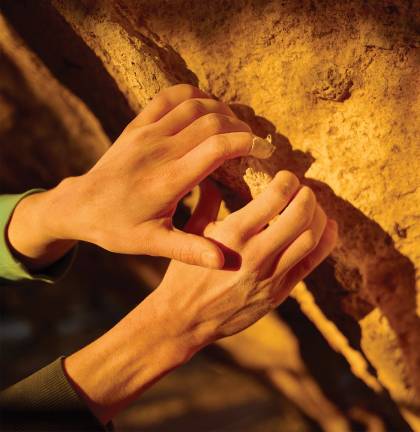 One of their last stops was in Utah, at a climbing area called Joe's Valley. Brad found a spot to sit while Jessamy tried a bouldering route called the Angler.
When Jessamy was young, her dad helped her build treehouses and installed a ropes course in their backyard, so he knew well her passion for physical challenges. What struck him about this particular climb was the persistence Jessamy showed in trying to "send it," climber parlance for "complete it." "She tried basically the same route for about 45 minutes," he says. "Climbing up, slipping down, climbing up, slipping down."
Bouldering routes are called problems, and problem-solving is the essence of what she does as an inventor, whether through her hobby of creating products for the outdoor sports world or in her full-time job as a robotics engineer. She didn't mind the difficulty of the Angler. What's the point of an easy climb? It's a full body workout, and she loves how she aches all over after a day scaling walls, whether she sends every ascent or none of them. "I like being strong," she says. "I like feeling like I'm climbing really well, feeling graceful."
Writing in her journal at the time, she put the number of failed attempts at 30. No matter how many times she fell, she always got back on the wall.
Jessamy, 26, brings that same persistence to her creative efforts dreaming up new products, from a climbing bra that offers shoulder support, to boots that turn kinetic energy into electricity, to a prosthetic foot for rock climbers. The prosthetic foot won an entrepreneurship award that came with an academic grant at the University of Oregon.
Once a niche activity for the bravest among us, climbing has skyrocketed in popularity for years, and the outdoors industry as a whole has been strong even during the pandemic. A 2019 American Alpine Club report said climbing generates $12.5 billion in revenue per year and projected that indoor climbing would reach $1 billion for the first time in 2021. According to the Climbing Business Journal, the number of indoor climbing gyms reached 600 last year, twice the total for 2013. Two major climbing movies hit theaters in 2018, Free Solo and The Dawn Wall, and with rock climbing added to the Summer Olympics for the first time this year, it's likely even more folks will be inspired to scale walls, boulders, and peaks.
Jessamy wants to help them reach new heights.
"Sports are really important in my life, especially climbing," Jessamy says. "I want to help people get some of the same benefits. I don't think it's fair that not everyone has the same access to climbing, for any reason, including costs, lack of support for people with disabilities, and feelings of being intimidated by or unwelcome in the sport or community. I had a lot of mentors, friendly folks, and opportunities that got me into climbing, and I want to pass that on." 
Tall and lithe, curious and thoughtful, Taylor says her athletic life and her creative life overlap. As in rock climbing, so in inventing, she finds joy in identifying the problem, coming up with and testing solutions, ruling out what doesn't work, and then fine-tuning and perfecting what does. She loves nothing better than a challenge to overcome, whether that's on the side of a mountain or in the makeshift workbench on the back of her Prius.
For as long as she can remember, Taylor dreamed of being an inventor. On drives to elementary school, she and a friend sat in the back seat and brainstormed products. Sometimes they made up problems so that their inventions could solve them.
She kept a journal and index cards on which she sketched out ideas for new or improved gadgets. Some—like a rotating spoon that would attach to the top of a microwave and stir soup so it would heat evenly—never made it out of the brainstorming phase.
Others did. When she was 9, she wanted to stay up late reading without her parents knowing. She created a combination bookmark and reading light using a small light bulb, a battery, and a switch made out of a paper clip nestled between two thumbtacks. When asked for examples of their daughter's inventions, both parents name the Good Ship Flower Pot, an oblong flower pot that she turned into a two-masted sailboat with working rudders and a full keel that she and her dad played with on a reservoir near their home.
She says a New Product Development class at Hopkins, taught by engineering lecturer Michael Agronin, introduced her to the R&D process for consumer products. The class structure was similar to that of the TV show Shark Tank, with students placed on teams and a pitch at the end. Agronin, a former product developer for Black & Decker, remembers her as an obviously sharp student whose team proposed an app called StudyGrouper, which would help students find study groups on campus.
Taylor's two loves—the outdoors and creating things—converged after she read Aron Ralston's memoir, Between a Rock and a Hard Place, in which he describes cutting off his right hand and wrist to free himself after five days pinned between a boulder and a wall while canyoneering in Utah. The harrowing event was dramatized in the movie 127 Hours starring James Franco.
"I find it interesting to think about how the human body works and moves, and when someone's body works differently, it's an interesting puzzle to work around. It makes me think about things in a new or more in-depth way."
Jessamy Taylor
In his book, Ralston writes about using his engineering background to create the prosthetic devices he now uses for climbing. For mountaineering, he crafted a device similar to an ice axe. For rock climbing, he has miscellaneous aid tools mounted on a shaft. When Ralston spoke at Johns Hopkins in 2014, Taylor attended the event and met him afterward. "That got me thinking about solving those kinds of problems," she says.
At Hopkins, she led a hiking trip for blind people. While earning her master's degree in sports product design at the University of Oregon, she interned at a Portland-based prosthetics company whose owner is a below-elbow amputee. She gave private climbing lessons to a woman who, as the result of a stroke, couldn't use her left hand and had only partial use of her left foot. 
"I find it interesting to think about how the human body works and moves, and when someone's body works differently, it's an interesting puzzle to work around. It makes me think about things in a new or more in-depth way," she says. "If I lost a foot or something, I'd want a good device to help me keep climbing at a similar level. I have some of the skills and experience to make [such products], so I should use them." 
While at the University of Oregon, Taylor took a job at Planet Granite, a climbing gym in Portland. There she met Jono Lewis, whose left leg had been amputated below the knee after a tractor accident in his native New Zealand when he was a teenager. Years on, Lewis moved to Los Angeles, married, and became a climber, later settling in Oregon with his wife.
Jessamy and Jono's meeting was fortuitously timed. As part of her coursework at Oregon, she wanted to make a prosthetic climbing foot—and here was a subject eager to work with her.
Lewis, an adaptive athlete who writes a lively and entertaining blog called One Foot Forward, had used two different prosthetic climbing feet. They felt clunky. He couldn't perform two basic climbing maneuvers: smearing and edging. Smearing is using your foot to find traction against a smooth wall. Edging is using your foot against an imperfection on the wall. "I was like, hmm. I think that's a problem. So I'm going to try to solve it," she says.
If Lewis' climbing feet had already worked well, Taylor probably would have moved on to something else. In pursuing that life of purpose she had talked about with her dad on the way home from Johns Hopkins, she wants the products she works on to make a difference in people's lives.
"One of the reasons I'm interested in adaptive equipment is there hasn't been as much development in that space," she says. "If I were to make just a regular running shoe, there are already a jabillion of those. You can only make so much of an improvement."
The curiosity she showed in the car on the way home from school was evident in her first meeting with Lewis. "She was asking me about the kinds of things I couldn't do with my foot. She had a very good understanding of my own biodynamics, even more so than I do," Lewis says. "How I use my body, how I have to compensate for not having an ankle. I was really impressed by that."
Her favorite questions to ask are "what if?" and "how else could we do it?" They prompt many possible answers, reflected in the widely divergent prototypes she devised, another factor that impressed Lewis. She made a batch out of foam and brought those to Lewis so he could push them against a climbing wall to give him a sense of how they would work when they were made of sturdier material and attached to his leg.
As Jono and Jessamy worked through prototypes, they became friends, bonding over their love of climbing, their unusual first names (he says he's Jono like Bono and she's Jessamy like sesame), and inside jokes born of hours of trial and error together.
Just as Taylor needs persistence to finish a tough climb, she had to work through challenges with Lewis' foot. Of the many incremental steps along the way, three stand out. The first came on an early prototype. At an indoor gym, Lewis used it to reach around a corner and find a foothold. He put his weight on that foot, lifted himself up, and kept going; he had never done that before.
The second came not on one of Taylor's feet but on one of Lewis' "old" feet, which he used for climbing one day because she was resoling the one she had made for him. "It was like working with craftsman tools and then going back and working with a sledgehammer," he says. "It was that different."
The third key moment requires some explanation. In trying to make it possible for him to smear and edge, Taylor and Lewis thought they needed two different surfaces on the bottom of the foot—foam and an overhang. The foam would be used for smearing, the overhang for edging.
On Prototype 5, she got rid of the overhang and instead covered the bottom entirely in foam and coated it in climbing rubber. When Lewis used it, the rubber and foam re-formed when he pushed against the wall, creating the overhang he needed.
Since then, the shoe's improvements have stemmed from using better material rather than testing new ideas. The better the foam and rubber, the better Lewis can smear and edge. Every now and then, Lewis will complete a climb and realize that, without even thinking, he has executed moves that had been impossible for him. "I hate climbing on feet that are not this," Lewis says.
What's next for the climbing foot is not clear. They'd love to make it widely available and are considering different ideas for how to mass-produce it. As climbing has grown in popularity, it has also become more inclusive, so demand for such a product has never been higher. There will never be a mass market for a prosthetic foot, but if it helps more people climb better, that would suit them fine.
Back to the Angler, the climb Taylor attempted with her dad watching. She never did send it. There were several challenges she couldn't overcome. It was hot that day, causing the rock to be slimy and hard to grasp. And the holds were sloped down, away from the wall, making them particularly difficult to grab. She eventually moved on to another "problem," an even more difficult bouldering route known as Dirt and Grime. It features an especially challenging section through the middle in which Taylor had to trust her feet. After a few failed attempts, she sent it. At that point in her climbing career, it was the toughest-rated route she had ever completed.
She's a stronger climber now. In talking with her this winter, she repeatedly said she wanted to go back to the Angler and figure it out once and for all.
Also see
Next for her professionally is more problem-solving. Her job in robotics takes up much of her time now, but once an inventor, always an inventor, and the outdoor sports world remains a passion. Other products she has worked on include a belay device for one-handed climbers, a hiking and climbing performance pant that allows for a fuller range of motion to execute the "craziest moves," and an energy harvester boot so that soldiers can use the energy they spend while marching long distances to recharge electrical devices in the field.
Lewis says his new climbing foot works so well that he is imagining what other tools he and Taylor can work on together. They have talked about possibilities, including a device that would be a combination forearm crutch and hiking pole. When the user walks downhill, it would be a forearm crutch. When the user walks uphill, it would turn into a hiking pole.
Exactly how that transformation would take place is the problem that remains to be solved. Should it detach? Stay attached but fold down? The excitement is evident in her voice as she brainstorms possibilities.