Anna and Elena Balbusso ("(Re) Creation Story," illustration) are Italian artists whose work has been published by The New York Times, The New Yorker, Reader's Digest, and others. Together, they have illustrated more than 40 books.
Marlene Cimons ("Lyme Selfies") is a writer specializing in health, science, and the environment. A former Washington reporter for the Los Angeles Times, she now contributes to The Washington Post health section.
Will Kirk ("The Book of Pete," photography), A&S '99, has been a photographer for Johns Hopkins since he graduated. Some of his work is on display as part of the Make Good Trouble: Marching for Change exhibition at Baltimore's Reginald F. Lewis Museum. 
Julia M. Klein ("Lady Bird's Legacy"), a cultural reporter and critic in Philadelphia, has written for The New York Times, The Wall Street Journal, The Washington Post, Mother Jones, Slate, and many other publications.
Corey McLaughlin ("The Book of Pete"), who is pursuing an MA in writing from Johns Hopkins, is a Baltimore-based writer and editor with more than 10 years of professional experience. His work has appeared in The New York Times, Newsday, and Baltimore magazine.
Ryan Peltier ("Better DNA Sequencing," illustration) is a Minneapolis-based artist. Past clients include The Wall Street Journal, WIRED magazine, The New York Times, and Apple.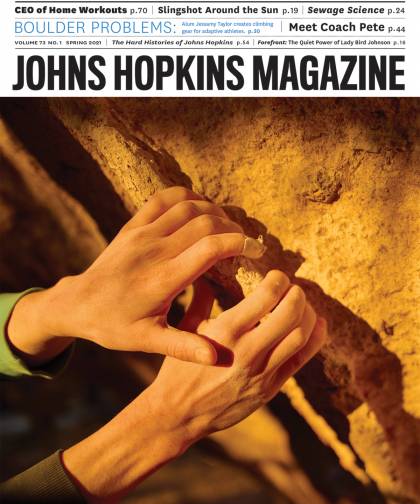 On the cover
Photographer Joe Kline spent an afternoon among the volcanic formations of Oregon's Smith Rock State Park to capture this cover image, a closeup of climber Jessamy Taylor's hands (see "Tinkerer, Climber, Engineer"). "Climbers are constantly assessing their hands, which often take a beating over the course of a climbing session," says Kline, who also enjoys the occasional climb. "Before attempting one of the boulder problems, Jessamy studied the route and holds, mapping out the moves. I saw her grab a flake to test the hold as some amazing light broke through the nearby juniper trees, and I knew instantly that was the detail I was looking for."