An appreciation for art and a passion for medicine are second nature to ophthalmologist Kathleen Oktavec Krepley, A&S '06, SPH '10 (MHS), whose connections to Baltimore and Johns Hopkins have carried on two family traditions.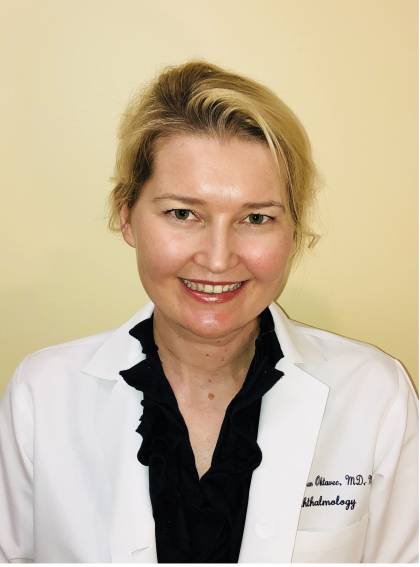 At Hopkins, Krepley pursued art history in the city where her grandfather, folk artist William Oktavec, popularized window screen painting. At the same time, she was planning a future in medicine like her father, William J. Oktavec, Med '84 (PGF). "Science in the morning and art in the afternoon. It was a great balance, my education," Krepley says.
After completing a fellowship at the Wilmer Eye Institute, she and her husband, Brayan Krepley, Ed '15, SAIS '17 (MA), returned to her hometown of St. Augustine, Florida. She joined her father in the San Augustin Eye Foundation as a glaucoma and cornea specialist in 2017. Krepley volunteers, offering free screenings for glaucoma—the leading cause of blindness—and providing free and low-cost medications to local, underserved populations.
She credits her balanced education for her sympathetic bedside manner. "I'm always talking with patients, sometimes on the worst day of their lives—the humanistic background is very helpful."