Anika Penn, SAIS '10 (MA), understands the power of Johns Hopkins alumni connections. She founded a medical device marketplace with help from a fellow graduate of the School of Advanced International Studies. And another Hopkins alum led her to the U.K.-based investment management firm Baillie Gifford, where she builds relationships with innovative startups. Now Penn, 43, who recently became president of the Johns Hopkins Alumni Council, will be able to inspire her fellow Hopkins grads to make the most of the university's network.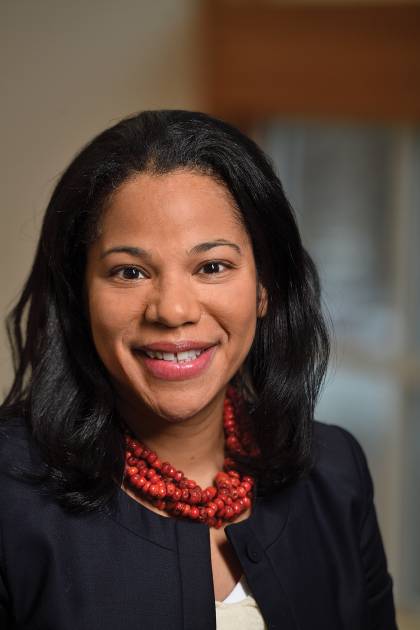 "Anika blends tremendous experience with a hunger to listen and learn," says Susan deMuth, associate vice president for alumni engagement and annual giving. "Her vision and commitment will be invaluable as we tackle new initiatives designed to bring our global community closer and more deeply connected, including launching the new universitywide alumni engagement strategic plan."
As an undergrad at Smith College, Penn spent time studying in China and, after graduating with a degree in Afro-American studies, worked in HIV/AIDS policy in sub-Saharan Africa. She was drawn to SAIS because she wanted to address the underlying economic and political issues that lead to poor public health outcomes. After receiving a master's degree and working as a project manager at Memorial Sloan Kettering Cancer Center in New York, Penn pursued her dream to tackle a fundamental health challenge in the developing world: a lack of affordable medical devices in hospitals and clinics. A close friend and fellow SAIS grad introduced Penn to an angel investor looking to fund a startup. And, in 2014, Penn launched Frontier Health, a marketplace connecting small biotech firms with health care companies in the developing world, starting with Kenya. For four years, Penn built Frontier Health, but, like many first-time entrepreneurs, she ran out of funds and had to shutter the company.
While managing diversity, equity, and inclusion efforts for the Rockefeller Brothers Fund and later serving as entrepreneur-in-residence for the Conway Innovation and Entrepreneurship Center at Smith, Penn threw herself into her work with the alumni council, first in the SAIS alumni group in New York and then eventually on the universitywide council, serving as communications co-chair and a vice president. Through the council, she got to know James Anderson, SAIS '81 (MA), a Hopkins trustee and a partner at Baillie Gifford. With Anderson's encouragement, she applied to the firm, where she identifies and follows companies that show promise for long-term investment.
As leader of the alumni council, Penn plans to encourage cross-pollination among the many divisions of Johns Hopkins. She hopes to get more alums engaged in online programs, lectures, and networking sessions—ultimately forming the same sort of relationships that have boosted her own career.
"I'm a walking, talking billboard for maintaining connections and leaving no stone unturned when it comes to making connections with alums," Penn says.