Erika Engelhaupt ("Gorillas' Skeletal Secrets") is the author of Gory Details: Adventures from the Dark Side of Science. Her work has also appeared in National Geographic, Science News, and other magazines and newspapers.
Ray Glier ("The Ballad of Herty & Petrie") is a freelance sports writer based in Atlanta. He is the author of How the SEC Became Goliath and 4th and Goal Every Day.
Gary Neill ("Data to Improve Global Diets," illustration) has more than 20 years of experience as an illustrator and is known for creating conceptually bold and vibrant artwork. He enjoys creating collages that juxtapose different visual elements, such as prints, photocopies, icons, type, and found ephemera.
Aaron Reuben ("Anxiety Fallout") is an independent science writer and a doctoral candidate in clinical psychology at Duke University.
Roff Smith ("The Man in the Panama Hat," photography) is a UK-based photographer and writer whose work has appeared in National Geographic, The New York Times, Smithsonian, Condé Nast Traveler, and Nature. He has a fondness for Panama hats.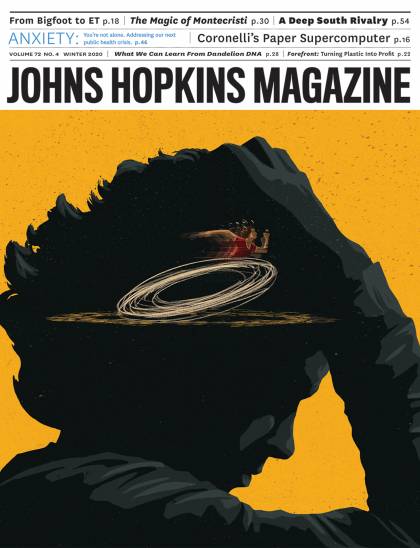 On the cover
With a hectic schedule and deadlines looming, illustrator Mark Smith drew from his own anxiety for this issue's cover, a simple yet stark depiction of the emotion explored in our cover story. "I was trying to portray this feeling of a mind racing out of control," he says. "Any illustrator would know this feeling well, as a deadline gets closer and a concept still hasn't been found." Smith's work has been featured in The New Yorker, Harper's, Rolling Stone, Time, and elsewhere.