Elin Hilderbrand, A&S '91, has no qualms about being known as Queen of the Beach Read.
While some novelists who write for women eschew the "chick lit" label, Hilderbrand has spent 20 years wholeheartedly embracing it. And it's delivered her a string of New York Times bestsellers, their covers bearing similar images of faceless, tanned, bikini-clad women, polished toes skimming the sand.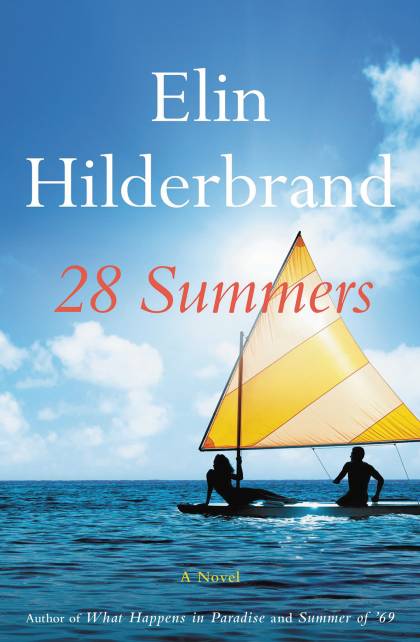 "I think maybe people think that I would prefer being a really literary novelist, but I love being a novelist that has a lot of readers and a lot of different kinds of readers," Hilderbrand says in an April interview. "So as far as my reach, I feel very happy with the term 'beach read' because I feel like it gets into a lot of hands. It's also an escape—I thought an escape was important last month or two months ago, or at Christmas or whatever. Today? Oh my goodness."
Her strategy is working. She has landed on the Times list with every book since Barefoot in 2007, and she has written two books a year since 2014. Her 23rd book, Summer of '69, debuted at the top of the list in June 2019. It's a safe bet that Hilderbrand's 25th book will be another fan favorite when it is published June 16, especially among her fellow Homewood campus alumni: 28 Summers is the first of the Writing Seminars major's beachy escapes to feature characters who are Hopkins grads. Inspired by the play-turned-movie Same Time Next Year, Hilderbrand tells the story of star-crossed lovers—a Fiji who falls for his fraternity brother's younger sister—who break away from their everyday lives once a year to reunite on Nantucket over Labor Day weekend.
Johns Hopkins Magazine caught up with Hilderbrand—whose annual writing retreat on St. John in the U.S. Virgin Islands was extended because of COVID-19—to talk about her Hopkins pride, her next act, and what's on her summer reading list.
From PJ's Pub to lacrosse heroes Petro and Wilkie, there are a lot of Homewood Easter eggs in 28 Summers. What made this the time for a story based on Hopkins connections?
I'm a very proud Hopkins graduate. I just absolutely loved it there, loved every second of it. Let's just say I was sort of waiting for the right time. I don't force things and I really felt like that was the right match. I loved the scene at PJ's. I can't believe it's closed. It was so iconic for so many years for generations of Hopkins people. I attended Hopkins between '87 and '91. I was a Writing Seminars major, and my friends were like [international relations] and biomedical engineering and these super hard majors, and we would always go to the bar. I'd go to PJ's and save all the seats after we were done studying. I would always be done first. So I would go save the bar seats at PJ's, and that was my job in college.
28 Summers is set in Roland Park, New York City, Washington, D.C., and only partly on an island getaway. Beyond it being the right time for a Hopkins book, after 20 years of beach reads, how do you keep your story­telling and characters fresh?
I always say that my job is to give the reader exactly the same thing every year, completely differently, and that's what's so hard because there are elements, I think, that my readers want. For my summer books, they want Nantucket, they want the beautiful sort of aspirational wish fulfillment of like, "Oh my goodness, this is such a gorgeous location." I've really wrung Nantucket dry. I've used every section of the island. I've done every time of year. I've done every festival, every special occasion, every holiday. I think what differentiates me from everybody else is that my characters are all flawed and they do horrible things, and I just love them so much that when you put them on the page, that's what draws the reader in. Fast Eddie [who first appeared in The Rumor and later in Hilderbrand's Winter Series] has got this prostitution ring, but we love him because he's not a bad person. He's a good person doing bad things.
Your pattern is to publish two books a year, one in the summer and another in the winter. What's your secret to being so prolific?
I'm not the most talented writer. I was not the most talented writer at Iowa [Writers' Workshop] by a long shot. It was that I could get my work done. I'd like to say, "My parents really pushed me to be disciplined," but I just think it's innate. I was always like a pilgrim. I always did my work and then enjoyed the relaxation. I always wanted to earn it. I never wanted it to be given to me. So I'm extremely disciplined as a human being. I get up every single morning and the first thing I do is I go running for two hours and then I do a barre class. Now these days, I do my barre class online. Fine, no problem. I do it every single day and I don't take a day off. That's a discipline that sets up my writing.
You've said Troubles in Paradise, which is scheduled to be published October 6, will be your last Winter book. Do you see retirement in your future?
My dream is to retire with my 2021 book. I'm not sure I'm going to have enough money, but I also don't want to be like a rock star that keeps putting out subhits that nobody likes quite as much. So I'm very conscious of a good dismount. It's not sustainable forever. I want to make sure that I get out while at the very top and then I'd like to get something made into a movie or a TV series. If I have my druthers, I would retire after my contract and become a book influencer. I appreciate Sarah Jessica Parker and Reese Witherspoon doing it, but they're actresses. The most popular book influencer in America should be a writer. If I have a second act, I'm going to somehow make sure that's me.
Also see
You seem to be well on your way—your Instagram account is filled with posts promoting other writers.
It's definitely something that I'm known for, telling people to read other people's books, because I only write two a year. We can all read a lot of books, and I have no sense of competition with other novelists. There's no reason for it. I almost only read women. This year, I have a couple of men that I've read. I read French Exit [by Patrick deWitt] which I loved, but in general, I almost only read women. I had Judith Butler as a professor at Hopkins in 1990—amazing, amazing feminist professor. Absolutely the most influential professor I had while I was there. So that is why I tell my daughter, who's 14, "You've got to stand up for women. No one else is going to do it for you. You have to be gender-aware just to make sure that you're getting your fair shake, that women are getting a fair shake."
What books are on your summer reading list?
I'm going to read The Glass Hotel by Emily St. John Mandel. I want to read a memoir called Stray by Stephanie Danler. Oh, and The Knockout Queen [by Rufi Thorpe]—it's supposed to be amazing.