Lauren Underwood pops up on-screen, her face tucked behind a white fabric mask as she settles in at the desk of her first-floor office in the Longworth building. I've got 20 minutes via Zoom with the first-term congresswoman from Illinois, sandwiched between a morning Democratic Caucus conference call about her recently deceased colleague, John Lewis, and a busy afternoon voting to renew defense funding for fiscal 2021. After exchanging quick pleasantries, she adjusts for our interview, flicking the curtains behind her closed, switching off her TV, and removing her face mask to apply a swipe of red lipstick. Just as we're about to dive into her first term in Congress, a loud buzz interrupts us, signaling that votes have been called on the House floor.
"Hopkins is going to get real life," says an unfazed Underwood with a laugh.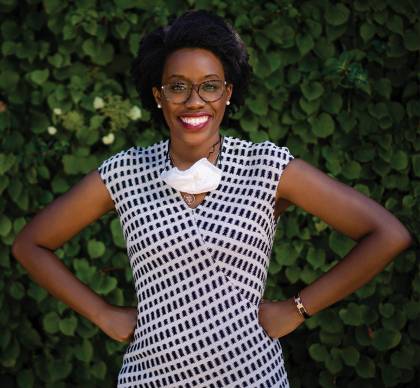 Real life for Underwood, Nurs '09 (MS/MPH), has shifted dramatically over the past couple of years. A public health nurse, Underwood spent almost seven years in her 20s working for the Department of Health and Human Services, where she helped implement the Affordable Care Act and devised strategy for dealing with public health crises like Ebola. When her district's Republican congressman, Randy Hultgren, voted to effectively repeal Obamacare, Underwood—who herself has a preexisting heart condition—ran against him in the midterms. She won by a 5% margin.
In January 2019, at age 32, she became the youngest Black woman ever to serve in Congress. As she posed for photos on her way to the Capitol in early 2019, swarmed by media members, one reporter asked, "Are you excited to make history?" "A moment in history," she responded.
From day one, Underwood—a member of the House Committee on Education and Labor—pushed for affordable health care and child care, along with support for women in the workplace. She sponsored legislation that President Donald Trump signed into law, including to lower the cost of insulin and to create an electronic health care record system within the Department of Homeland Security. And then, just as she was finding her footing in the most diverse House in American history and ramping up her reelection campaign, the coronavirus pandemic hit, followed shortly by a renewed spotlight on racial inequity after the death of George Floyd in Minneapolis.
Seemingly overnight, many of the reforms she had been pushing for became topics of national conversation. I ask Underwood if she feels a bit prophetic leading up to this moment. "Even in good times, when we had a strong economy, we didn't see equitable gains across segments of our population. There are systemic challenges for women and people of color in the workplace, thinking about equal pay and pay disparities. … These kinds of issues have long been problematic. Now you have COVID layered on top of it," she says.
But Underwood's enthusiasm for the work she does is sustained by seeing its immediate impact—families listening to science and taking measures to stay safe, for example, or high schoolers in her district organizing Black Lives Matter marches.
"To be able to watch that change happen, watch my community change, that's something I certainly don't take for granted. That motivates me because I know that people are paying attention. People care, and they're looking for me to be effective from this seat," she says. "There are things that we can do in the United States Congress to keep their families safe, to keep their families healthy, and to give their kids the fullest chance at a healthy, happy life. That fuels me every day."
Underwood speaks quickly and purposefully, but pauses every so often to choose her words carefully.
"My life's work is about protecting the health and well-being of the American people," she continues. "To be able to do that work from the United States Congress during a global pandemic—even in the most frustrating moments, I know we're having tremendous impact, and I'm grateful for the chance to serve."
Those frustrating moments come more often than Underwood might like. Waiting in line for the big-box store to open in hopes of snagging a much-coveted canister of disinfecting wipes. Rationing those wipes because she knows she'll need them to wipe down her seat and tray table when flying between Illinois and Washington. Boarding flights despite having supraventricular tachycardia, a heart condition that would put her in the high-risk category of COVID-19 patients. Underwood lives with the fear that she'll unwittingly transmit the virus to her parents, who live around the corner from her in Naperville, Illinois. And then, she says, there's the aggravation of having to wait for the next elevator when moving about the Capitol.
"These culture wars around masks have played out here in this body," she says. "Some of my colleagues do not wear their mask, and I will not be in an elevator with them. If they get on the elevator, and they do not have a mask, I will get off. I don't shake hands. We just can't do that."
"These culture wars around masks have played out here in this body. Some of my colleagues do not wear their mask, and I will not be in an elevator with them. If they get on the elevator, and they do not have a mask, I will get off. I don't shake hands. We just can't do that."
Rep. Lauren Underwood
IL-14
Underwood explains this as a matter of fact. It's science, not politics, and it's not up for debate. She feels a responsibility to the some 720,000 residents of her northern Illinois district to push forward an evidence-based, scientifically grounded message that will save lives. That means being a self-described stickler, reminding her colleagues to normalize wearing a mask, keep 6 feet apart, wash their hands frequently, and get tested regularly—"very regularly" in her case, she says.
The impact of the coronavirus is particularly acute to Underwood, whose home state reported one of the first cases of COVID-19 in the U.S. when a Chicago woman who had just returned from Wuhan, China, tested positive on January 24. A few days later, that woman's husband tested positive, becoming the first known case of human-to-human transmission in the United States. Illinois was the first state to have in-state lab testing, and its governor took early action to close school buildings and prohibit indoor dining. She's watched the dual economic and health care crisis play out in her state from the start of the pandemic, she says.
When Underwood and I spoke in late July, expanded unemployment benefits were just about to expire, and negotiations between House Democrats and Senate Republicans on a new COVID-19 omnibus bill were just beginning to stall.
Of course, Underwood can rattle off a list of policies she'd like to see put into effect immediately. First: supports for essential workers, including affordable child care. Universal paid sick leave and paid family leave. A plan for mass vaccination campaigns. Assistance for the food insecure. And not only free coronavirus testing but free treatment as well.
"We've had free testing, which has been a lifeline, enabling people to understand if they're infected," she says, stopping for another buzz … buzz from the House floor's alert system. "It breaks down barriers that would have otherwise prevented people from identifying active cases and taking the necessary precautions. But without free treatment, there are people who are actively symptomatic who know that they cannot afford a week in an ICU. They can't afford to be on a ventilator. And so, as a result, they don't seek treatment against a highly infectious, deadly viral agent. That cannot continue forward. We have to have a policy solution that addresses this health care crisis because if we don't deal with the health care crisis, we are never going to have the full and robust economic recovery that everybody seeks."
When Underwood won her historic election in 2018, the initial press coverage was overwhelming. In 2019, Time magazine put the congresswoman on its 100 Next list of the world's most influential people, and Harper's Bazaar included her among the six women featured for the cover of its Summer 2020 Voices of Hope issue, including physician and writer Leana Wen, world champion sprinter Allyson Felix, and model and charity founder Christy Turlington Burns. "I'm a normal, regular person," Underwood says, laughing. "I didn't grow up with a camera in my face."
But she's proud of what she's been able to accomplish, including the message her position sends to other millennial women and people of color thinking about running for office. The U.S. Congress, she says, from the founding days of our democracy was an institution reserved for wealthy white landowners. So, to be a Black woman in her early 30s—one who beat out six white men for the job—in a position to impact not only policy but the future makeup of our government? "I'm here for it," she says.
Also see
"There are all these barriers to other young people—young women, young people of color—running for office, winning elections, and being able to serve in this body," she says. "To literally know that there's never been someone like me here. There's this cliché that if you're not at the table, you're on the menu. And I think that we've seen, in policies coming out of the Congress over the course of decades, how there is some truth to that. And so now that we have this critical mass of millennials serving concurrently, it just changes the way that our colleagues speak about issues—certainly more inclusive and recognizing the legacy implications of some of the policies we pass."
Leading up to November's election, Underwood is hoping constituents will trust in her vision and grant her a second term, something she's fighting for even as campaign events and fundraisers have been forced to move online. Underwood says she's used to moving from town to town, showing up on farms or in high school buildings to look people in the eye and explain how she'll represent their best interests. Making the transition to telephone town halls and Facebook Live streams has been challenging, she says.
With just a few minutes left before Underwood has to dash off to her next obligation, I ask how the past year-plus in Congress has changed her. She says she's learned to preserve her personal boundaries. She's no longer the open book she once was. And she's grown confident in the fact that she is the right person for the job—someone capable of navigating the complicated politics of Capitol Hill.
"I am serious about doing the work on behalf of the families in the 14th Congressional District." She pauses for a moment. "I am very clear on when I am getting the runaround, and I don't like it. And so I'm able to just lean all the way in. A year on the job, I feel like I know exactly how this game is played. And let's get it done—because my community can't wait."