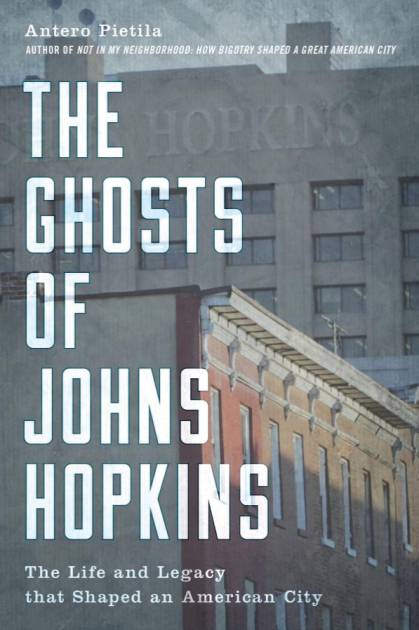 The Great Baltimore Fire of 1904 both destroyed and remade downtown. More than 1,500 buildings burned, gutting businesses, organizations, and residences that covered more than 140 acres. Part of the post-fire rebuild included widening the streets and rebuilding what became the Inner Harbor's docks and wharves. The recovery also used condemnation to take over a number of lots previously occupied by African-American schools, churches, and hotels near City Hall. This rebuild predates the Baltimore City Council's segregated housing restrictions of 1911 (deemed unconstitutional by the Supreme Court in 1917), beginning the displacement of Baltimore's black population outward from the central business district that has defined the city ever since.
Flames reached neither the young Johns Hopkins University's old campus on downtown's west side nor the hospital and medical school on the east, but as former Baltimore Sun journalist Antero Pietila notes in The Ghosts of Johns Hopkins (Rowman & Littlefield), the fire razed the nearly 70 buildings that Johns Hopkins the businessman owned during his years as a merchant. Ghosts traces the evolutions of the East Baltimore neighborhoods from roughly the Inner Harbor up to Hopkins' eastside campus over roughly 200 years, from the early 19th century to the present. Throughout the book, Pietila treats Hopkins, the man and the institutions that bear his name, as a Zelig-like figure in the city's history, as this time frame corresponds to Hopkins' life and the university and hospital's creation and rise to a globally recognized brand.
The result is a more episodic version of the urban history Pietila outlined in Not in My Neighborhood, which traced how bank lending practices and restrictive neighborhood covenants shaped who lived where in West Baltimore. Ghosts examines the neighborhood rotations of East Baltimore, a more densely layered and varied history that includes waves of European immigrants, African-Americans, and Jews. And though Hopkins and the university are sometimes mere supporting players to the larger economic and political forces that cause these neighborhoods to evolve, Hopkins is an inescapable presence in East Baltimore's history, illuminating why it looks the way it does today. An invaluable piece of urban history.