College was never a given for April Lugo, A&S '17. So when she arrived on the Homewood campus, she says, "For me, it was more like, 'This is all I've ever dreamed of.' I was one of very few people in my community to get to go to college." Born to teenage parents in Bethlehem, Pennsylvania, Lugo went on to study public health and found a community at Johns Hopkins, becoming president of three on-campus clubs, working three jobs, and winning several undergraduate awards.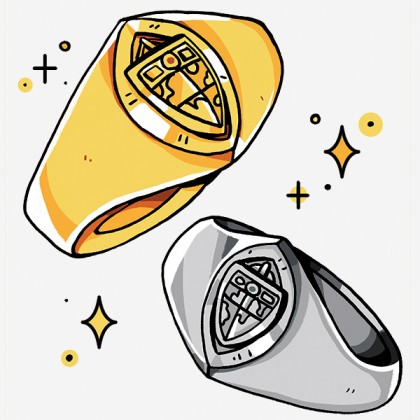 But as graduation loomed, she knew she wouldn't be able to buy something to represent that achievement: a class ring. "I had really wanted one, but I knew I couldn't afford one—and I couldn't ask my parents because that was unfair." So, without telling anyone, she applied to the JHU caRING program, a class ring scholarship program operated by the Student Engagement Committee of the Alumni Council.
Lugo, now a program coordinator for Johns Hopkins Medicine's Office of Diversity and Inclusion, says her ring is a daily reminder that she accomplished her goals. "The ability and opportunity I was blessed with to be able to go to the university at all was amazing," she says. "I wanted something to capture that moment."
Established in fall 2015, the caRING program awards class rings each year to one student from each of the nine divisions based on their financial need, leadership at the university, and community involvement. It is especially significant because all nine divisions have the same ring—the inside of the band can be customized—making it a bridge between all Johns Hopkins alumni. The Alumni Council's hope is that the rings bring together students and alumni, inspiring them to stay involved with the university through networking, mentorship, or giving. They were distributed to students at a ceremony during Alumni Weekend in late April.
Recent graduate Mira Sobhy, A&S '18, was one of this year's caRING recipients. "This is just a constant reminder of what I've gotten out of the experience here, and a reminder that I'll always be part of this community. To be able to know that wherever I go, I'm always representing Hopkins. This ring is something small—just like me, one small person—but the experiences I've gotten out of the institution are life-changing."
Bryan McMillan, Bus '00, '02 (MBA), who helped establish the caRING program, says the ring has served him well in this regard. On a flight back from a business trip in Cairo several years ago, a man plopped down in the seat next to him. "So, you're a Blue Jay," he said, pointing to McMillan's class ring. The two alums went on to share stories from their time at Johns Hopkins. "Traveling, I now look out for it," he says. "It makes the unfamiliar familiar."