On a Sunday afternoon in December, Irvin Seo, A&S '14, glances at his phone and grumbles because it's 4:12. To be precise, because it's 4:12 already. For the last hour, Seo has been at work in the kitchen of Village Square Café in Baltimore, slicing pork belly, adding cylinders of frozen chicken and pork stock to sliced onions sizzling in a large pot, and rolling seasoned ground short-rib pork balls, weighing each one on a digital scale. Two friends have been deftly slicing carrots, cracking eggs, and chopping scallions. The ingredients will go into dishes listed on the menu as japchae, gyeranjjim-bab, tteokgalbi, and doenjang jiggae.
Seo rolls a couple of dozen more pork balls, samples a batch of daikon slaw and advises more vinegar and salt, takes a moment to coach a server on how to pronounce doenjang jiggae, then checks his phone again and winces. It's now 4:40. The doors open in 20 minutes.
Seo is co-proprietor of Haenyo, a Korean restaurant that has neither a kitchen nor a dining room to call its own. Rather, Haenyo operates as a pop-up, taking over another restaurant's space for a night to serve the sort of traditional Korean dishes that Seo's mother would cook when he was a child. Typically, Haenyo comes in on a night when the host restaurant is not serving. The host gets a fee, the proceeds from the bar, and exposure to potential new customers. Seo and his partner, Collin Morstein, get the revenue from the meals. Morstein handles the marketing operations, Seo directs the kitchen, and they hire friends to help cook and serve. Since their first event in May 2017, the two have popped up more than 30 times, mostly around Baltimore. Neither had all that much restaurant experience when they started, but they've learned fast and built Haenyo into full-time jobs, at least for the two of them.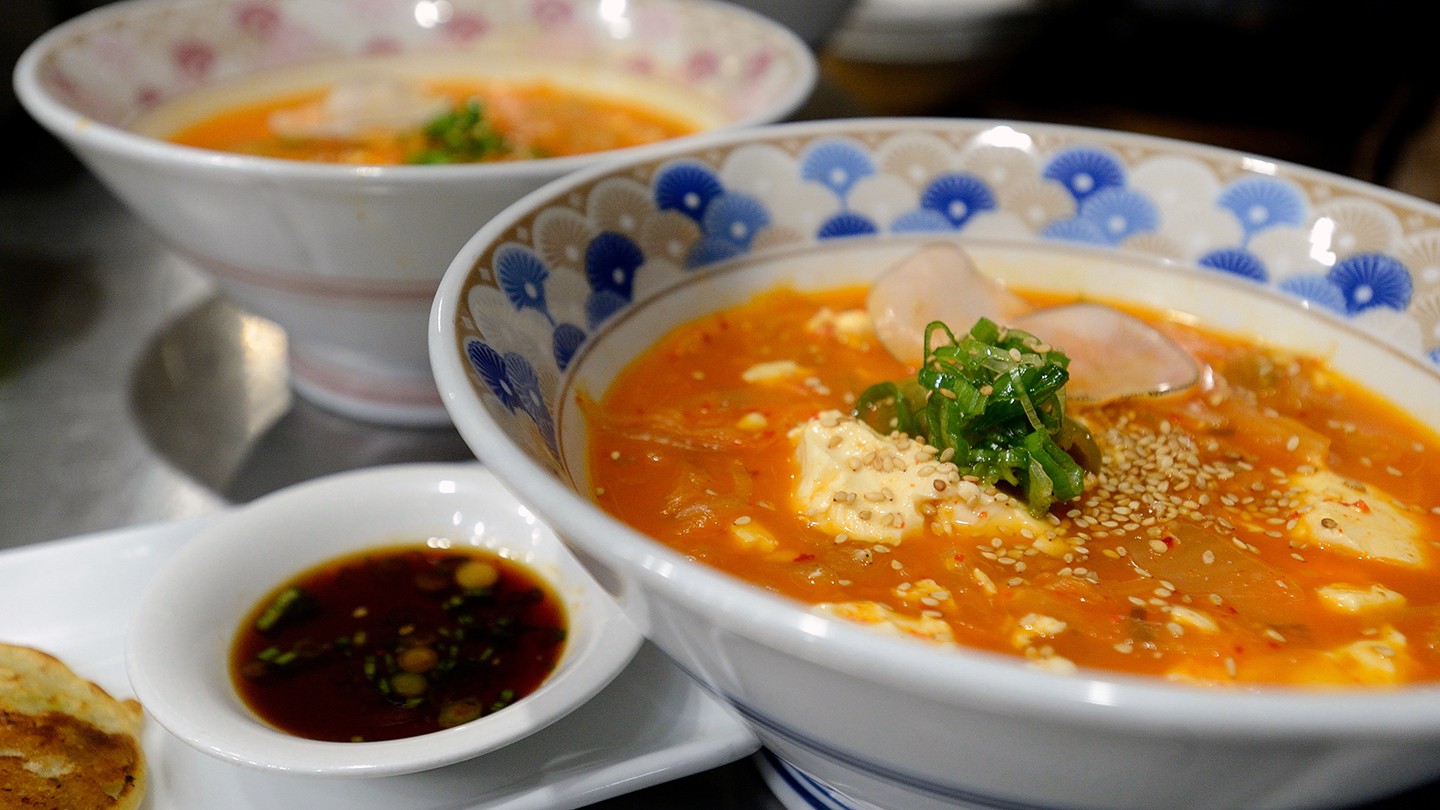 As Seo preps his workstation, one of his friends, a more experienced cook named Brian Javier, announces, "5:01 guys!" "Let's do it!" Seo says, and at 5:05 the first order comes in from the dining room—spicy Korean oysters, tteokgalbi, large (the meatballs Seo had been rolling), and a double serving of doenjang jiggae, which is a soup of stock, pork belly, jalapeno, mustard greens, and fermented soybean paste.
Also see
Seo was born in Seoul, South Korea; his parents immigrated to the States when he was 1. At Johns Hopkins, he studied behavioral biology but found that grad school and lab work lacked appeal. Entrepreneurial, he went into business doing home renovations with classmate Justin Tosti, (now frequently part of Haenyo's kitchen crew), then found his way to Parts & Labor, a Baltimore restaurant and butcher shop, where he met Morstein, the shop's manager.
In March 2017, Seo visited South Korea for the first time in eight years. As he traveled around the country, he kept eating delicious Korean dishes, including seafood collected by haenyo, women who free dive to harvest shellfish that might appear on a menu the same day. One night, he sent a text to Morstein. "There's a 13-hour time difference, so it was like 4 in the morning for him," Seo recalls. "I remember sending him one or two texts, but the way he tells it, he woke up and there was this essay about these women and what they were doing and how great it was and how amazing. I ruminated on it for the rest of the trip."
Back home, Seo and Morstein hatched their plan for a pop-up serving Korean cuisine and named after the haenyo. Within weeks they tried it for the first time at a Baltimore crêperie. The evening went well—they sold out of food—but Seo thought, "I need another chance. I can do this better." They've been working on it ever since. Most of the raw materials are sourced from area farms, but it's been a challenge to find Korean ingredients like napa, the herb mugwort, and perilla, a broad-leafed variety of mint.
By 6 p.m., many of the café's tables are full, and the kitchen is plating food at an increased pace. "It's kind of high stress/high reward," Seo says. "I don't know, feeling really bad for a short period of time is nice because then everything else seems a lot better once it's over. It's high-intensity, which feels good to me." He looks around his station. "I keep losing rice paddles tonight."
Haenyo has attracted a following through an expanding email and social media network. Morstein says restaurants are beginning to contact them about hosting events. The business is growing, though it remains more improvised than guided by a formal business plan. For now, that suits the founders. At the Village Square Café, they'd planned to serve until 10 p.m., but by 7:30 they have sold out of most everything and have to shut down. Morstein thinks about all the food they'd loaded in that afternoon and says, "It felt like so much at the time."
Seo recently cooked for his Korean mother. What did she think? Well, she didn't say much, he recalls, but seemed to approve: "She doesn't eat a lot—she doesn't have a big appetite—but I think she got up and went for seconds."