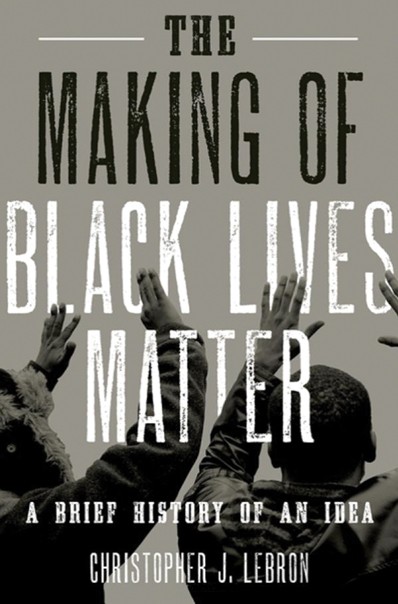 Nowhere in Frederick Douglass' famed speech "What to a Slave is the Fourth of July?" do the words "black lives matter" appear. That three-word activist hashtag, which entered popular usage following George Zimmerman's acquittal for killing Trayvon Martin in 2013, also doesn't appear in the journalism of Ida B. Wells, or the pioneering feminist writing of Anna Julia Cooper or Audre Lorde, or the politically minded art of Langston Hughes and Zora Neale Hurston, or the charged writings of Martin Luther King Jr. and James Baldwin. And yet, as Chris Lebron exquisitely explores in his recent book, the political and philosophical ideas implicit in demanding that black lives matter are part of an extended exploration of American identity and black liberation that has a rich history of black scholars, poets, orators, and thinkers.
In The Making of Black Lives Matter (Oxford University Press), Lebron threads political theory with personal urgency to create a disarmingly intimate and moving book. An associate professor of philosophy in the Krieger School of Arts and Sciences, Lebron has a gift for putting contemporary events—such as a performance by hip-hop artist Kendrick Lamar—in conversation with earlier thinkers and writers, drawing connections between #BLM and Lamar's "We Gon' Be Alright" with Hughes and Hurston.
Those connections linger in the mind thanks to the persuasive power of Lebron's prose. Among the many arguments made by the National Museum of African American History and Culture, which takes visitors from the transatlantic slave trade through the 21st century using artifacts from slaving ships to musicians' union cards and songwriting contracts, is the reminder that there is no American history without a proper reckoning of the labor history by Africans/African-Americans in America. The Making plants a somewhat similar seedling in the brain. "Black Lives Matter" has emerged as the most visible grassroots organizing effort during our current era of police brutality and violence against people of color, and Lebron situates that movement in the longer continuum of black intellectual labor identifying and opposing how American institutions fail to recognize black humanity.