André Chung ("Like an Explosion," photography) is an award-winning photojournalist and portrait photographer. While working for The Baltimore Sun, he was nominated for a Pulitzer Prize five times.
Rob Dobi ("Sit Rep," illustration) creates bold images for both editorial publications and band merchandise. Clients have included The New York Times, Entertainment Weekly, Politico, Michael Jackson, Pearl Jam, and Weezer.
Alia Malek ("Coming Home to Syria"), SAIS Eur '95 (Cert), A&S '96, is a journalist and civil rights lawyer. The Baltimore-born daughter of Syrian immigrants, Malek spent two years writing anonymously in Damascus, Syria. Her work has appeared in The New York Times, Foreign Policy, and The New Yorker, among others.
Randy Rieland ("Coping With the Displaced Millions") writes for the Innovations blog on Smithsonian.com. Previously, he was head of digital media for the Discovery Channel.
Patrick Stevens ("Top Bananas") is a contributor to The Washington Post; The News & Observer in Raleigh, North Carolina; U.S. Lacrosse Magazine; and other publications. He has covered college sports, including lacrosse, for nearly 20 years.
Brian R. Williams ("Furry, Four-Legged, and Family," illustration) is an artist, graphic designer, and college art instructor. He is known for his unusual and sometimes slightly unsettling anthropomorphic animal portraits.
On the cover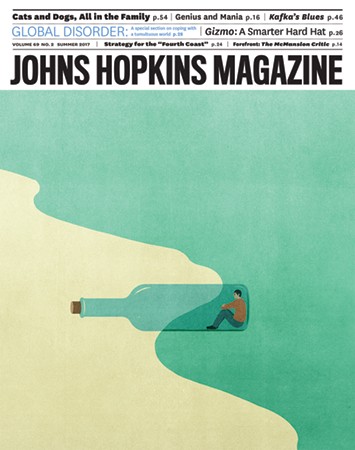 For the cover art to accompany "Coping With the Displaced Millions", Milan-based illustrator Alessandro Gottardo, aka Shout, drew a man trapped in a bottle, just at the point where the sea hits land. The artist says he sought to capture the way immigrants and refugees feel as they wait to find out if their move was for better or worse—a feeling of uncertainty, anxiety, and restlessness. Shout's clients include GQ, The New York Times, The Washington Post, AARP, and others.