Tony Anderson, A&S '76, has made pasta plenty of times. He's even made his dough from scratch. But pasta Bolognese for 240 people? That was a new one. Luckily, Anderson, a university trustee and partner in the D.C. law office of Thompson Coburn, had some help cooking lunch for a group of senior citizens at the nonprofit Martha's Table in Washington, D.C. While others mixed together pasta with sauce and topped the dish with cheese, Anderson stood at the end of the assembly line, closing the lunchboxes, stacking them on a tray, and sliding them into a warming oven, all the while shouting the group's progress toward 240.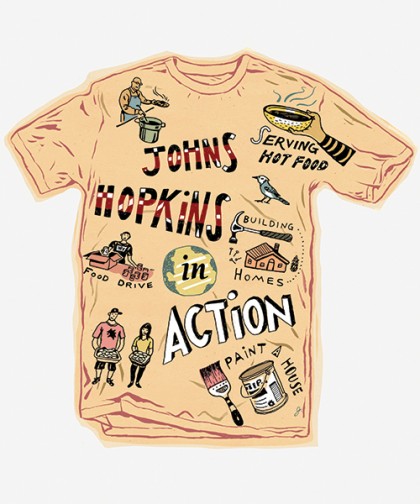 On May 6, 13 teams throughout Baltimore and D.C. volunteered to plant trees, sort donated books, cook meals, and more for the fifth annual service day of Johns Hopkins in Action, which brings together alumni, parents, faculty, staff, students, and friends of the university. "We have had grandmothers and grandfathers, little brothers, and 12-year-old kids," says Bre Stifler, associate director of donor and volunteer engagement for Johns Hopkins. "We've had sites in the past where we're in a neighborhood working on a community garden and kids come by on their bikes to help. It's really meant to be that true community effort."
Missed Johns Hopkins in Action 2017? Don't sweat it. Regional events are being held throughout the year. If you're in the Baltimore area, volunteer September 23 for the JHU President's Day of Service. And mark your calendar for Johns Hopkins in Action 2018, set for May 5.
In the meantime, find an organization near you that could use an extra set of hands. "It would be wonderful if people volunteered with us, but really, we just want people to volunteer in general," Stifler says. "The people who come out and volunteer with us end up going out again, and that's what we want."