Nigerian novelist Chimamanda Ngozi Adichie writes about her great-grandmother toward the end of this thoughtful short read. As Adichie heard from family stories, her forebear was a woman who ran away from the home of the man to whom she'd been promised in order to wed the man she chose, who spoke up for herself, and who protested the state of life defined for her by others. And Adichie, A&S '04 (MFA), adds that while "feminist" wasn't a word her great-grandmother knew, "that doesn't mean she wasn't one."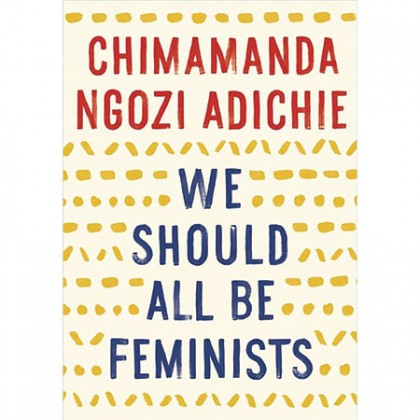 This down-to-earth reasoning gives We Should All Be Feminists an unflappable power. This 60-something page essay is an adaptation of the TEDx talk Adichie gave in 2012 that went viral as a video. A portion of the speech was excerpted by Beyoncé and included in the song "Flawless" for her eponymous 2013 album. Feminists was first published digitally in 2014, reissued in February as a trade paperback by Anchor Books, and has bounced in and out of the lower end of The New York Times' paperback nonfiction best-seller list since March, alongside such books as Tina Fey's Bossypants and Rebecca Skloot's The Immortal Life of Henrietta Lacks.
Feminists' understated populism jibes with those two books' mainstream appeal. Adichie writes about her experiences as an African woman to address the ordinary challenges women face—a peer wearing a wedding ring to a conference so that men take her more seriously, being assumed to be a sex worker because she's entering a hotel alone, how a woman is supposed to be ashamed of her body and sexuality—in anecdotal aperçus that accrue a pragmatic momentum. She points out how culture authorizes and sustains gender roles, noting how that culture can be a cage for men as well, how maleness recuses men from thinking about gender in the first place, and that's part of the problem.
That Adichie argues all of this in a potent conversational voice allows her to avoid the loaded language of contemporary identity politics without being unaware of how those discussions use "feminist" as a defect, turning debate into reactionary cul-de-sacs. Instead, Adichie's conversational, at times conspiratorial tone—she rhetorically asks if women traditionally do all the cooking because of a cooking gene, then remembers most esteemed "chefs" are men—enables her to turn the urgent advice of the book's title into a simple and common sense invitation to join the human race.