Just to placate his parents, Ira Remsen earned a medical degree from Columbia University's College of Physicians and Surgeons in 1867. But it was organic chemistry that really protonated his hydrocarbon. The New Yorker earned his chemistry doctorate in 1870 in Germany, and stayed to assist a mentor. He returned to the States in 1875, took a position at Williams College, and published Theoretical Chemistry, a text that caught the eye of an educator setting up America's first research university. Daniel Coit Gilman recruited Remsen to be the inaugural chemistry chair of the start-up Johns Hopkins University.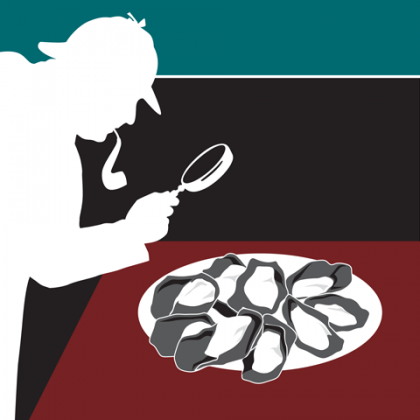 Chemists revered Remsen, and his reputation spread hither and yon. It may, in fact, have reached a precociously logical young Englishman who would've been interested in Markovnikov's rule during those gap years after college and before starting a career. "Sherlock Holmes is an organic chemist—he had to have heard of Remsen," says Art Renkwitz, an integrated technology resources teacher on Maryland's Eastern Shore. And, yes, he is talking about Sir Arthur Conan Doyle's fictional character. "And to know that a university was opening its doors in America with one of the best organic chemists of the times, that would have been a lure. It would just be a question of getting on a boat and coming over here."
Welcome to "The Great Game," in which Sherlockians imagine the life of Holmes. That impulse can produce spinoff tales like Laurie R. King's Mary Russell mystery novels or the recent A Study in Sherlock collection, wherein contemporary authors such as Lee Child and Neil Gaiman invent new cases for Holmes or reconsider old ones. But The Great Game also involves speculative consideration of Holmes as an actual historical figure, chronicled in stories like "The Adventure of the Gloria Scott"—which ostensibly takes place in 1874—and "The Adventure of the Musgrave Ritual," set by Doyle around 1879. Players of the game adhere to the "facts" laid out in the 56 Holmes stories and four novels. The time between the two stories occupies roughly five years in which Holmes' whereabouts are unknown—and Johns Hopkins' founding falls squarely within those years. "There's a dropout period in there that Doyle never accounted for, which is kind of like those missing years with Jesus," Renkwitz jokes.
Renkwitz isn't alone in thinking Johns Hopkins University might've tempted Holmes to cross the pond. Philip Wilson considered the idea in a 1986 article titled "Holmes at Hopkins? Elementary, Writer Says" in Baltimore's Evening Sun. The piece builds on a rumination made by Christopher Morley in his 1934 essay "Was Sherlock Holmes an American?" Morley knew what Johns Hopkins could offer the intellectually curious. His father, Frank Morley, chaired Hopkins' mathematics department in the early part of the 20th century. "My own thought is that the opening of the Johns Hopkins University in Baltimore in 1876, and the extraordinary and informal opportunities offered there for graduate study, tempted [Holmes] across the water," Morley wrote. "He was certainly familiar with papers in the chemical journals written by Ira Remsen, the brilliant young professor who took charge of the new laboratories in Baltimore. Probably in Baltimore he acquired his taste for oysters and on a hot summer day noted the depth to which the parsley had sunk into the butter."
Morley founded the granddaddy of all Sherlockian scion societies, the Baker Street Irregulars, in 1934. The Baltimore sister organization, the Six Napoleons of Baltimore, was started in 1949, and over the years a fair share of Johns Hopkins alumni have filled its ranks. From there, playing The Great Game gets out of hand pretty quickly. For example, the office of the late Johns Hopkins chaplain Chester Wickwire invited Holmes collector William Bennett Shaw to present a slideshow over a Sherlockian Weekend at Homewood in June 1978. British writer John Hopkins wrote the screenplay for the 1979 Holmes-Watson movie mystery Murder by Decree. A July 1981 Newsday letter to the editor from Robert S. Katz of Johns Hopkins defended Watson's modest detective skills since he was, of course, trained as a medical practitioner and was serving as Holmes' informal biographer. Television's most recent Holmesian character, Gregory House, of the popular eponymous television series, spent his undergrad years at Homewood and was kicked out of the Johns Hopkins School of Medicine. And so on.
"Two of my favorite avocations are Sherlock Holmes and Hopkins," offers Andrew Solberg, SPH '77, a former Six Napoleons of Baltimore member and current member of Watson's Tin Box, based in Columbia, Maryland. He's also a Baker Street Irregular, where he serves on the board of trustees and directs the organization's oral history project. He was kind enough to forward one more Morley passage, which speculates that Holmes remained attuned to Johns Hopkins in his later years: "No one read with more interest the reports of Dr. Osler's famous farewell address at Johns Hopkins [February 22, 1905], quoting Trollope on the chloroforming of men at the age of 60. It is more than coincidence that the last testimony we have ['His Last Bow'] showed him at that age."
Watson's Tin Box also puts on an annual Scintillation of Scions event over the summer, where Sherlockians come to talk Holmes. At the 2008 event Renkwitz presented his "Holmes on the Shore" argument that the budding detective visited the Eastern Shore during his time at Johns Hopkins, merely to taste oysters—a delicacy he's quite fond of in the canon. A running thread in The Great Game is where Holmes went to college—Cambridge or Oxford? Doyle seemingly toyed with that debate in "The Adventure of the Creeping Man," which has Holmes and Watson traveling to Camford University, a clever portmanteau of Holmes' disputed alma maters. But could it also be a wry nod to those Eastern Shore towns of the same names, formidable oyster seaports in the late 19th century?
"You have to go back to the canon, find something that lends itself to innuendo if nothing else, but then you have to historically support it," Renkwitz says. "And so sometimes we have to be a little bit tongue-in-cheek— well, most of the time, actually."