It is still dark outside my cramped, freezing, airless mud room, but the village rooster is crowing, so it must be time to rise. I sigh, pull myself out of bed, and dress quickly in the stifling cold. I check to be sure my clothes provide sufficiently modest cover to avoid offending our gracious Egyptian colleagues. Opening the door sucks a waft of fresher, warmer air into the room.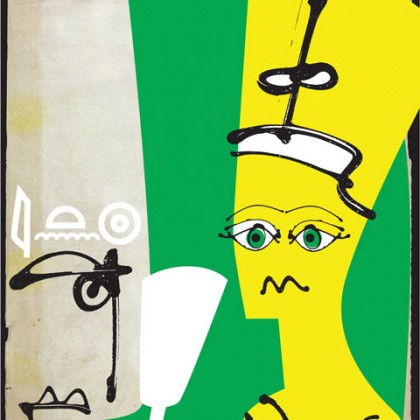 As I brush my teeth over the sink in the shower house, my colleagues and I blearily but pleasantly greet each other. That is one of the great joys of working with British archaeologists: They are always polite, even early in the morning after two months in the field.
After gulping coffee down, we pile into the bed of a battered pickup truck, gripping the sides to steady ourselves as we lumber over the desert. When the truck stops, routine takes over. We check our squares first to be sure the strings demarcating the newly cut areas are still there. Mohammed, bless him, has started the fire for morning tea. Some of us return to the truck because we are traveling to the larger elite tombs to pursue a different avenue of research. I want to stay for the tea, but I also know that we have not set up a field latrine out there, so abstinence is probably wise.
At our site, we trudge up steep hills, no longer really noticing the rolling pebbles underfoot. I wave to other team members who arrived earlier and are already mapping the cliff face. Shouting up the cliff, I promise to share "second breakfast" with them when we meet at the first tomb at 9:30, halfway through our dig day.
My Egyptian team members, all speaking Arabic so rapidly my morning brain can't begin to understand them, lead the way to the tomb we are photographing today. They open the door and bring in lights and scaffolding. I dump my bag by the door as always and enter the tomb. Time passes, my mind clears, my attention sharpens, and I miss second breakfast. A friend brings me a shot of tea and reminds me to eat some fruit. Five minutes later I have forgotten her advice.
Before I know it, it's time to reload my bag, return to the house, process my data, create tomorrow's to-do list. I look forward to "gin o'clock," our cocktail hour before dinner on the roof at sunset. I toast with the members of the dig house to another day done, to one another, to our work.
And I silently toast my Johns Hopkins professors Betsy Bryan and Richard Jasnow. Without their training and support, I would not be here in this tortured, difficult, magnificent place working with these brilliant people.