Before Elliott Coleman founded the Writing Seminars in 1947, a Johns Hopkins-set novel had already cracked the best-seller list. Augusta Tucker Townsend's Miss Susie Slagle's spent half of 1939 as a best-seller and was eventually turned into a movie starring Veronica Lake. Lillian Gish played the titular Susie Slagle, who runs a boarding house where men stay while attending medical school at Johns Hopkins. The book's runaway success persuaded students to apply to the university, prompting longtime Baltimore Sun book columnist James Bready to deem it "the best possible propaganda for this institution."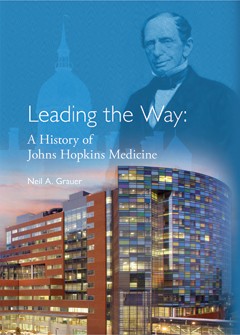 That quote comes from Leading the Way: A History of Johns Hopkins Medicine (Johns Hopkins University Press, 2012), introducing the chapter covering the East Baltimore campus from 1940 to 1988. It's more than a mere transitional anecdote, though, because author Neil A. Grauer, A&S '69, understands that the story of Johns Hopkins Medicine is a combination of its own timeline and its social reputation. The book's publication coincides with the opening of the $1.1 billion Sheikh Zayed Tower and the Charlotte R. Bloomberg Children's Center, the latest upgrades to Johns Hopkins Hospital's East Baltimore footprint, and on the heels of the hospital's 21st consecutive year atop the U.S. News & World Report's best hospitals list. Johns Hopkins Medicine is well aware of its prominence, and Grauer is savvy enough to recognize that this expectation of excellence is forged by the personalities who have learned, worked, succeeded, and tried, failed, and tried again at the hospital over the past 123 years.
Grauer, assistant director of editorial services in the Johns Hopkins Medicine Office of Marketing and Communications, has a sharp eye for the illuminating story, and it's the little details that make Leading the Way a refreshingly engaging read. Whether it's Victor McKusick, Med '46, leaving cardiology in the 1950s to foolishly—according to colleagues—pursue an unimportant subject called genetics, or how the hospital learns from and responds to the tragic 2001 deaths of pediatric patient Josie King and asthma study volunteer Ellen Roche, Grauer allows individual stories to add up to a bigger picture of just what sets Johns Hopkins Medicine apart from its peers.