"Food is an important thing in New York," says Sue Srinivasan, A&S '95, vice president of the New York Alumni Chapter. "Everyone is very conscious of what they are eating and how they are eating." Easy to do in a city with 20,000 restaurants peppered throughout the five boroughs.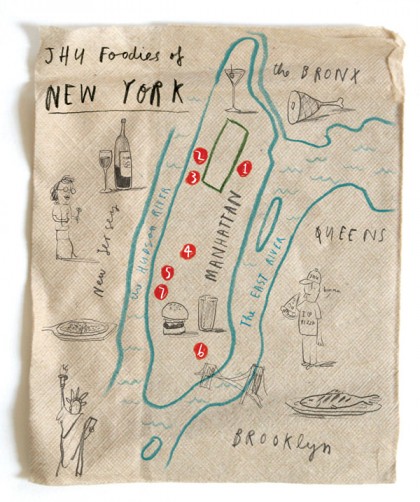 In March, Srinivasan and fellow food aficionados Ana Zampino, A&S '01, and Andrea Mantsios, SPH '06, launched the Foodies of New York group to connect with similarly minded Johns Hopkins alumni. "I think people are excited just to get out and have a shared experience, i.e., Hopkins," says Zampino, president of the New York chapter. "Plus, it's a great way to network."
In service to our readers, we asked these passionate New York foodies for their recommendations.
Located on the Upper East Side, Candle 79 (1) is the upscale sister restaurant of the famous Candle Cafe and one of Zampino's favorite farm-to-table vegan spots. For a taste of something more European, Srinivasan suggests Bar Boulud (2), Daniel Boulud's casual French bistro located across from Lincoln Center. For their May event, the Foodies group enjoyed a special prix fixe menu including degustation de charcuterie—a sampling of charcuterie—which Srinivasan says is one of the best in the city. Nearby, a more casual alternative, according to New York City Young Alumni Committee member Arielle Goren, A&S '05, is P.J. Clarke's at Lincoln Square (3), a great burger joint known for its boisterous crowds and martinis. Or, if you'd rather meet some colleagues for fondue and an herb-infused cocktail, try Craftbar (4) in the Flatiron District. For a fun night out and a table full of tapas, Young Alumni Committee members Andrew Modell, A&S '10, and Julienne Markel, A&S '08, both recommend Alta (5) in Greenwich Village. The Foodies held their inaugural dinner at the Lower East Side's Rayuela (6), known for its "freestyle Latino" dishes—think red snapper ceviche in a citrus soy ginger sauce. And finally, when you just need a quick slice of the city's best pizza (according to Goren), head over to Joe's Pizza (7), a Greenwich Village institution that still serves $2 slices.
To learn more about the Foodies of New York group, contact alumevents@jhu.edu.